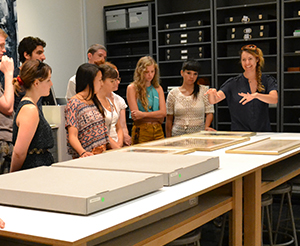 NOTE: As we begin the process of moving our collections, collection access through the Collection Study Room will close on April 8. We look forward to welcoming you to visit the collection in the new Benton Museum is Fall 2020! Exhibitions will continue at our current location through the next academic year.
The Collection Study Room in the Pomona College Museum of Art provides a portal into the art collections of the College. The room functions as both storage and gallery, with open table space and walls for short-term display of objects not on view in the exhibition galleries. Providing an opportunity for close examination of works of art without the barriers normally needed for public display, the Collection Study Room gives students, faculty, and selected members of the public intimate contact with original works of art.
A generous gift from Carlton and Laura Seaver allowed the Museum to update the traditional role of a collection study space by equipping it as a state-of-the art "smart classroom." Computer, datalines, DVD, and overhead projection make it possible for members of the faculty to present illustrated lectures in combination with immediate access to the College's art collection. Smart classroom technology also offers real-time access to the on-line collection databases of other institutions in order to compare the object under study with similar works. The smart classroom technology brings access to the collections into the 21st century, melding the study of tangible, physical objects with the virtual and encyclopedic resources of the Web.