In the last five years or so, the Oakland-based artist has centered her practice on her father's past. In 2011, when Barnette was working on her MFA at the University of California, San Diego, her father suggested that they submit a Freedom of Information Act (FOIA) request to obtain the surveillance file the FBI had once compiled on him. In the 1960s and '70s, Rodney was a Black Panther. He founded the Compton chapter of the organization in 1968; stood guard for Angela Davis as she awaited trial for murder, kidnapping, and conspiracy in 1970; and was for years deeply involved in Black revolutionary activism. 
"I figured the [FOIA documents] would make [their] way to being a part of my work, since my work has always been centered around my family," Barnette says. 
Her father's past, in particular, provides direct links to significant movements in Black history still left largely untold, such as the extent to which the Black Panthers influenced American politics and how Black people were active participants in the rise of LGBTQ culture of the late 1980s and early '90s. 
When the FBI documents—500 pages in total, covering seemingly mundane but also intensely private details of her father's life—arrived four or five years later, Barnette started integrating them into her practice; first, as material in her first solo show in San Francisco, at Jenkins Johnson Gallery in 2016—which ran concurrently with her installation of similar work in a group exhibition at the Oakland Museum of California—and then within countless other shows over the years. In her approach, she doesn't just display the documents as is. She manipulates them; she marks them up with spray paint, decorates them, tarnishes them—but never lets them escape her personal touch. By doing this, Barnette folds her voice into the construction of her dad's legacy. She reclaims the parts of the documents that make no sense to her. Because she's never seen her father as a threat. He's always just been her dad.
"The project that she did with the FOIA act that she submitted for her father,'" says Legacy Russell, executive director and chief curator at the Kitchen, "that body of work has since become really instrumental and a turning point across her process."
And in recent years, her projects have become even larger and more ambitious in scale—while still directly tied to her father's life. 
"I knew my dad had this amazing history with his bar. But the story was almost lost to history," Barnette notes. So why not, she thought, also focus on this other profound period in Rodney's life? Lately, though, she's also "really looking to and is excited about fusing those narratives together," says her dealer Jessica Silverman, "so that they don't become these two separate issues. They became part of a whole, because that is who he is." 
The two narratives might not be so separate anyway. As Barnette puts it, Rodney's engagement with many different communities—especially marginalized ones—is "just a part of the way that my father moves through the world," she says, "whether it's fighting for Angela Davis's freedom or hosting a bar, I think it's all about protecting the people." Barnette's forthcoming installation at Los Angeles International Airport, scheduled to be unveiled in 2024, will pay homage to efforts to shelter Davis while she was sought by the FBI.
"Here's one thing that my father said to me that I really appreciated," Barnette says. "He's like: when you read the history books, you don't necessarily need to see your name there, but you just want to know that you were there and participated."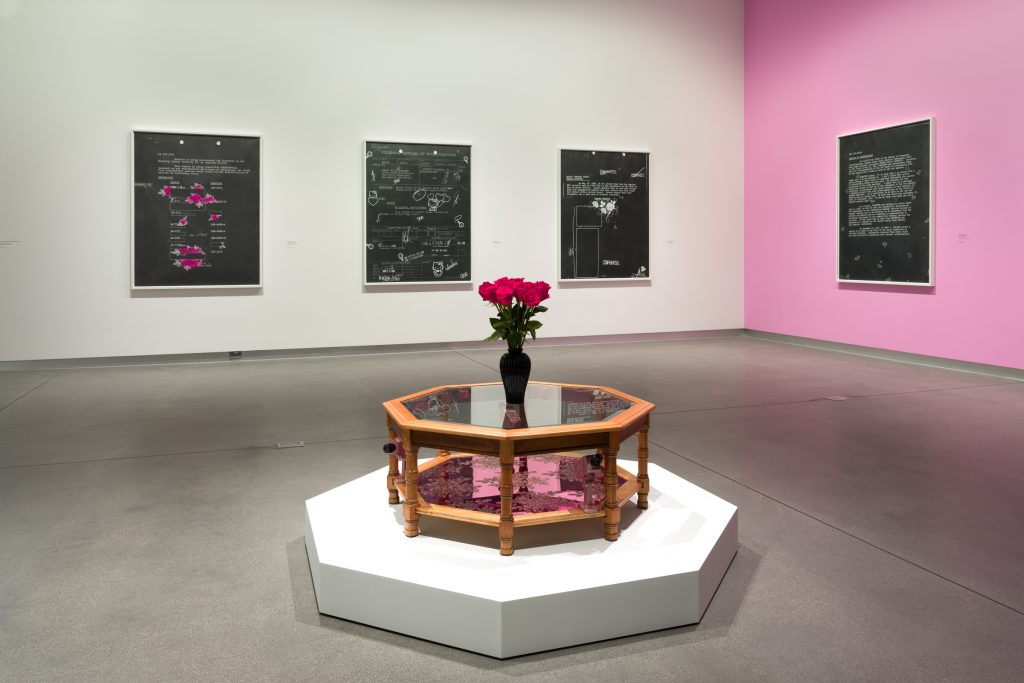 Installation view of "Sadie Barnette: Legacy and Legend" at the Benton Museum of Art at Pomona College, July 22–December 18, 2021. This exhibition was co-organized with Pitzer College Art Galleries. Photo: Fredrik Nilsen Studio.