BENTON MUSEUM OF ART HOSTS IMMERSIVE INSTALLATION,
PERFORMANCE BY IVA GUEORGUIEVA AND EMMA PORTNER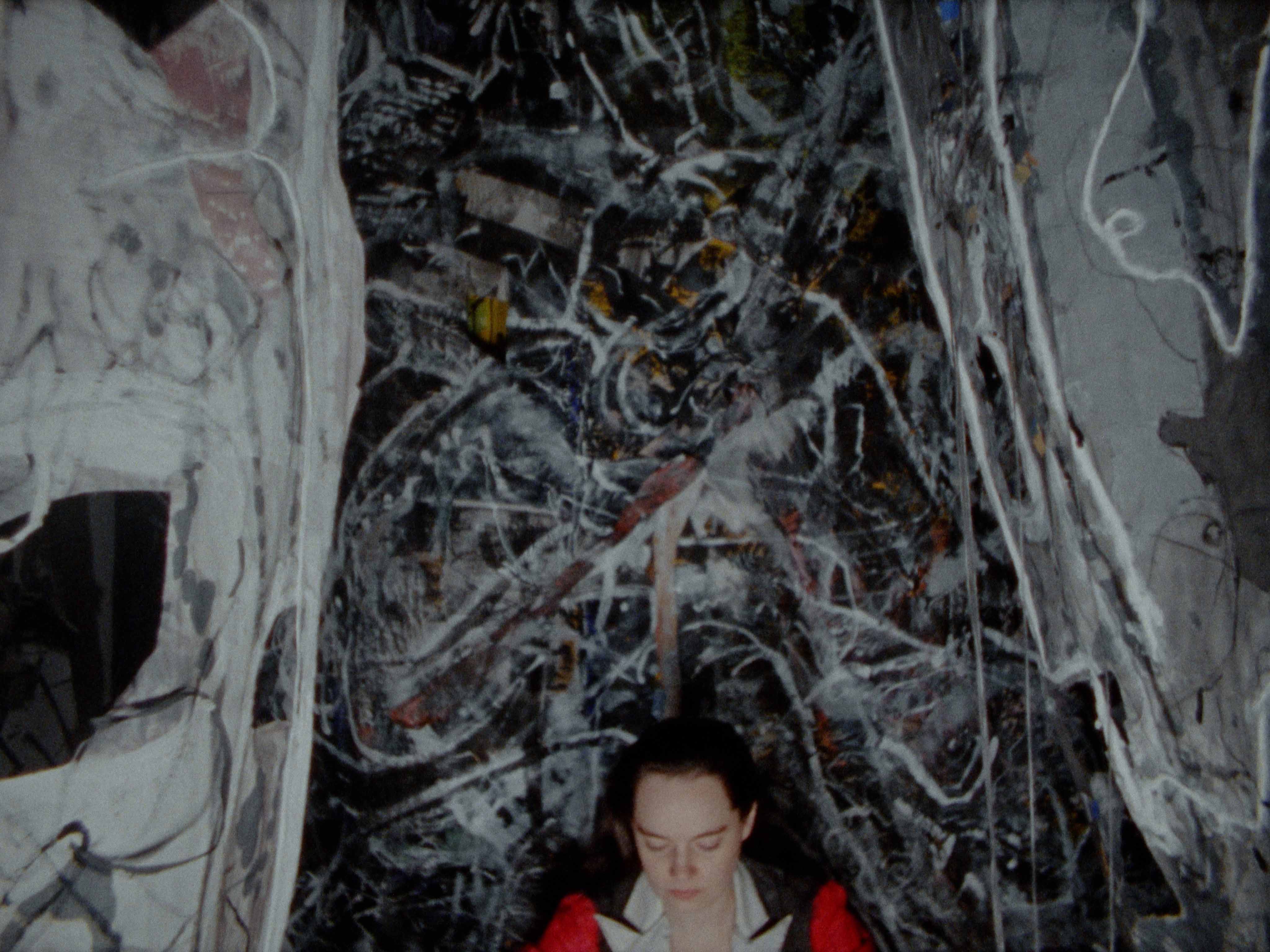 Claremont, CA— The Benton Museum of Art at Pomona College will be the site of Tumbling Rose—one of the most ambitious presentations ever staged at the Pomona College art museum—by the painter and sculptor Iva Gueorguieva in collaboration with the actor/dancer/choreographer Emma Portner. In the Benton's Loeb Family Art Pavilion and adjacent courtyard, the two artists have created a vast, synesthetic work that explores the interconnectivity of painting, sound, dance, and film. The installation will be on view at the Benton from April 28 through May 8, as will eleven accompanying drawings by Gueorguieva in the museum's "art hall." At 6:30 pm on May 3, the installation will be fully activated by a live dance performance by Portner within a sonic environment created by Matt McGarvey that also features a brief live performance on violin by Bitch. 
 
Tumbling Rose, part of a larger project called Intersection, constructs a non-hierarchical entwining of traditionally separate media, queering the conventional division between the ephemeral world of performance, dance, and music, and the spatial objecthood of painting and sculpture. "The intention," says Gueorguieva, "is to produce an origami, not a dividing line, and sensation operates in that folded and intertwined configuration."
 
There are multiple components to Tumbling Rose: an immersive installation of painted canvases and tapestries in the Benton's Loeb Family Art Pavilion; three films; and a culminating live performance by Portner. The paintings by Gueorguieva are complex compositions that are both illusionistic and intensely sculptural, with cuts and passages of transparent gauze that reveal other layers or viewpoints. Many of the works are double-sided and hang at various angles; they dissect the space and function as costume, prop, mask, and camouflage at once. Within this installation, Gueorguieva and Portner will present three films: Corner, Sting Ray, and Tumbling Rose. 
 
Tumbling Rose has roots and inspirations across cultures and artistic genres. One is the Yupik word Ella, for example, which is the same for "self," "weather," "other," and "wind"; it suggests a sort of motion that intertwines interior space and the exterior world. Another is the essay "Wind Daruma" by the founder of the Japanese dance genre of Butoh, Hijikata Tatsumi. In the essay he describes a figure of wind sweeping up and through discrete bodies, transforming, erasing, "immolating" them. Like the "Wind Daruma" Portner, in the films and performance, continuously transforms into multiple characters reminiscent of feverish dreams or the daily news: the executioner and victim, the lover and the beloved, the maker and destroyer. Perhaps most trenchantly, Tumbling Rose finds a first-degree relative in the early 20th century art movement of Dada, born of the chaos and destruction of World War I. Dada artists forged an aesthetic strategy out of disruption, disillusionment, and the embrace of uncertainty.
Project Credits
 
Matt McGarvey of Unthem Collective created the score for the films and the live performance and worked closely with Gueorguieva and Portner on conceptualizing and editing the footage. The installation sound is derived from the score that accompanies the live performance. Both include material from Bitch and Phil Skaller.
 
Costumes: Ian McGrew-Yule
Video editing: Matt McGarvey
Sound design: Matt McGarvey
Musical material: violin, Bitch and piano, Phil Skaller
 
Film Credits
 
Stingray, clip from a film by Iva Gueorguieva and Emma Portner, 2022
Musical Score: Matt McGarvey and Unthem Collective
Camera: Iva Gueorguieva
 
Tumbling Rose, clip from a film by Iva Gueorguieva and Emma Portner, 2022
Musical Score: Matt McGarvey and Unthem collective
Camera: Elise Rasmussen
Editing: Matt McGarvey
 
Corner, clip from a film by Iva Gueorguieva and Emma Portner, 2021
Musical Score: Matt McGarvey and Unthem Collective
Camera: Keean Johnson and Elliot Seller
Editing: Matt McGarvey
About the Artists
 
Iva Gueorguieva (born 1974, Sofia, Bulgaria) is a painter and sculptor. She has had solo exhibitions and projects at UTA Artist Space, Los Angeles; Bradwolff Projects, Amsterdam, NL; Miles McEnery gallery, New York, NY; Susanne Vielmetter Los Angeles Projects, Los Angeles, CA; ACME, Los Angeles, CA; Frederic Snitzer, Miami, FL; and the Pomona Museum of Art, Claremont, CA (now Benton Museum of Art). Her work is included in the public collections of major museums including Los Angeles County Museum of Art, Los Angeles, CA; Minneapolis Institute of Art, Minneapolis, MN; Museum of Contemporary Art, Los Angeles, CA; Museum of Contemporary Art, San Diego, CA; University Art Museum, California State University, Long Beach, CA; Art, Design ,and Architecture Museum at UC Santa Barbara, Santa Barbara, CA; Tang Teaching Museum, Saratoga Springs, NY and the Benton Museum of Art at Pomona College, Claremont, CA. Her work was included in Variations: Conversations in and around Abstract Painting, curated by Franklin Sirmans, Los Angeles County Museum of Art, Los Angeles, CA, as well as in a forthcoming exhibition at Night Gallery in the fall of 2022. 
 
Emma Portner (born Canada) is one of the most prominent voices in the movement industry. Portner has become widely known for her inimitable quality and complex devotion to the craft of dance. The actor, dancer and director-choreographer has been recognized for her unique and "almost paranormal" ability to shift the space around her since she was a teenager. In 2012, Portner moved to New York City to study at The Ailey School and soon thereafter became the youngest woman in history to choreograph a musical on London's West End. Before she was 20 years old, she had garnered millions of international views through dance on film and worked with some of the biggest names in the music industry. Her work has been performed at venues such as the Guggenheim Museum, Foundation Beyeler, Jacob's Pillow, and Theater Champs-Elysees. Paper magazine listed Portner in "PAPER Predictions: 100 people to watch in 2019" and Dance Magazine wrote that "anyone who has seen her dance can recognize the ferocity with which she throws her body and seemingly her soul." Her first major ballet islands toured in "Dialogues"—an evening shared with choreographers Crystal Pite, Jiri Kylian, Mats Ek, and Ohad Naharin. At 26 years old, she received glowing international reviews, including "Emma Portner shines extra bright in Dialogues Star Parade." Most recently, she played in Ghostbusters: Afterlife and currently dances in Collier Schorr's Akerman ballet.