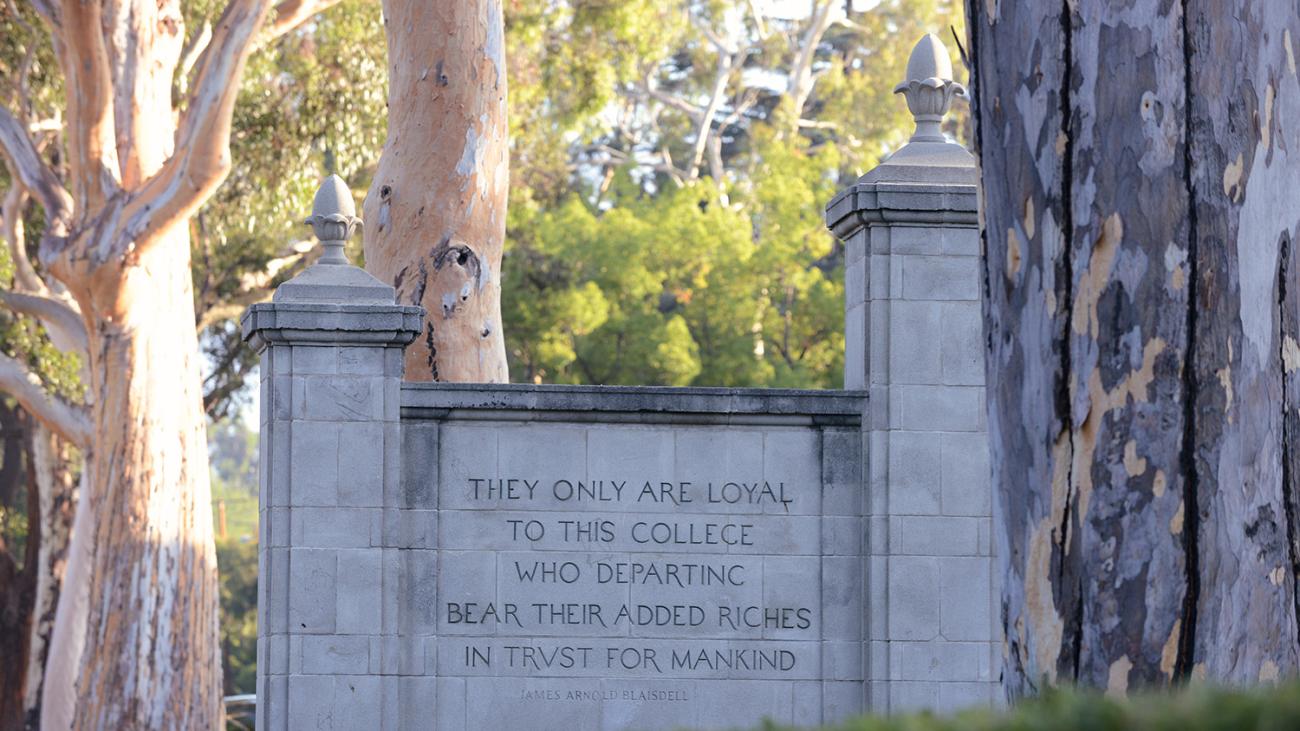 Sagehen Community Launches the Sagehen Employee Support Fund to Help Furloughed Employees
Since the announcement of temporary furloughs, members of our community have been asking what they can do to help financially support affected employees. Today we are launching a special fund to provide immediate grants to furloughed employees.
The Sagehen Employee Support Fund is a joint effort of The Alumni Association Board, Staff and Faculty Charitable Giving Committees, Faculty Executive Committee, ASPC and the Pomona College Board of Trustees.
The initial goal is to raise at least $300,000 to respond to some of the immediate needs of our furloughed staff. To help reach that goal, the Board of Trustees has committed the first $100,000. All donations will go directly to support furloughed employees. (If more funds are raised, we will continue to look for other ways to support our furloughed staff. If there is any balance left in the fund after the need for furloughed employees is met, funds will be directed to help other employees facing hardships in our community.)
The unprecedented and ongoing pandemic has led to a $37 million budget shortfall for the College. After students moved off campus in the face of the pandemic, Pomona sharply cut non-personnel budgets, froze hiring and salaries, drew on reserves and paused construction projects. In early September, college leaders faced the difficult decision to start implementing targeted emergency furloughs, and more than 200 employees are affected. The College is taking steps, such as extending health benefits to lessen hardships during the furlough, offering assistance in accessing unemployment benefits, and the staff emergency fund will provide additional help.
"Sagehens come together to help one another in a crisis," said Alumni Association President Don Swan '15. "This community effort offers a tangible way for those with the resources to help members of the Pomona staff facing the financial challenges of a temporary furlough."
Pomona College is partnering with America's Charities, an established nonprofit 501(c)3 public charity, to administer the fund and quickly distribute the assistance to employees. America's Charities will review online application materials, available in English and Spanish, and distribute grants on Pomona's behalf so that personal and financial information is kept private and secure.
Benefits-eligible employees who have been furloughed (both full and partial) may apply for tax- free grants up to $1,500 beginning Oct. 15, 2020.  The online application will be posted by that date and will take no more than five minutes to complete. These grants are designated for use in federally-declared disasters and are non-taxable income. They are not loans and do not have to be repaid. Grants will be disbursed via EFT or check, with an expected processing and grant disbursement turnaround time of two weeks upon receipt of completed application.
Staff members also can contact Assistant Vice President for Human Resources Brenda Rushforth via email or by phone 909-607-1686 for assistance. 
 
Since March, hundreds of Sagehens have supported the COVID-19 emergency response to address emerging needs of Pomona students, faculty and staff. Organizers are committed to supporting the ongoing effort. Needs will persist and we will work together to explore ways to be of support moving forward.
Through a separate program administered through Student Affairs, emergency grants are also available to students experiencing financial hardships.
"The staff at Pomona is comprised of a diverse group of folks and we, as members of the community, are committed to helping each other through this crisis and every crisis," said Chair of Staff Council Justine Bae Bias and contributor to this initiative. "We recognize there are staff members who are disproportionately affected by this pandemic and for those able to contribute, this emergency fund is a chance to support our furloughed colleagues as quickly as possible. The money raised will barely make a dent in lost wages, but this at least is an immediate response. We will continue to work on fundraising and other ways of supporting our friends and colleagues until we're fully back on campus."
Donations to the Sagehen Employee Support Fund can be made online using credit/debit card. Pomona College staff and faculty may also donate via payroll deduction in English or Spanish.