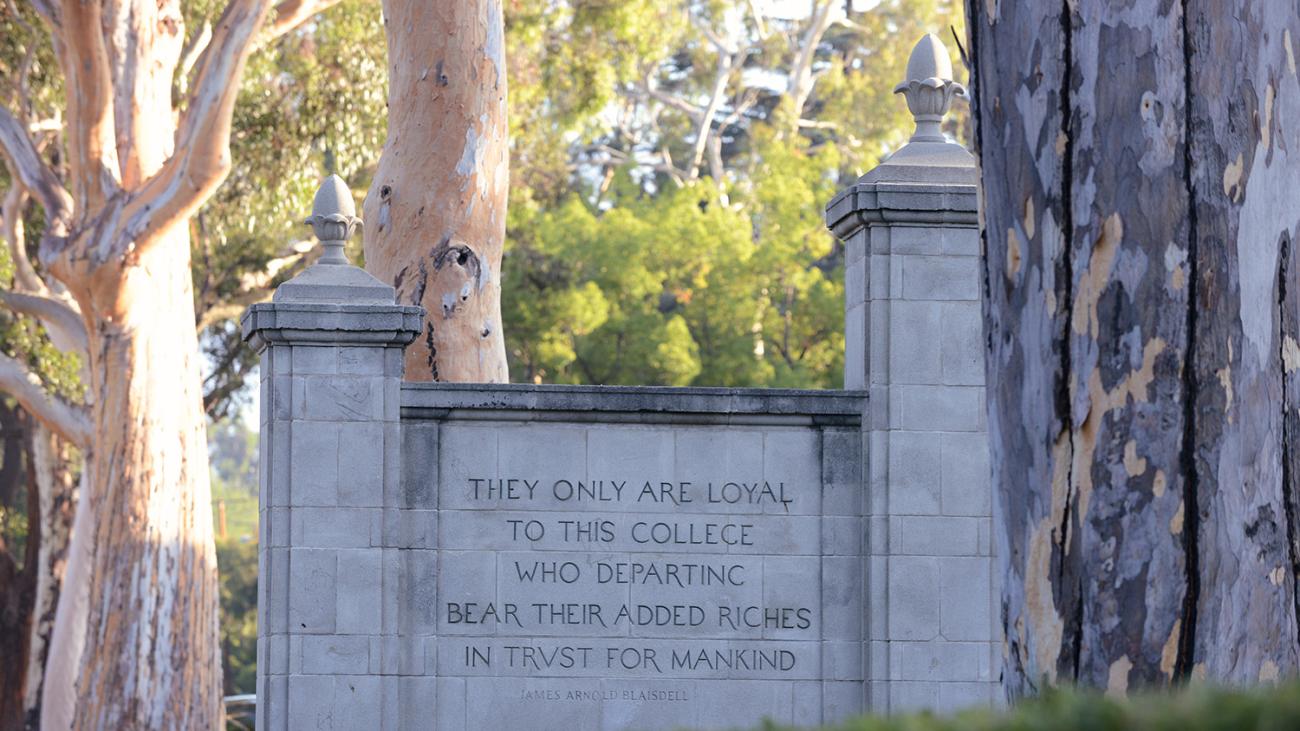 It is that time of the year when we come together as Sagehens in support of the many organizations doing vital work in and around our community.
Engage with the Pomona College Year-End Charitable Giving Campaign to support a variety of populations: the elderly, the homeless, the dying, previously incarcerated women, those who need food and shelter, those who live with or are at risk for HIV/AIDS, those who need access to women's health services, and those who are or will be affected by domestic violence.
Please consider making a tax-deductible gift to the Campaign (see box at top right to donate) to help the worthy organizations listed below, selected by the Charitable Giving Committees:
If you have any questions, please contact us by email.
Thank you for considering a gift to help others in our community!
Pomona College Year-End Charitable Giving Campaign Options
Bright Prospect
Bright Prospect  aims to break the cycle of poverty by significantly increasing the college-going culture and rate in the Pomona community. Bright Prospect empowers low-income, first-generation students to gain admission, succeed and graduate from four-year colleges and universities by providing a comprehensive counseling and support system throughout their high school and college years.
Claremont Educational Foundation (CEF)
For more than 30 years, the Claremont Educational Foundation (CEF) has been devoted to its mission: "To protect and enrich quality public education in Claremont through community involvement." CEF has served as the Claremont Unified School District's primary partner in providing support and enrichment opportunities that help every student at every school receive an impactful and achievement-filled education from CUSD. CEF grant funds to each school throughout the district, as well as educators and community partners, with a focus on art, music and technology.
Crossroads
Since 1974, the mission of Crossroads has been to provide housing, education, support, counseling, and employment training in a homelike environment for women who have been incarcerated. Their primary goal is to empower women with new skills to help them step out of the revolving door of prison and move toward economic self-sufficiency. Crossroads' work addresses the multi-layered needs of formerly incarcerated women. Through their six-month residential program, women learn skills to cope with everyday living through specific curricula, case management, and a supportive living environment.
Crossroads has two primary program homes in Claremont. There is also one transitional home in Pomona for women who have recently completed the program. Crossroads has been able to serve more than 30 women per year, and the majority of those women go on to be self-sustaining members of the community.
Foothill AIDS Project
Foothill AIDS Project (FAP) is dedicated to helping people who live with or are at risk for HIV/AIDS in the San Gabriel Valley of Los Angeles County, San Bernardino County, and western Riverside County. FAP's vision is a community with no new HIV infections, where individuals impacted by HIV are achieving health care equity with support services for optimal health and well-being. FAP's programs and services provide many tools for people living with HIV/AIDS (PLWH) to live longer, healthier, and more stable lives. To reduce the stigma of HIV/AIDS in the community, FAP's staff has pledged to fight ignorance, promote education and understanding around HIV/AIDS, and to protect the humanity of our clients and their families. FAP offers a full spectrum of programs and services that empower clients in three counties to manage their own long-term health goals. Integrated treatment and chronic care management, paired with stable housing planning and outreach, provide many tools for PLWHA to live longer, healthier, and more stable lives.
House of Ruth
Since 1977, House of Ruth has been dedicated to the prevention of domestic violence and to ensuring the safety and well-being of those impacted by it for residents of eastern Los Angeles and western San Bernardino counties. Participation in House of Ruth programming is open to all battered women, men, and their children. 
House of Ruth currently provides emergency shelter, transitional living program, children's program, child abuse treatment program, prevention education, domestic violence counseling, and more to assist those affected by domestic violence. With outreach offices in both Los Angeles and San Bernardino Counties, House of Ruth's Community Services also offers domestic violence counseling, crisis intervention, and other types of assistance to help victims work toward their goals of self-sufficiency. 
Inland Valley Hope Partners
The Inland Valley Hope Partners offers a variety of programs such as their Food Security Program, Rapid Re-Housing Program, House Family Shelters, Sponsorship of the Pomona Valley Certified Farmers' Market, and more. These programs provide access to high-quality, healthy food resources for about 4,000 low-income residents. Their sponsorship of the Pomona Valley Certified Farmers' Market helps bring fresh, nutritious fruits and produce grown by local family farmers to residents of Pomona Valley. It is unique in that the farmers' market accepts federal nutrition assistance benefits. The Rapid Re-Housing program quickly returns homeless families in San Bernardino County into safe and stable housing.
Currently, the group serves nutritional and housing needs to the residents of Chino, Chino Hills, Claremont, Diamond bar, La Verne, Montclair, Ontario, Pomona, Rancho Cucamonga, San Dimas, Upland, Walnut, Mt. Baldy, and contiguous unincorporated areas.
Planned Parenthood
Since 1965, Planned Parenthood Los Angeles has provided high-quality, affordable, comprehensive reproductive health care to communities throughout LA County. Planned Parenthood conducts more than 250,000 patient visits each year through 21 health centers, especially serving those living at or below the federal poverty level. Its education and outreach programs deliver sexuality and family planning education to nearly 50,000 women, men and teens each year. Planned Parenthood Los Angeles works to involve people and impact decision-makers in the fight to secure and protect access to a full range of quality reproductive health care services. They work at the local, state, and federal level to advocate for medically accurate sexuality education, contraceptive equity, patient safety, abortion rights and affordable access to reproductive health care for all people.
Pomona College Annual Fund
Students have returned to campus this year, and your gift to the Annual Fund will make an immediate impact on their lives as they get reacquainted with the campus community and all it offers them. Give today and take part in fostering our students' return to campus at this extraordinary moment of reconnection.
Project Sister
A local organization dedicated to providing services to the women, children, and men survivors of sexual assault and abuse and their families in the East San Gabriel and Inland Valleys in Southern California. Project Sister aggressively pursues a two-pronged approach to addressing the problem of sexual assault and child abuse: providing services to those in crisis with extensive follow-up treatment, and specific sexual assault outreach and prevention education programs.
Search Dog Foundation (SDF)
The Search Dog Foundation (SDF) strengthens disaster response in America by rescuing and recruiting dogs and partnering them with firefighters and other first responders to find people buried alive in the wreckage of disasters. Highly trained search dogs remain the most effective means of finding survivors and are some of the first rescuers on the scene to ensure no one is left behind in the rubble. Since 1996, we have provided 200 certified canine search teams that have deployed to 233 disasters and missing persons searches. We purposefully recruit rescued dogs for its effectiveness and enhanced impact of saving both canine and human lives and reach out to more than 200 shelters and rescue groups nationwide.
SDF-trained teams are members of FEMA, state and regional task forces that can serve communities across the nation wherever disasters occur. SDF also offers ongoing care and support to over 350 dogs in our forever family, including approximately 200 dogs that could not complete training and were placed in other careers or loving family homes as members of our Lifetime Care Community.
VNA Hospice and Palliative Care
VNA SoCal services include hospice, palliative care, home health and private duty care by licensed professionals who come to visit homes or residences. The group serves those with serious medical conditions and life-limiting illnesses. Their hospice care professionals are available 24 hours a day to assist patients facing a life-limiting illness. Their services include routine visits by registered nurses with training and experience in pain and symptom management to help manage a person's illness. VNA Hospice & Palliative Care also provides the supplies necessary and assists people with the tasks of daily living such as bathing and other personal care assistance. Volunteers also provide vital companionship support for the patient and their loved ones during a challenging time.