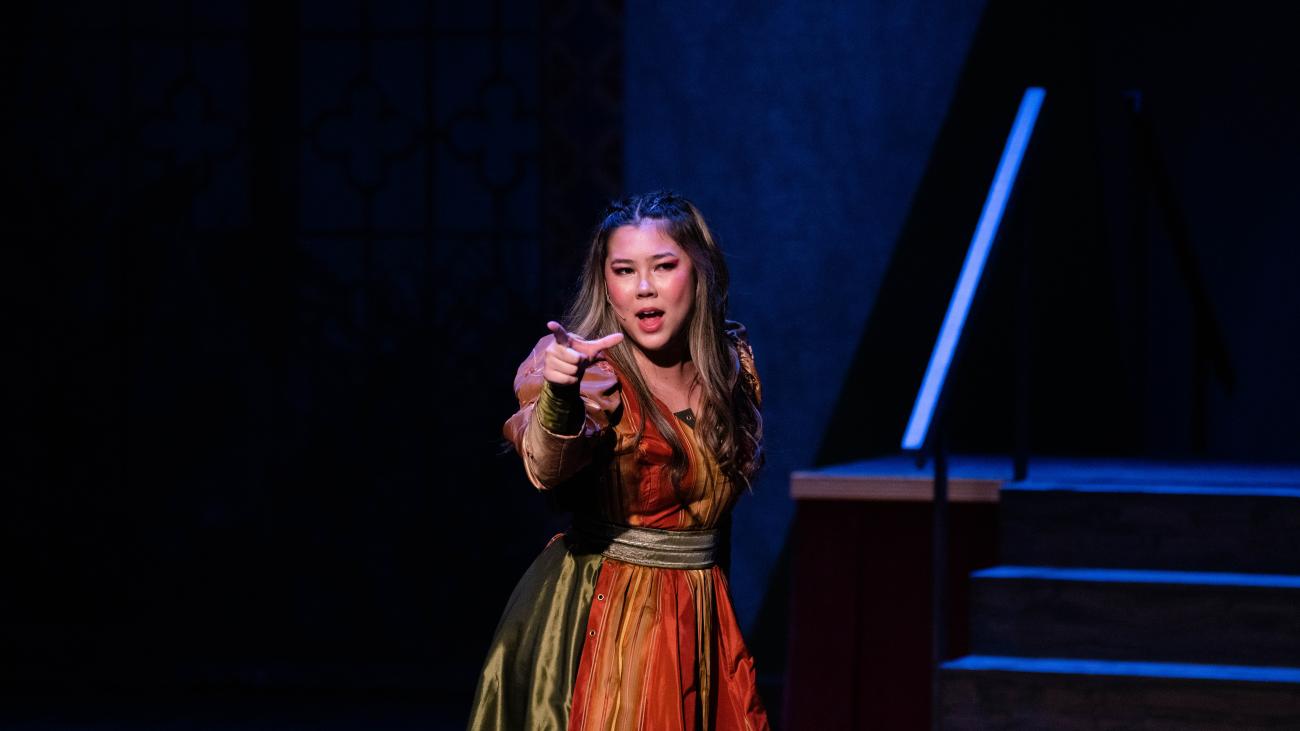 Opportunities for Student Photographers
Are you looking to expand your portfolio? Experiment with unique types of lighting? Apply to photograph our dress techs!
We can take up to six total photographers for each of our dress techs, either Three Sisters on Tuesday, February 28th at 8 p.m. in the Seaver Theater or Machinal on Tuesday, April 4th at 8 p.m. in the Allen Theater. If you're interested, please fill out this form. Spots will be first-come, first-served. Students may reach out to kendall.packman@pomona.edu with any questions and should hear back by February 12th, the 18th, at the absolute latest.
We would love to receive copies of the student photographs for use on our social media (with credit to the photographer, of course!) and students are more than welcome to use photographs in their portfolios. Audio/video recordings are not permitted. Oh, and make sure you're following us on Instagram!
Machinal
By Sophie Treadwell
Directed by Ellie Griffin
Inspired by a sensationalized murder trial, Machinal follows a woman trapped in the roles patriarchal society forces upon her. This haunting tale explores her futile struggle to take control of her own life in a distant era that eerily parallels our own, begging the question: Why are women still expected to be cogs and not their own machine?
Audition Dates & Times:
Friday, January 20: 4 - 8 p.m. 
Saturday, January 21: 11:30 a.m. - 3:30 p.m.
More Information
What is the play about?
TW: Murder, Death Penalty by Electrocution, Sexual Assault, Sexual Harassment, Implied Rape, Abortion, Violence, and Hate Speech (Race, Gender)
Machinal follows a young woman in the 1920s just trying to stay afloat amidst the endless societal pressures forced on her. She starts on the traditional path to appease her selfish mother and those around her, working as a secretary, marrying her oblivious boss, and having his baby. However she is surrounded by mechanized, unfeeling people, trying to break free of the standards placed upon her and communicate her distress to no avail. The Young Woman is revolted by her husband's handsy, sweaty touch and can't connect with her own child because of it. She finds the only true freedom and escape when she has an affair with the exciting traveler, Mr Roe. Pushed completely to the edge by her unfulfilling life and uncaring husband she finally, in an act of desperation kills her husband. She is put on trial, found guilty, and sentenced to death. Even in her last moments she can find no peace or understanding of the cruel machine world.
Who are the characters?
Young Woman (Helen): An ordinary every woman, meant to be recognized and relatable, whose preoccupation with her own inner thoughts, emotions, desires, dreams cuts her off from those around her and the system she is supposed to exist within. Central to the story is her inability to perform the expected woman's roles with emotional conviction because she is made uncomfortable by the impersonal, loveless, machine-like people and world that surrounds her, suffocates her even. She is prone to desperate emotional outbursts in reaction to the cold, mechanized people in her life but is never heard and rarely seen as her whole self. This drives her to commit murder. INTIMACY -- Kissing, Implied Sexual Touch, & maybe Simulated Sex
Helen's Boss (Geoge H Jones): Helen's successful boss and eventual husband. George is a simple man obsessed with making money and prospering in a straightforward, capitalist fashion, thus rendering him incapable of paying attention to life's emotional qualities. This distances him from his wife, and although Helen quite obviously dislikes him, George believes himself to be happily married. INTIMACY -- Kissing, Implied Sexual Touch
Helen's Mother: A classic nagging mother, expecting her daughter to marry and take car of her as she ages. She is pragmatic and harsh which contrasts with Helen's more sensitive disposition. Her mother comes to exemplify what it looks like to live according to the orderly, non-emotional manner dictated by 20th-century American society.
Mr Roe: Helen's secret lover, whom she meets in a speakeasy shortly after giving birth to George's child. Mr Roe is a traveller with a rugged but entrancing personality, easily seducing Helen with his charm and stories of the world. Unattached to their relationship, he is quick to turn on Helen, testifying against her in court. INTIMACY -- Kissing, Implied Sexual Touch, maybe Simulated Sex
Telephone Girl: Described as a "young, cheap, and amorous" girl working in the office. She is a gossip, always busy on two phone lines with a personal conversation on one and a work call on the other. While enjoying her affair with Mr. Smith, she brings Helen along to meet Mr. Roe. INTIMACY -- Implied Sexual Touch, maybe Kissing  
Adding Clerk: The unnamed adding clerk is accustomed to office life, a dull and sardonic man who, along with the other office workers, speculates aloud about Helen's engagement to Mr. Jones, telling her that she ought to accept George's marriage proposal if she wants to keep her job.
Filing Clerk: Described as a "boy not grown in callow adolescence" He works in the offices, interjecting with nothing to add other than "Hot Dog" in response to the office gossip.
Stenographer: A faded efficient woman office worker. "Drying, dried" according to the author, she works lifelessly in the office enjoying casting judgment on Helen.
Nurse: Helen's nurse after she gives birth to her and George's child. Despite her warm intentions to help Helen however she can, the nurse fails to recognize that the true source of her patient's discomfort isn't any physical ailment, but her lack of agency when it comes to her own life and health. The Nurse is oblivious to the real issues, preoccupied. on surface level observation
Doctor: Young, cocky doctor with no regard for Helen's concerns or experience. Typical "man-splainer" assuming he knows best and understands the female experience of giving birth better than any woman could.
Defense Lawyer: Helen's Lawyer who tries to paint her as a sweet, innocent housewife with an idyllic relationship with her now dead husband.
Prosecuting lawyer: Cold and harsh, the prosecuting lawyer works hard to demean Helen's humanity to encourage a guilty verdict, painting her as a deranged housewife harlot having an affair. Cool, confident, and unforgiving in their manner.
Judge: A judge who oversees Helen's trial and shows no sympathy for her situation.
Reporters: Reporters reporting on Helen's trial and execution, making fun of the situation, painting her in a negative light as hysterical and reducing her credibility. They insensitively commodify her story and pain, right up until she takes her last breath.
Priest: A priest who reads prayers for Helen before she's led to the electric chair. He tells her to "trust in God" when she asks if she'll have "peace" and "rest" in death—two things she's never had in life. He ignores her final pleas before she dies
What do I need to prepare?
1 minute Dramatic Monologue (Choose your own or choose one of the ones provided from the show)

At least 1 side from the options included here.

You will likely be asked to cold read others in the audition

If you sing and would like to prepare a 1 minute song, you may do so. Please choose a song that is emotionally meaningful for you in some way. It can be anything you feel comfortable singing (no need to learn anything new). However, we are not looking for bold, classic musical theatre, so much as indie, acoustic, haunting, emotive, etc... You may sing with a track or accompany yourself.
What do I need to bring?
Just yourself. (Please fill out the audition form in advance. Resume and headshot is entirely optional.)
What will callbacks be like?
Callbacks will likely be held in groups, reading scenes from the show and perhaps other activities. More information will be shared after audition sign ups.
Where do I need to go?
The Small Studio at The Seaver Theatre Complex. 
300 E. Bonita Avenue, Claremont, CA 91711
When are rehearsals?
Generally held 5 times a week, which can either fall on weeknights from 6-10pm or a combination of weeknights and weekends between 11:30am-3:30pm. 
There will be no rehearsals on Wednesdays and Saturdays.
Rehearsals will begin Sunday, February 19. 
There will be no rehearsals during spring break week, but there will likely be a rehearsal either Saturday, March 11 or Sunday, March 19. 
When are performances?
Thursday, April  6: 8pm (Preview)
Friday, April 7: 8pm
Saturday, April 8: 8pm
Sunday, April 9: 2pm
Where can I find the script?
Sunday, January 22: 12 - 4 p.m. 
Callbacks are Sunday, January 29th from 12 - 4 p.m. 
Sign up for a time! & Fill out an Audition Form!
Casting Policy
Pomona College values creating a space in which all beings can flourish, thrive, and create, knowing that their personhood will be respected and honored. We also recognize that each person carries with them a multitude of experiences and cultural influences.
In short, we recognize and honor the brilliant complexity of our humanity.
We are in the process of building our anti-racist framework and guidelines to aid in our creation of a compassionate, dynamic, inclusive artistic space.
In the meantime, we know and will hold to the following:
The Pomona College Theatre Department recognizes the importance of a clear and transparent casting process. We invite students of all gender orientations, ethnicities, body types, abilities, races, religious beliefs, and experience levels to audition for our productions.
We invite non-binary, gender non-conforming and trans students to audition for any roles they feel comfortable playing on stage.  
We aim to serve the needs of student growth while honoring inclusive casting practices and faithfulness to the playwright's intentions.
We aim for consent-based processes in our casting, including transparency around staged intimacy in our casting notices as well as bringing on an intimacy director for all productions.
The Department recognizes the intrinsic educational value in its productions, and endeavors to provide significant performance opportunities. Therefore, a student may be cast in only one faculty directed production per semester.
Once a student is cast in a production, they are expected to attend all rehearsals to which they are called; we expect full attendance for tech week and performances.
The Department encourages students to direct any questions about casting to the director and/or department chair. If a student prefers to give feedback anonymously, please use the anonymous feedback form. This form will be read by the co-chairs, Carolyn Ratteray and Kevin Dettmar.
Administrative Assistant of Theatre