Vision
Reduce our water footprint while supporting a vibrant, diverse, abundant campus ecosystem and creating a culture of water awareness and action.
What We're Doing
The SAVE water goals focus on reducing water use, landscaping with drought-tolerant native plants, and metering major buildings for real-time water use. Visit our Annual Report highlight page for an update on goals and achievements.
Water Use
Aerators have been added to faucets throughout campus to ensure efficiency. Low-flow showerheads have been installed in all residential halls. Dual-flush toilets have been installed in virtually all bathrooms on campus. Most washing machines on campus (including Housekeeping's) are water-efficient front-loading machine.
Currently, 66% of Pomona's buildings are metered for real-time water usage. Since 2017, Pomona has been working on pushing the data from these meters to our cloud platform where they will be easily accessible to community at large. This project is due to be completed by 2020.
WaterWise Week
Pomona College's investment in dorm water meters has enabled students to participate in Campus Conservation National WaterWise competition. In 2014, Pomona College ranked in the top five nationally for conserving over 65,000 gallons of water over a two-week period. The EcoReps continue to host an annual WaterWise week with events and awareness campaigns about water efficiency.
Landscaping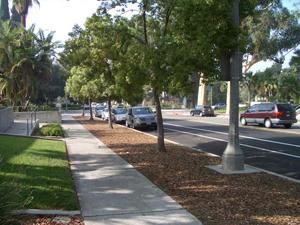 Turf Removal – Since the Summer of 2015, Grounds Staff have removed approximately 300,000 SF of turf throughout the Pomona College campus. Resulting in significant reductions in landscape irrigation.
Storm Water Management and Redirection - Studio Art Hall installed a sustainable storm water management system that includes pre-treatment hydrodynamic separators, a dry well and gravel infiltration trench. Bioswales are placed throughout the campus to capture the water. Storm water redirection avoids the sewer system and is instead reincorporated into the natural aquifer. Water run-off has been reduced by changing to impermeable surfaces.
Appropriate Landscaping and Planting - Grounds strategically designs landscaping on campus to place plants that need more water in naturally wetter areas of campus and plants that need less water in drier areas. The landscaping is a beautiful collection comprised mainly of drought-resistant plants, reduced water-using grass blends for turf, and mesa oak trees.
Enhanced Landscape Irrigation System - Controls monitor the irrigation systems based on predictions of humidity and precipitation to further enhance reductions to landscape irrigation. Increased efficiency rate of 80% over the use of spray and other sprinkler types. Grounds staff replaced 5,148 SF of spray irrigation with drip irrigation. The College has significantly reduced the watering schedule for campus landscaping, down to a base for two times per week during the evening.
Assistant Director of Sustainability