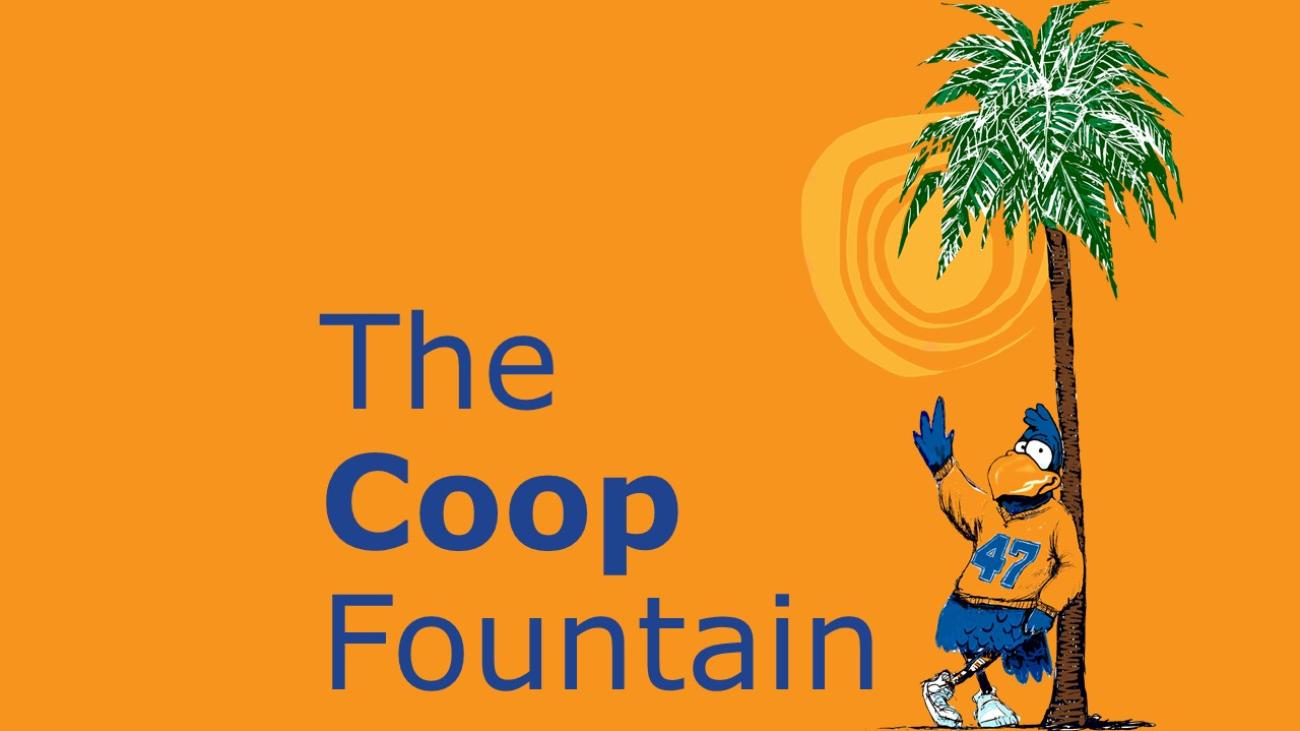 The Coop Fountain features both a core menu and weekly/seasonal specials. Check back to see what's new each week!
Lunch and Dinner Menu
This Week's Salads
Mix and Match 1, 2 or 3 Salads - $5
Poke Glazed Sweet Potato Salad
With Pickled Cucumber, Sliced Radishes, Cilantro, Seaweed Salad, Jalapenos, Grain Blend, Vegan Sriracha Dressing
Chopped Salmon Sesame Noodle Salad
With Cilantro Shredded Cucumbers and Soba Noodles
The Coop Kale Salad with Grains 
With Ancient Grains, Roasted Sweet Potatoes, Sliced Vegetables, Avocado, Hard Boiled Eggs, Sliced Almonds, Yogurt Tahini Dressing
Caesar Salad
Classic and simple Caesar Salad with Toasted Croutons, and Caesar Dressing
Build Your Own Burger
Beef or Turkey - $8
Impossible Burger - $12
Bacon - Add $1
Toppings
Lettuce, Diced Tomatoes, Onions, Grilled Onions, Pickles, Jalapenos, Fried Onions, Roasted Mushrooms, Ketchup, Mustard, Mayo, BBQ Sauce
Cheese
Cheddar, American, Swiss, Vegan Gouda
Bun
Buttermilk, Wheat
Specials - Pomona Classic
Aioli, Pickles, Grilled Onions, Tomato Jam, Shredded Lettuce, Cheddar Cheese
Build Your Own Bowl
Tofu - $7
Chicken - $8
Cod - $9
Choose Your Base
Ancient Grains, White Rice
Choose your Protein
Chicken, Green Goddess Tofu Cubes, Grilled Cod
Veggies
Roasted Vegetables, Grilled Mushrooms, Diced Tomatoes, Grilled Onions, Jalapenos, Fried Onions
Sauce
Teriyaki, BBQ, Szechwan, Vindaloo, Ranch
Coop Favorites
Chicken Fingers - $6
w/2 Side Dips
Vegan Chicken Fingers - $6                                                                                                          w/2 side Dips
Avocado Toast - $8
Avocado, Roasted Tomatoes, Diced Onions, Queso Fresco, Pepitas
Quesadillas
Cheese and Black Bean - $5
Chicken, Cheese and Bean - $6
Sandwiches & Wraps
Middle Eastern Sweet Potato Wrap - $7
Vegan Korean Fried Chicken Sandwich - $7
Grilled Margherita Chicken Panini - $8
Buffalo Chicken Wrap - $7
Fried Funs
Classic French Fries - $3
Curly Fries - $3
Fried Zucchini - $3
Onion Rings - $3
Sweet Potato Fries - $3
Tater Tots - $3
Beverages & More
Fountain Drinks - $2
Iced Tea - $2
Agua Frescas and Juices - $2
Milk Shakes - $2
Chocolate, Vanilla, Strawberry
Dessert
Peanut Butter Bar - $3
Lemon Square - $3
Apple Crumble - $3
Brownie Chunk - $3
Chocolate Chip Cookie - $2
Late Night Menu
Items are available on a rotation schedule and are free.