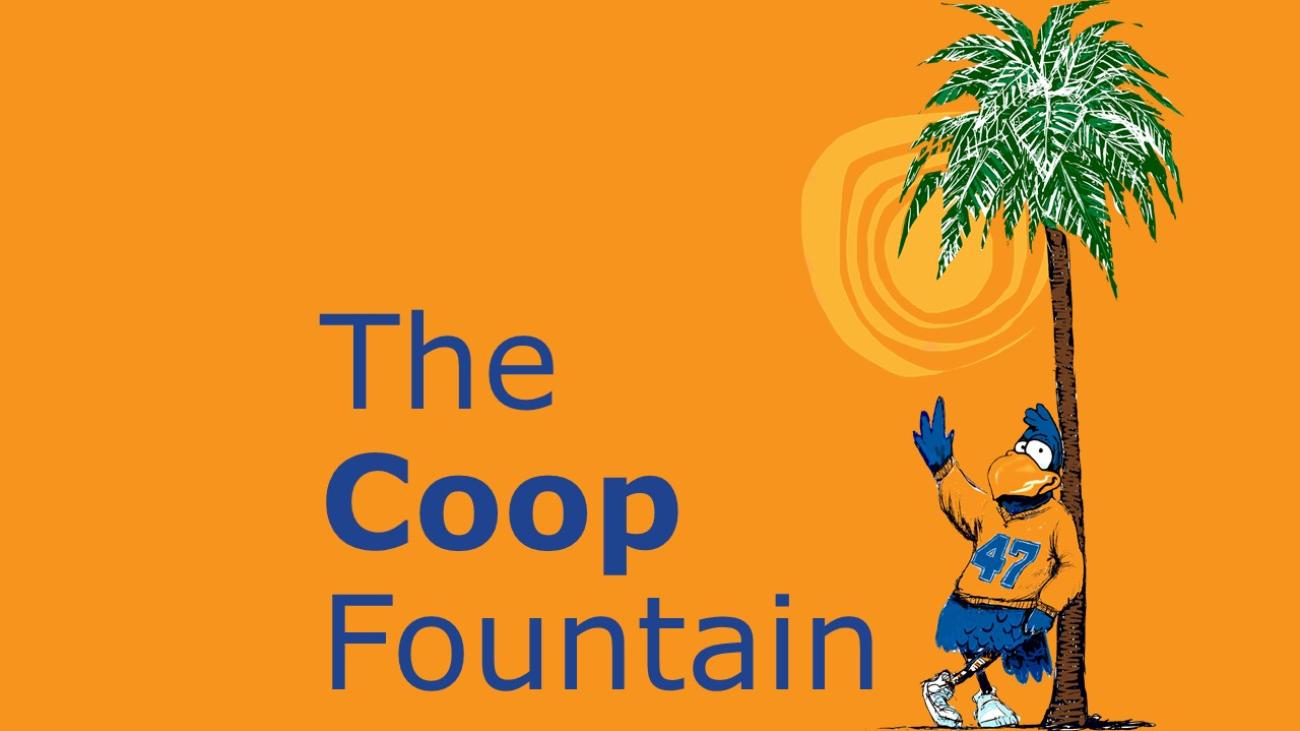 The Coop Fountain menu will be rotating every month. We are starting out with Asian Street Food for the month of September, then moving on to Gourmet Deli and Cheese Melts for October, November will Feature a Burger and Chicken Shack, then we will end our rotation in December with our Mexican Street Food menu. 
Lunch and Dinner Menu
This Week's Salads
Mix and Match 1, 2 or 3 Salads - $5
Chinese Chopped Salad
Napa Cabbage, Spring Mix, Shredded Carrots, Mandarin Oranges, Cilantro, Almonds, Fried Wonton, Sesame Ginger Dressing
Green Papaya Salad
Papaya Noodles, Cucumbers, Carrots, Mint, Sunflower Kernels, Kaffir Lime Dressing
Soba Noodle Salad
Buckwheat Noodles, Broccolini, Asparagus, Cabbage, Cilantro, Thai Basil, Sesame Seeds Chopped Peants, Peanut Sauce Dressing
Marinated Cucumber Salad
Persian Cucumber, Wakame, Charred Shishito, Scallion, Ginger, Black Sesame, Spicy Chili Dressing
Build Your Own Poke Bowl
Ahi Tuna - $9
Vegan Tuna - $7
Toppings
Cucumber, Edamame, Seaweed Salad, Ginger, Wasabe, Fried Onions, Sesame Seeds 
Base
Ancient Grains, Rice, Spring Mix
Sauce
Sweet Shoyu, Yuzu Ponzu, Spicy Sriracha Soy
Hot off the Grill
Drunken Noodles: $8                                                            Mushroom or Chicken, Ginger, Scallion, Thai Basil, Bell Peppers  
Steamed Buns: $7                                                                  Pork Belly, Pickles, Sprouts, Spicy Mayo  
Banh Mi Sandwiches: $8                                                  Chicken or Mushroom, French Roll, Cucumber, Jalapeno, Pickled Carrot, Cilantro, Sriracha Mayo
Vegan Korean Fried Chicken Sandwich: $8                            Plant based Chicken, Kim Chi Slaw, Gochujang Glaze, Vegan Pretzel Bun  
Rolls
Spicy Tuna: $5
Avocado: $4
Vietnamese Spring Roll: $5                                                    Shrimp or Tofu, Rice Noodles, Cucumbers, Mint, Cilantro, Carrots, Sweet Chili Sauce                                  
Fried
Chicken Pot Stickers: $5
Rangoon: $5
Veggie Eggroll: $3
French Fries: $3
Chicken Tenders: $6
Vegan Chicken Bites: $6
Beverages & More
Fountain Drinks - $2
Iced Tea - $2
Agua Frescas and Juices - $2
Milk Shakes - $2
Chocolate, Vanilla, Strawberry
Dessert
Coconut Cake: $4
Mango Sticky Rice: $4
Caramel Sesame Balls: $4
Chocolate Chip Cookies: $2
Fruit Cup: $2
Late Night Menu
Items are available on a rotation schedule and are free.