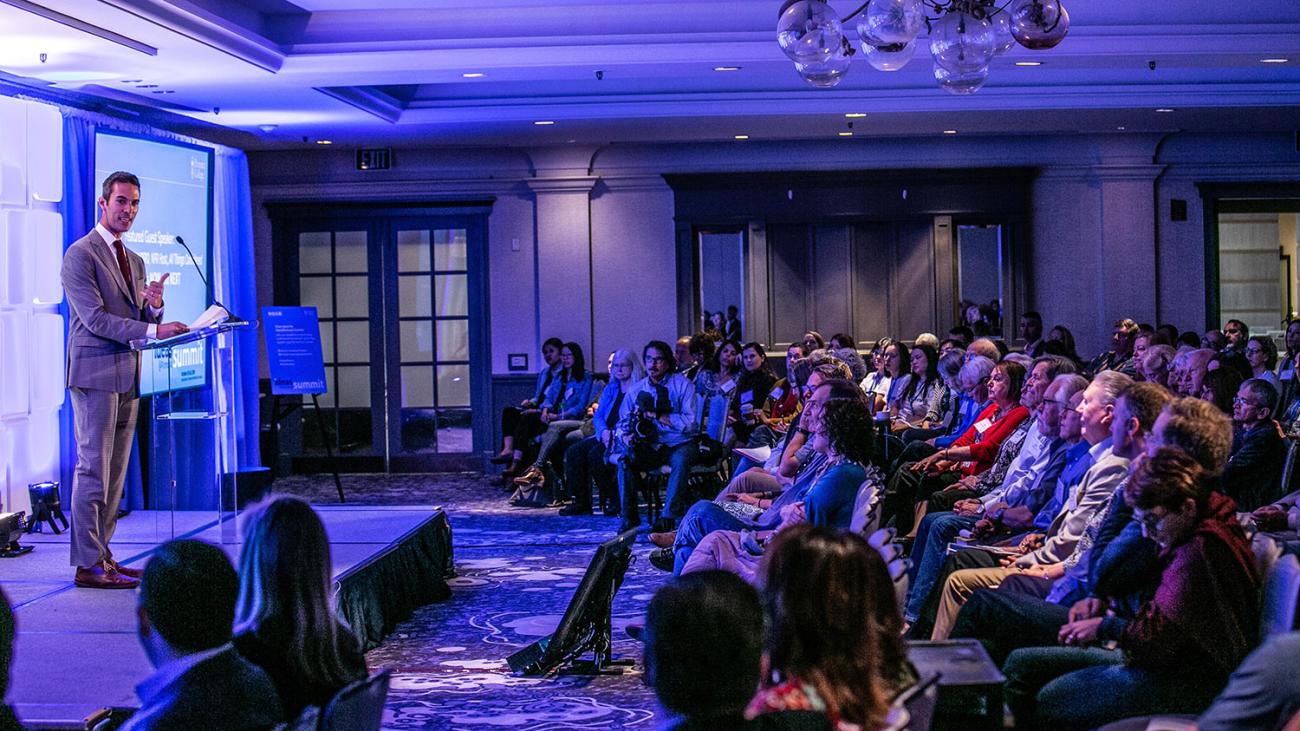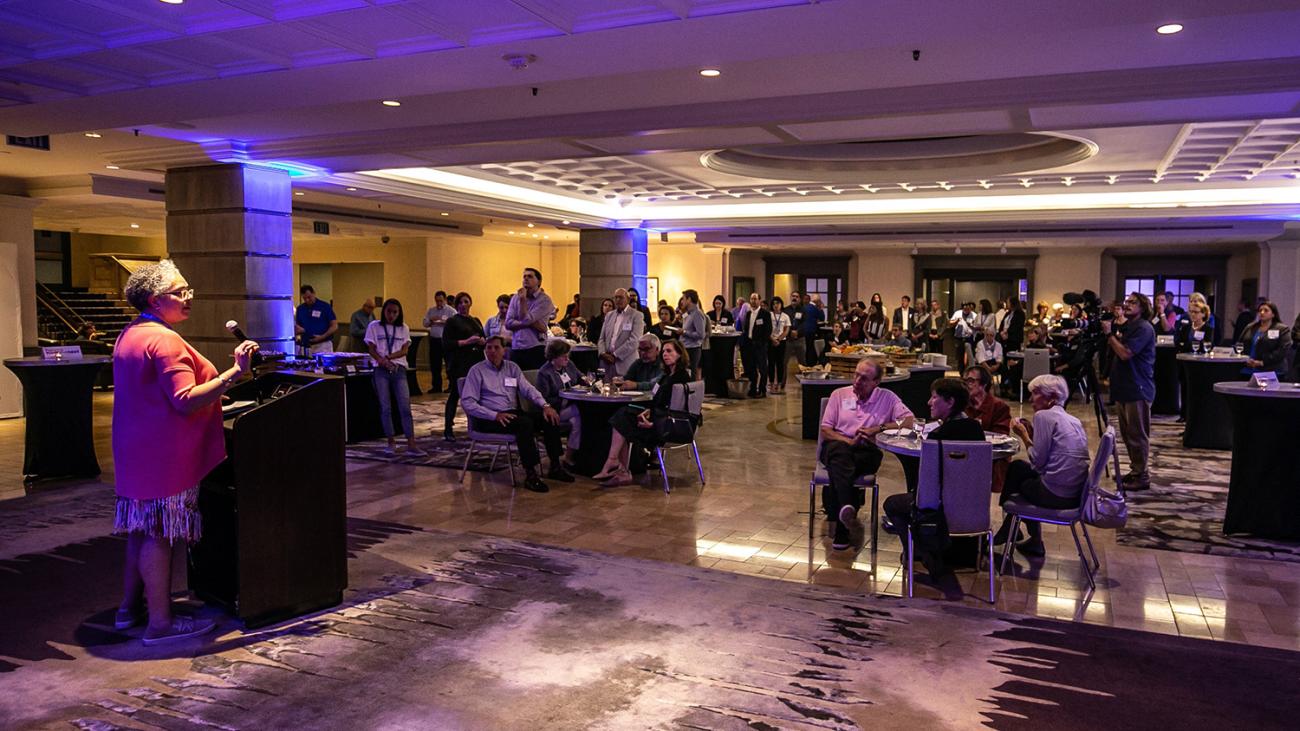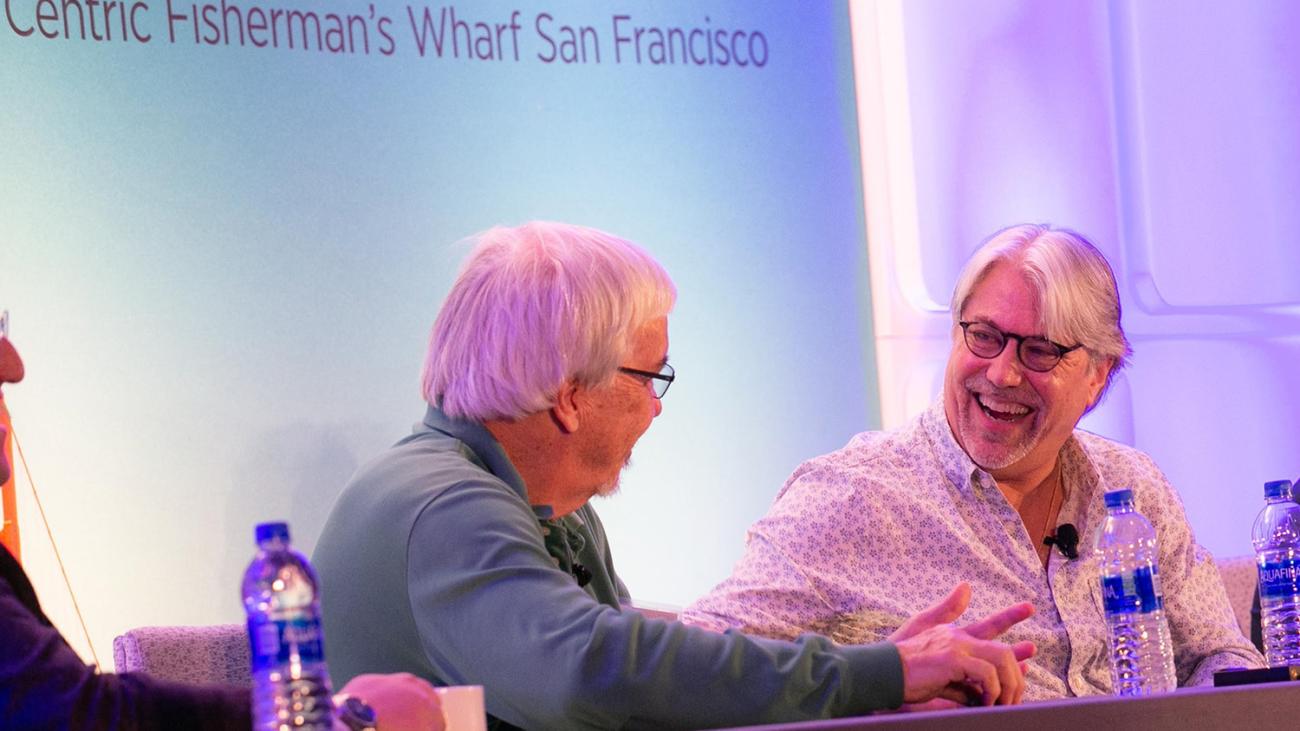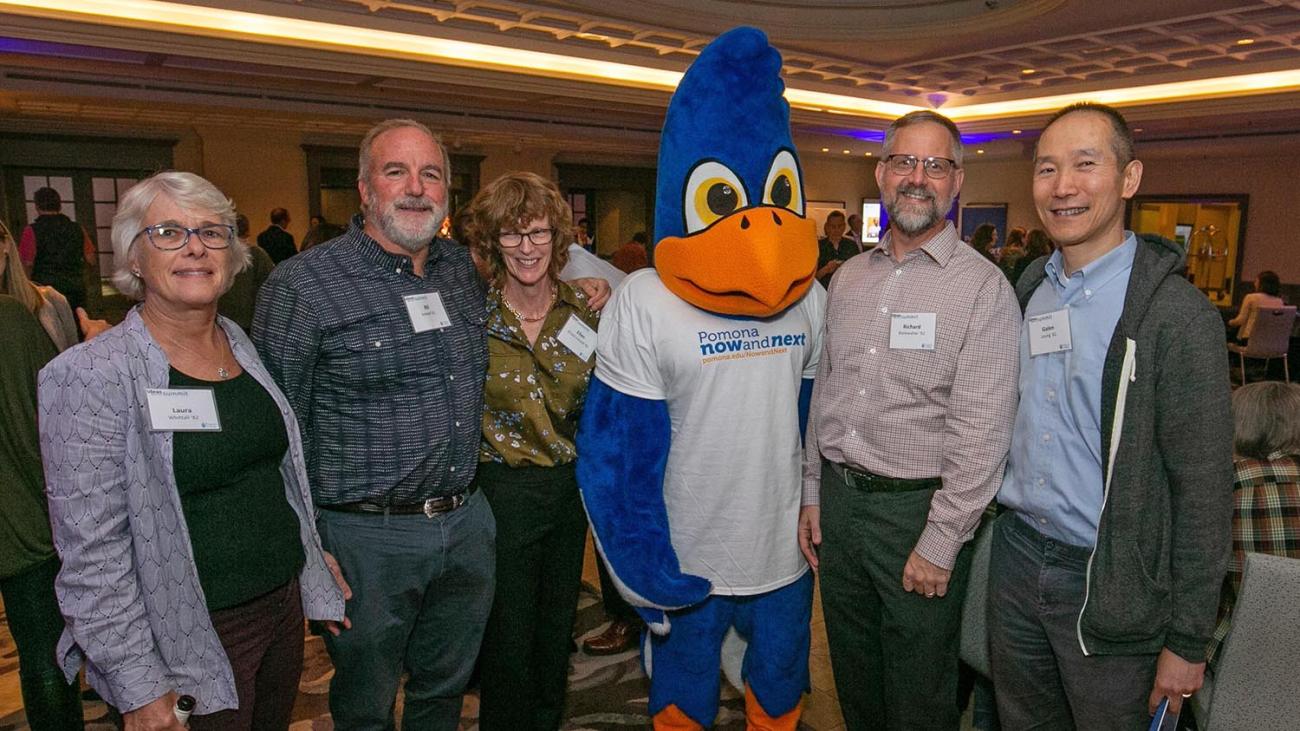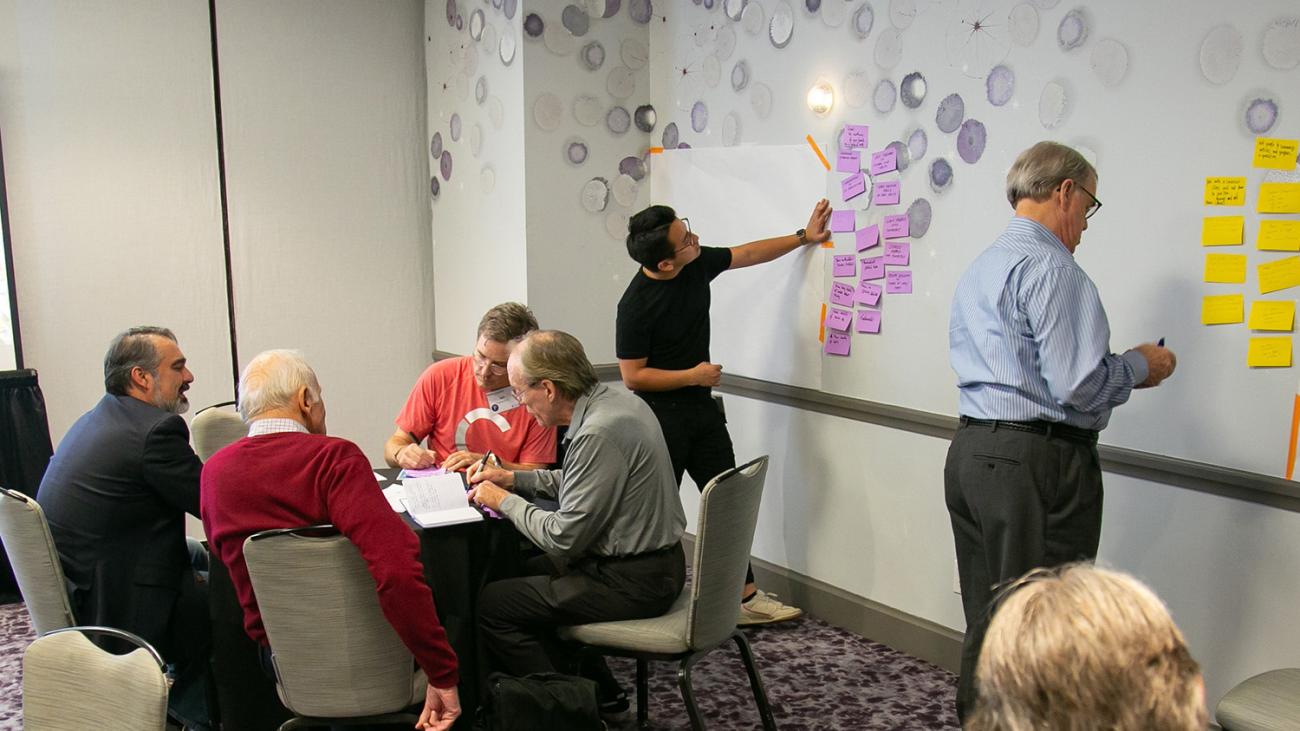 Information subject to change. Please check back regularly for updates.
Friday, October 25
2 p.m.
Registration Desk Opens
NORTH POINT LOUNGE FOYER
4-6:30 p.m.
HEN Talks
Moderator: Robert Gaines, Interim Vice President for Academic Affairs and Dean of the College; Edwin F. and Martha Hahn Professor of Geology
A series of short, TED Talk-like presentations led by Pomona faculty, alumni, parents and friends.
C.A. THAYER
Hen Talks Presentations
Hen Talks Presentations
Rethinking Prison: Lessons Learned from Public Education
Andrew Glazier '97
Nationally, 50% of individuals who are released from prison are re-convicted and return to prison within three years. At a cost of more than $80,000 per person per year of incarceration in California, the failure of the corrections system to rehabilitate is costly both in terms of financial resources and the lives of those impacted by both the crime and the punishment. The lessons of public education reform have remarkable relevance to criminal justice reform — what if the same concepts of local management and accountability tied to data and outcomes applied to prisons in similar ways that they are applied to public schools?
Capturing Feeling Through Sound: Why Music Matters in Poetry
Jodie Hollander '99
Why do we share poems, as opposed to other writing forms, at weddings, funerals and other significant life events? What is it about poetry that speaks to our humanity, and how does a poet create something so profoundly impactful? In this brief talk, we'll consider one indispensable tool that, for centuries, poets have known is the key to creating powerful poetry: musicality. We'll consider not only how musicality distinguishes poetry from other forms of writing, but also how it can heighten, enrich and transform a poem — ultimately creating something that can, as William Wordsworth says, make us "wiser, better and happier." The talk will conclude with a short reading from Jodie Hollander's My Dark Horses.
Words: Free Flowing vs. Painstakingly Precise — Me: Aspiring Novelist vs. Lawyer, or Both?
April Xiaoyi Xu '18
I am fond of words: written and spoken alike. Growing up as an aspiring fiction writer, I love externalizing my feelings, thoughts and wildest ideas with free-flowing, passionate prose that would quickly occupy blank sheets of paper. As I grew to embrace political science and law at Pomona and Harvard, however, I concurrently developed a deep respect for the painstakingly precise style of writing. Staring at the blinking cursor on my computer screen, I am now confronted with a near-paralyzing sense of perfectionism. Join me on this quest in reconciling my identities as a fiction writer and lawyer.
Video Games, the Freemium Economy and Real Life
Christopher Kao '03
The freemium economy is a business model where you get a good or service for free, and then pay for add-ons. This is the model of choice for most mobile video games and digital products. It has also been demonized by countless articles, pundits and television shows. Candy Crush is an early example of this business model. However, what if the freemium model is actually a better business model than what we have? This might lead to better products and better service. Let's imagine what happens when you apply the freemium video game model to more traditional businesses.
What Standardized Tests Don't Predict: The College Student with Mental Illness
Barbara Serwin '84
What if the SAT predicted a propensity for mental illness rather than academic success in college students? If you were told that one in three college students suffered from a mental health condition in 2018, you might be more concerned about their mental health than their GPA. In this session, we'll discuss trends, typical mental health care options on campuses today and possible improvements to these options. We'll consider a new concept of care that embraces the whole person and the whole campus. We'll wrap with policy questions that will define student mental health care for tomorrow.
6:30-8 p.m.
Welcome Reception
NORTH POINT LOUNGE
Saturday, October 26
Breakfast on your own
8 a.m.
Registration Desk Opens
NORTH POINT LOUNGE FOYER
9-9:30 a.m.
Welcome and College Update 
Emcee: Jenn Wilcox Thomas '08, Board of Trustees, Pomona College and Vice President, Hall Capital Partners
G. Gabrielle Starr, President, Pomona College
PRESIDIO BALLROOM
9:30-10:30 a.m.
Featured Guest Speaker: Liberal Arts NOW and NEXT
Ari Shapiro, NPR Host, All Things Considered
Ari Shapiro is accustomed to tackling new topics every day for an audience of millions. His own educational background as an English major informs every aspect of his work. In this talk, Ari will share stories from his career as an award-winning journalist that demonstrate the value of the liberal arts.
PRESIDIO BALLROOM
10:30-11 a.m.
Break
NORTH POINT LOUNGE
11-11:45 a.m.
Fireside Chat with Laszlo Bock '93
Laszlo Bock '93, CEO of Humu, Inc., author, and former SVP of People Operations at Alphabet / Google
Moderator: Alexandra Papoutsaki, Assistant Professor, Computer Science, Pomona College
Laszlo Bock, '93, former SVP of People Operations at Google and now CEO of the human resources technology company Humu will share leadership lessons from his career since leaving Pomona, his thoughts on the workforce of the future in the face of automation, and why the success of the global, tech-driven economy rests on a liberal arts education.
PRESIDIO BALLROOM
11:45 a.m. - 12:30 p.m.
The Liberal Arts in a Post/Truth World
Moderator: Kevin Dettmar, W. M. Keck Professor of English, Director, The Humanities Studio at Pomona College
Panelists: Lee McIntyre P'19, Author of Post-Truth and The Scientific Attitude: Defending Science from Denial, Fraud, and Pseudoscience; Tomás Summers Sandoval, Associate Professor of History and Chicana/o Latina/o Studies, Pomona College; Heather Williams, Professor of Politics, Pomona College; Rachel Marandett '20 and Skye Mitchell '20
In the era of "post/truth," objective facts are less influential in shaping political debate or public opinion than appeals to emotion and personal belief. This poses an obvious threat to the reasoned debate and dialogue fundamental to the liberal arts experience, and to participatory democracy. Members of the press are now routinely denounced as "enemies of the people"; outright fabrications are described as "alternative facts." In 2019–20, the Humanities Studio is exploring the post/truth phenomenon from a wide variety of disciplinary and interdisciplinary perspectives. This session will provide a preview of the year's programming, which will take a long, hard look at post/truth to assess the hopes for restoring rational discourse about the most urgent problems facing us today.
PRESIDIO BALLROOM
12:30-1:30 p.m.
Lunch
NORTH POINT LOUNGE
1:30-2:30 p.m.
CONCURRENT BREAKOUT SESSIONS – SET I
CONCURRENT BREAKOUT SESSIONS – SET I
It's All in The Tone: Sociolinguistics, Intonation, and Linguistic Profiling
Nicole Holliday, Assistant Professor of Linguistics and Cognitive Science, Pomona College
When you hear someone without seeing them, what types of judgments can you make based solely on their voice? Listeners are surprisingly adept at making judgments about gender, age and race based on short speech samples, and they make these assumptions based on the voice itself rather than just content. These facts have implications for how marginalized groups and people experience the world, especially in institutions such as education and the criminal justice system. This session will explore the mechanisms by which we make sociolinguistic judgments and reflect on the ways in which language can be used to examine social inequality.
AMADOR
Body Mind Centering: How Science Intersects with Movement
John Pennington, Associate Professor of Theater and Dance, Pomona College and Artistic Director, Dance Program
Nike's slogan of "Just Do It" has application in the art of dance and the brain. In this session, we will explore how the brain makes sense of movement through thinking and doing at the same time. How do we communicate and express ideas where language departs and gesture begins? Can our kinesthetic knowledge and memory be resourced to support better mental and physical health? This playful session will sample ways in which dance is situated in a liberal arts education and suggest possibilities to re-center the body/mind connection. All are invited to participate and just do it. No dance training necessary.
C.A. THAYER
Human Trafficking: 47 Innovations
Martina Vandenberg '90, Founder and President, The Human Trafficking Legal Center
The International Labor Organization estimates that as many as 24.9 million men, women, and children are held in forced labor worldwide, with another 15.4 million held in forced marriage. Human trafficking—for forced labor, domestic servitude, forced prostitution, and the commercial sexual exploitation of children—is a plague across the globe, including the United States. Criminal justice responses have failed: the State Department's anti-trafficking ambassador recently remarked that a perpetrator is more likely to be struck by lightning than to face prosecution. Martina Vandenberg (1990), a human rights attorney with two decades of experience in the fight against human trafficking and founder of the Human Trafficking Legal Center, will provide insights into new innovations.
SOLANO
SPARKATHON: Liberal Arts in Action, Solving Real-World Problems
Interactive Workshop (limited to the first 25 registrants). Advance sign-up at the Registration Desk.
Fabian Fernandez-Han '20, Founder of Sparkathon and President of Pomona Ventures; Peter Han P'20
Human-Centered Design (HCD) has emerged as a powerful tool in both the commercial and not-for-profit sectors for harnessing collective creativity to solve complex problems. Fabian founded Sparkathon at The Claremont Colleges to engage the liberal arts community in using HCD to solve diverse social problems. Audience members will participate in a mini-version of Sparkathon to gain a firsthand understanding of this inclusive and engaging event. Come prepared to collaborate creatively and intensely in small teams to generate potential solutions to a vexing social problem that impacts each one of us; the problem will be revealed during the opening of this session. No prior experience with HCD is required. Come explore, play and collaborate!
LARKSPUR A
2:30-2:45 p.m.
Break
NORTH POINT LOUNGE
2:45-3:45 p.m.
CONCURRENT BREAKOUT SESSIONS – SET II
CONCURRENT BREAKOUT SESSIONS – SET II
How to Build a Culture of Belonging
Liz Fosslien '09, Co-author and Illustrator, No Hard Feelings: The Secret Power of Embracing Emotions at Work, and Head of Content, Humu
What if you could bring yourself out of hiding and into the organization, even the parts of yourself that don't seem to belong on a surface level? Diversity is having a seat at the table; inclusion is having a voice and belonging is having that voice be heard. In this interactive session, Liz will pair the science of emotional cultures with small group discussion to outline the steps individuals and organizations can take to foster belonging for all employees.
AMADOR
Crafting Peace in East Asia: A Liberal Arts Perspective
Tom Le, Assistant Professor of Politics, Pomona College
Pundits often argue that irrational obsession over history prevents lasting peace between the United States and North Korea and Japan and South Korea. Leaders and the public in East Asia would enjoy unparalleled economic and security gains if only they could follow a rational approach towards reconciliation. This session will explore how a liberal arts perspective can help illustrate that any rational framework must take into account the humanistic dimensions of security, namely acknowledgment of a victim's grievances and respect for a rival's security and identity-based interests in order to succeed.
SOLANO
An American Dilemma: Creating a Healthcare System that Works for Everyone
Moderator: Sam Glick '04, Chair of the Board of Trustees, Pomona College and Partner, Oliver Wyman
Panelists: Aiden Hill '88; Chuck Phelps '65; Brian Prestwich, MD P'20
The U.S. healthcare system is nominally free market-based, but the government is the largest purchaser of healthcare. Americans spend more on healthcare than anyone else in the world, yet average lifespan has declined three years in a row. American universities are wellsprings of clinical innovation, yet the healthcare industry has shown declining productivity per employee over the past several decades. What are we to make of these dichotomies? And how might the 2020 election make things better – or worse? In this free-wheeling discussion, four national healthcare experts will share their thoughts on what we need to do to make our healthcare system work for everyone.
PRESIDIO BALLROOM
3:45-4 p.m.
Break
NORTH POINT LOUNGE
4-5 p.m.
CONCURRENT BREAKOUT SESSIONS – SET III
CONCURRENT BREAKOUT SESSIONS – SET III
Changing the Conversation: How We Talk about Mental Health and Why it Matters
Sara Masland, Assistant Professor of Psychological Science, Pomona College
This session will consider how the national discourse on mental health influences outcomes and attitudes, from suicide to stigma. Researchers and advocates alike champion increased discussion of mental health, and so we may be optimistic that depictions of mental illness and opinions about its causes and diagnosis increasingly surround us: social media, celebrities from SNL to the NFL and shows from Netflix to CNN all have something to say. But is what they are saying, or perhaps how they are saying it, causing more problems than it may solve? This session will explore these issues and more.
AMADOR
The Petroleum Paradox: The Challenges of a Petroleum-Free Society
Nicolas Ball, Assistant Professor of Chemistry, Pomona College
The world has an insatiable need for petroleum. From cars to our clothing, our exposure to petroleum-based products is more than meets the eye. The extraction, processing and consumption of petroleum has extensive consequences to the environment and human health. Although efforts are being pursued toward renewal energy sources for electricity and transportation, consumer goods present an incredible challenge to becoming a completely petroleum-free society. This session will focus on understanding the ties between oil and products we use every day. Additionally, this session will discuss the chemical and societal challenges to breaking our dependence on petroleum.
MARIN
Liberal Arts 2.0: The Humanities Studio at Pomona College
Kevin Dettmar, W. M. Keck Professor of English, Director, The Humanities Studio at Pomona College
In the sciences, students learn research skills as they apprentice in the lab with faculty mentors. But humanities scholarship most often takes place in isolation: For our humanities students to develop the sophisticated research skills that our science students are learning, we need to break down that isolation. The Humanities Studio at Pomona College was established to foster interdisciplinary study of the humanities among Pomona students and faculty and to enrich the experience of the humanities for all students, faculty, staff and our surrounding communities. Join Studio Director Kevin Dettmar for a "virtual tour" of Pomona's new Humanities Studio, including highlights of the inaugural year's student-faculty seminar, visiting speakers series, Humanities Toolkit and its evolving "Random Acts of Humanities" series.
SOLANO
5-6:30 p.m.
Reception 
NORTH POINT LOUNGE