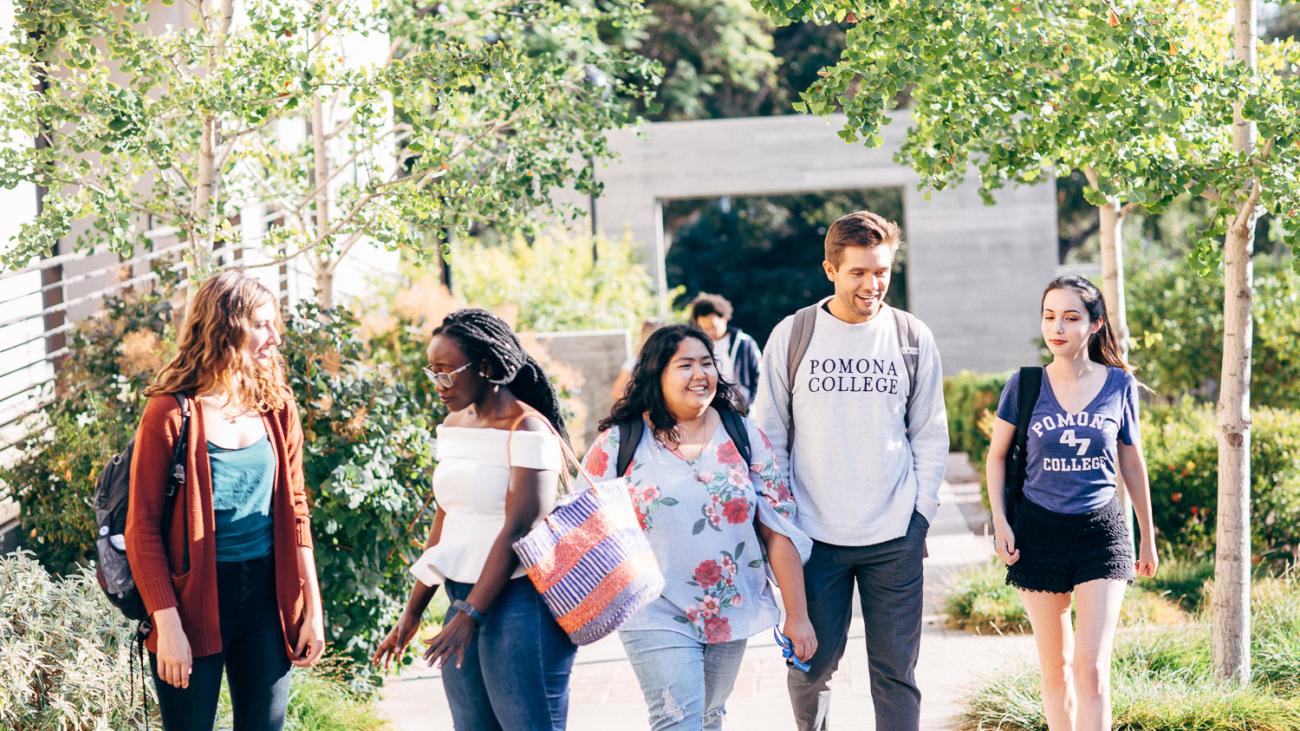 There is no such thing as a "typical" Pomona College student. All Pomona students have a few important things in common—most importantly, academic drive and a goal of doing something meaningful with their lives—but in most other ways they are as varied as they are talented. They come to Pomona from every state and from some 60 countries around the world—from large cities, suburban areas and rural corners that don't appear on any map. They come from a wide range of backgrounds and kinds of school, but, together, they form a community that thrives through collaboration, mentorship and intellectual growth.
The Class of 2024 Profile
Total Applications: 10,388

Admit Rate: 8.6%
Class Size: 399 (212 Females, 187 Males)

Prior Gap-Year Matriculants: 7
QuestBridge Match Scholars: 16
Posse Scholars: 20
Early Decision Matriculants: 130
Regular Decision Matriculants: 226
Schools Represented
Independent: 25.1%
International: 12.5%
Parochial: 7.0%
Public: 55.4%
Background
Asian: 19.8%
Black/African American: 10.8%
Hispanic of any race: 16.5%
International: 10.5%
Race/Ethnicity unknown: 4.5%
Two or more races: 7.3%
White: 30.6%
Reporting of race and ethnicity is based on federal standards.
Standardized Testing median scores
(test-optional admissions policy in effect for Class of 2025)
SAT EBRW: 750
SAT Math: 740
ACT Composite: 33
Rank in Class
(of schools that rank)
Top decile: 90.0% (Valedictorians 24.5%)
Top quarter: 98.2%
Financial Aid
Pomona is committed to a need-blind admissions process for U.S. citizens, permanent residents and all students graduating from U.S. high schools. The College offers need-based scholarships and grants, meeting 100% of demonstrated need. Applicants must submit the FAFSA and CSS Profile in order for the College to determine financial need. Loans are not included in offers of financial aid but are made available to help families finance their expected family contribution.
Aid packages include various sources of funding: Pomona aid, federal and state grant/scholarship assistance, plus student work-study. The amount and type of aid in each package depends on each student's demonstrated need and eligibility for funds. Outside scholarships reduce the student contribution and student work-study components before reducing the amount of aid provided by Pomona.
Fall 2020 Entering Class
Pell-Eligible: 22%
First-Generation or Low-Income: 28%
Financial Aid Recipients by Income
0 - $30,000: 17%
$30,000 - $60,000: 24%
$60,000 - $90,000: 21%
$90,000 - $120,000: 11%
$120,000 - $150,000: 8%
$150,000 - $180,000: 7%
$180,000+: 13%
Cost of Attendance 2020–2021
Tuition: $54,380
Student Fees: $394
Room and Board: $17,820
Total Billed Charges: $72,594
Books: $1,000
Personal Expenses: $1,500
Books, travel and personal expenses are estimated in the total financial aid budget but are not billed by the College. Students may also be required to enroll in the student health insurance plan.
We encourage families to visit our online cost calculators: MyinTuition or the Net Price Calculator. Both provide an estimate of eligibility for financial aid but are not official offers of financial aid from Pomona College.