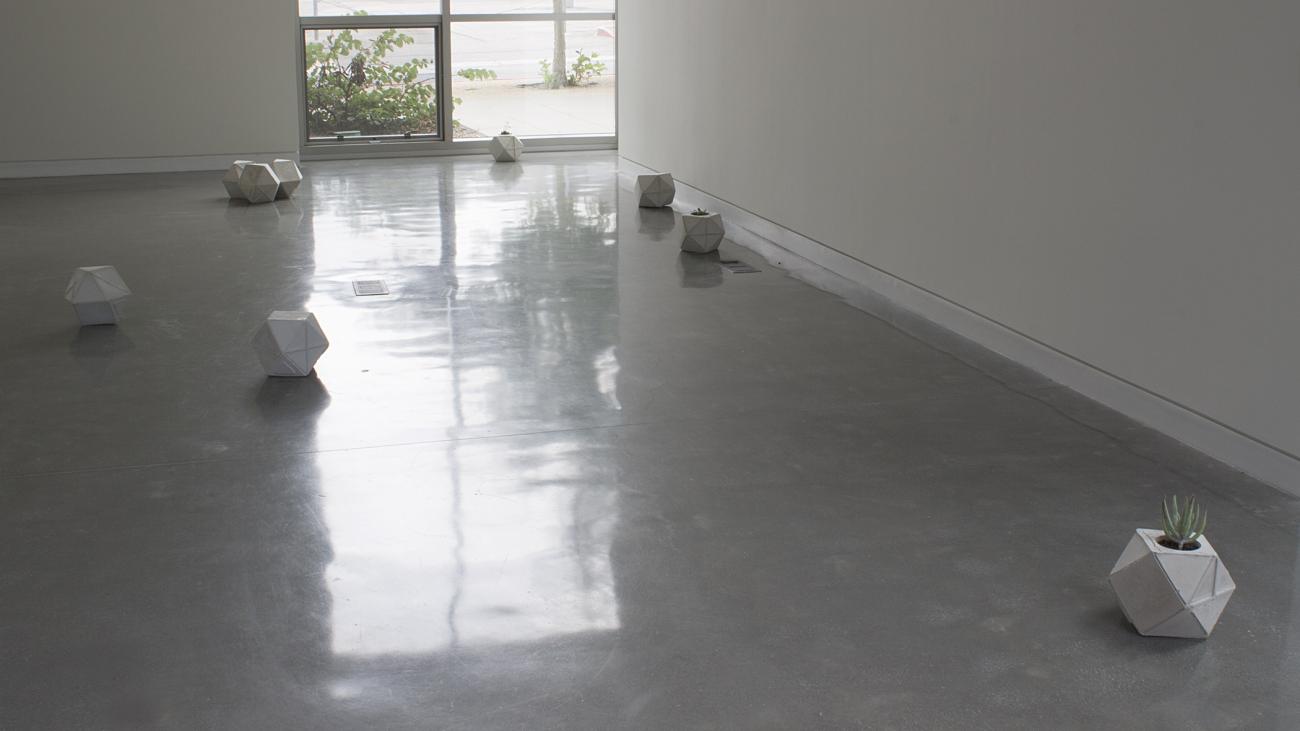 REFORMULATION: Claremont Idyll
A solo exhibition featuring work by Alice Clements
On view: July 9 – August 10, 2018
Reception on Sunday, July 15th from 1-3pm​
"The cast concrete sculptures in "Reformulation: Claremont Idyll" may be compared to the design of the Pomona College Studio Art Hall, with its board-formed concrete walls, minimal design, and geometric touches. Designed by the architecture firm wHY, the hall's design aesthetic is one of complex spatial circulation that maintains the appearance of simplicity.  Similarly, Clements's concrete cuboctahedrons are complex geometric forms that maintain the appearance of simplicity.
The Studio Art Hall and its courtyard have a sense of carefully designed space and purity of elements that relates to Zen gardens with their care of placement and meaning attached to each element.  With slight differences between them, the cuboctahedrons embrace the wabi-sabi notion of beauty in imperfection and humble materials.
The installation inside the gallery is a reflection of the elements of the courtyard visible through the gallery's walls of glass.  The polished concrete floor inside echoes the concrete courtyard outside.  The concrete cuboctahedrons inside are like manmade versions of the rocks in the courtyard, and the diminutive plants inside set up a quiet conversation with the trees outside.
In their previous iteration, the blocks were set up to represent building and construction and to create a space for impromptu performance.  In this next act, the blocks are the main element of a quasi-Zen garden, reflecting the harmonious space visible beyond."
Alice Clements, July 2018
BIO | Alice Clements lives and works in Los Angeles.  She received her BA from Wesleyan University and her MFA from Art Center College of Design.  Recent shows include the Los Angeles Museum of Art, Santa Ana College Santora Gallery, Coop Gallery in Nashville, University Art Museum at California State University, Long Beach, and Highways, Santa Monica.
Curated by Tricia Avant
Academic Coordinator and Gallery Manager of Art