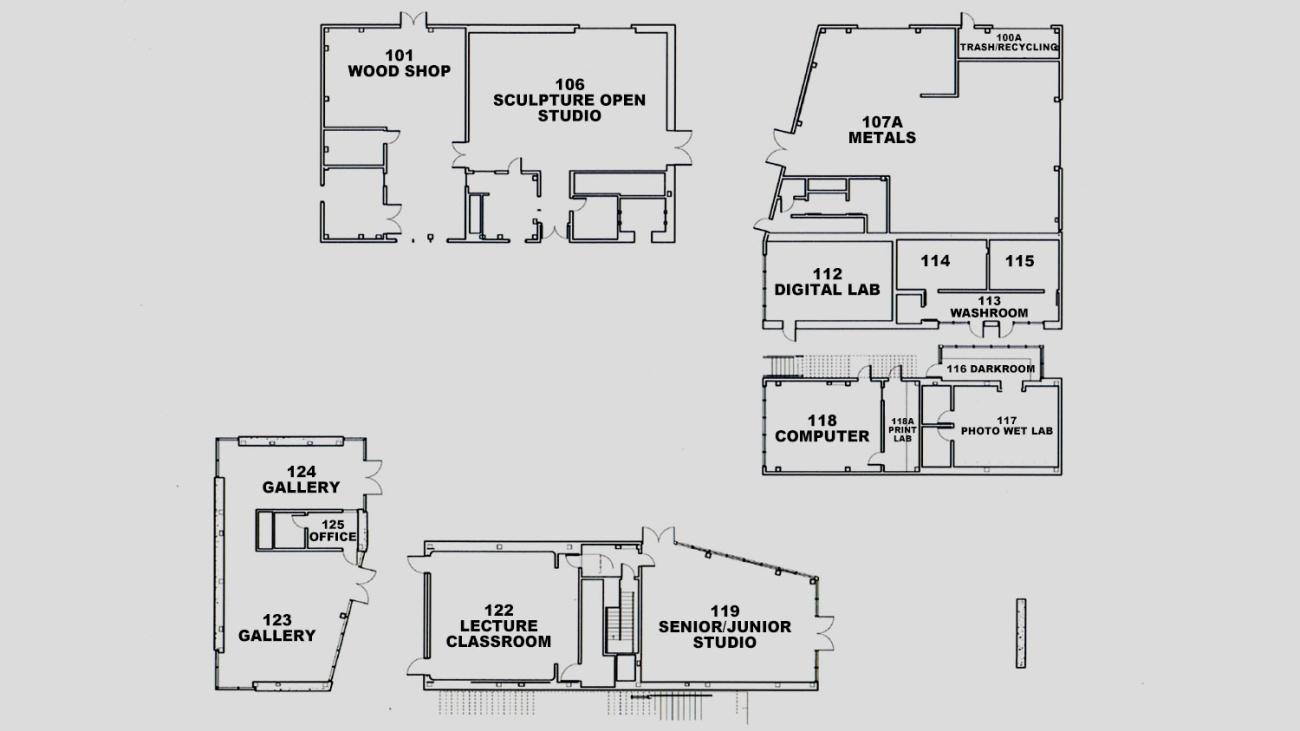 Our facilities are open to junior and senior art majors and to students currently taking classes within the Art Department.
Aramont Foundation Drawing Studio
Our large drawings studio features natural lighting, large tables, sinks, a balcony, and a cabinet of curiosities containing objects for still life drawing.
Aramont Foundation Shared Tech Lab
Our Shared Tech Lab has a Canon color copier for high end duplicating, a guillotine cutter, a vinyl cutter, a perfect binder, a scanning station, a 3-D printer and a laser cutter/engraver, a printing press, and an industrial sewing machine. The equipment cage has analog and digital cameras, lights, tripods, projectors, knitting machines and other gear available for student checkout.
Bernard Charnwut Chan Gallery
Our 1,500-square-foot Chan Gallery has hosted exhibitions that have included works by faculty, staff, students, and artists of national and international renown. Each academic year the gallery holds the Junior and Senior Thesis Art Exhibitions at the end of the semester, with junior art majors exhibiting in the fall and senior art majors in the spring.
Karl Benjamin Painting Studio
Our well-ventilated painting studio featuring abundant natural lighting, sinks, movable walls, and easels.
Norman Hines Sculpture Studio
Our state of the art Sculpture Studio allows students to work in a variety of media. A fully equipped woodworking shop includes a CNC router, a computer controlled cutting machine that can carve into wood, plastic, composite, and other materials. For metalworking, we have a forge for casting, welders, and cutting tools. Our ceramics studio includes a kiln.
Pamela Creighton Gray Space and Terrace
This open space is used for classes, performances, exhibitions, yoga, and other art-related events.
Pamela Creighton and Margaret Hunter Courtyard
Anchored by a large cork oak tree and surrounded by the studios, our courtyard is a place for performances, get-togethers, art installations and just hanging out. Our large boulders were chosen in tandem with the Geology Department, and provide an opportunity to experience rocks as both functional, educational, and aesthetic objects.
Photo Studio
The photo facilities include a black and white darkroom with 2 film processing rooms, a lighting studio with strobes and hot lights, and a large format printer.
Ralph M. Parsons Foundation Junior Senior Studio
Our junior and senior art majors have the opportunity to work in this open studio space.
Stephen Morris and Ann Moseley Morris Digital Studio
Our digital lab has 23 iMacs, two flatbed scanners, two Epson ink jet printers, and two  color laserjet printers.
Wells Family Salon and Artist-in-Residence Space
Our Salon is used for luncheons, seminars, dinners and events. The Artist-in-Residence Space will be a place for visiting artists to stay.
Studio Art Hall Room Listing
1st Floor
100A: Trash/Recycling
101: Wood Shop
106: Sculpture Open Studio
107A: Metals
112: Digital Lab
113: Washroom
116: Darkroom
117: Photo Wet Lab
118: Computer
118A: Print Lab
119: Senior/Junior Studio
122: Lecture Classroom
123: Gallery
124: Gallery
125: Office
2nd Floor
200: Terrace
201: Painting Studio
205: Classroom
206: Gray Space
213: Light Lab
214: Photography Studio
216: Drawing Studio
217: Classroom
218: Shared Technology
219: Salon
222: Artist-in-Residence
Academic Coordinator and Gallery Manager of Art