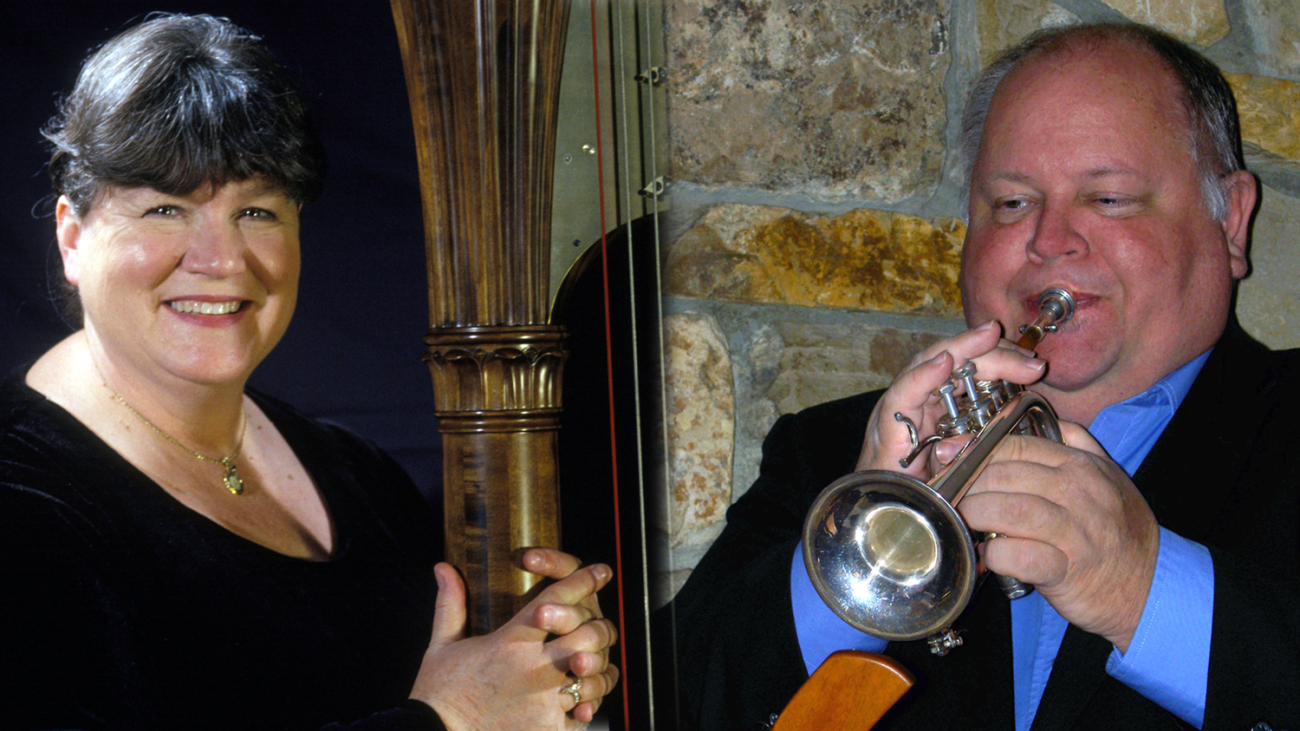 Story Date:
Friday, February 5, 2021
With a heavy heart, the Music Department announces the passing of two beloved longtime members of its performance faculty: Raymond Burkhart and Mary Dropkin.
Ray Burkhart, Lecturer in Trumpet from 2002 to 2019, died unexpectedly in December. He was a musical polymath: a recognized performer on modern and historical instruments, a composer, a conductor, and a scholar. After earning his B.A. in music at Occidental College in 1983 and his M.M. in trumpet from USC in 1985, he completed the Ph.D. in musicology at CGU in 2010 with a dissertation called "Brass Chamber Music in Lyceum and Chautauqua," a topic on which he continued to publish. During his 17 years at Pomona, in addition to teaching trumpet lessons, he had on occasion directed the Band and the Orchestra, taught a music theory lab, and performed with faculty and student ensembles, including several concerts with the Choir. And for more than a dozen years, he made a mark on every Pomona Commencement, including the online ceremony in December 2020, providing music at each ceremony since they moved outdoors in 2007. Under his leadership, Ray's ensemble, the Premiere Brass Quintet, ushered students, faculty, and guests in and out, often with celebratory music that he composed himself. Ray had moved to Boise, Idaho in 2019 to start a new chapter of his life. He is survived by his brother Reed and extended family.
Mary Dropkin, Lecturer in Harp, passed away on January 8. She had joined the Pomona College faculty in 1995, making her one of the longest serving teachers in our applied music curriculum. A native of Green Bay, Wisconsin, she moved with her family to Pomona, California when she was young and never left. She completed her B.M. degree in harp performance from the University of Southern California, where she also did graduate work. A much-beloved leader in the Inland Empire harp community for decades, Mary maintained a large studio of private students as well as faculty affiliations with the University of Redlands School of Music, CSU San Bernardino, and of course Pomona, where her students found her to be a patient, encouraging, positive guide who got them excited about the instrument and raised the level of their playing. In addition to teaching, Mary served as Principal Harpist of the Redlands and San Bernardino Symphony Orchestras and other Inland Empire professional ensembles. She also performed with the Pacific Symphony and the California Philharmonic. As longtime President of the Inland Empire Harp Society, she organized the 2018 national conference of the American Harp Society. She often performed on our campus as a chamber musician and founded the locally-based ensemble LA Harptette. She is survived by her partner of 30 years, John Gann, her children Brian and Scott, and their families.