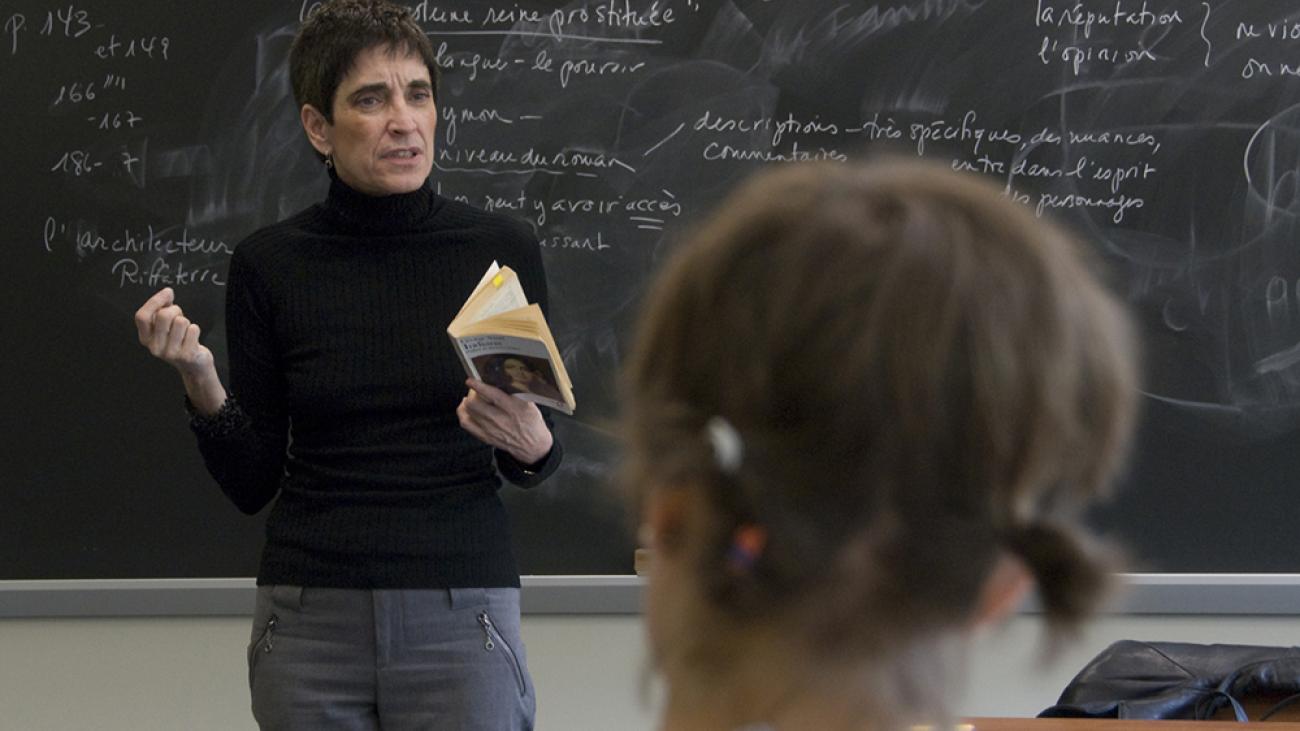 The French Section at Pomona College offers a wide array of courses taught by experienced and distinguished faculty. Enrollment in language classes is limited, ensuring that all students receive a great deal of individual attention and can be fully involved in class discussions. We use the communicative method, stressing the active use of French in real-life situations with practical vocabulary, an inductive approach to grammar and hands-on activities. Both our language and literature courses use multimedia resources, with an emphasis on film, visual arts and the internet. Our transitional courses and upper-level seminars explore a rich variety of material—from the great works of French literature (Molière, Rousseau, Proust, Beckett, Sartre, et al) to the latest in French popular culture (advertising, film, rap music, etc.). In all of our classes, we stress rigorous thought and develop students' ability to speak and write effectively. Students majoring in French become familiar with a range of contemporary approaches to language, literature and culture including political theory and philosophy, feminism, psychoanalysis and cultural and film studies.
Our students are as multidisciplinary as our faculty. Many have double majored in International Relations, Economics, English, Biology, Chemistry, Religious Studies, Public Policy Analysis, Mathematics, and Environmental Studies. Most students spend at least a semester at one of our Study Abroad French-speaking programs—in France (Paris, Nantes, Montpellier) or in francophone Africa (Cameroon and Senegal). Pomona's program in Romance Languages is also enhanced by a state-of-the-art multimedia laboratory, the Foreign Language Resource Center, with integrated computer, audio, and visual components, including interactive video discs and computer-assisted language programs. Students can further improve their command of French and knowledge of French culture by participating in the programs at the Oldenborg Center for Modern Languages and International Relations, which include daily language tables, study breaks, lectures, a French film series and other cultural events. They may also apply to live in the French section of Oldenborg where a college-aged native French speaker teaches conversation courses and organizes cultural activities on and off-campus.   
Students majoring in French have been accepted into the most prestigious graduate and professional programs, including medical school and law school as well as Ph.D. programs in French at Harvard, Yale, Cornell, Duke, UCLA and Brown. Many go on to live and work in France and other French-speaking countries.
Academic Coordinator of Asian Languages and Literatures and Romance Languages and Literatures