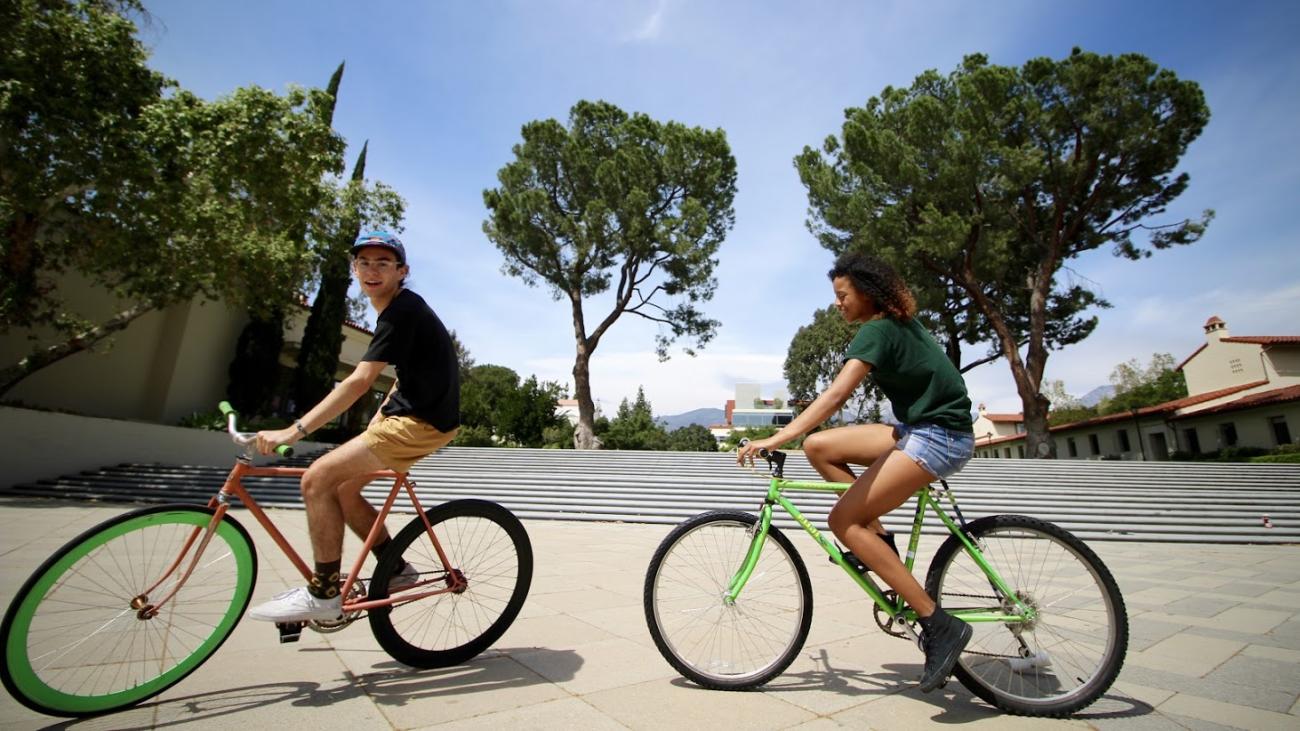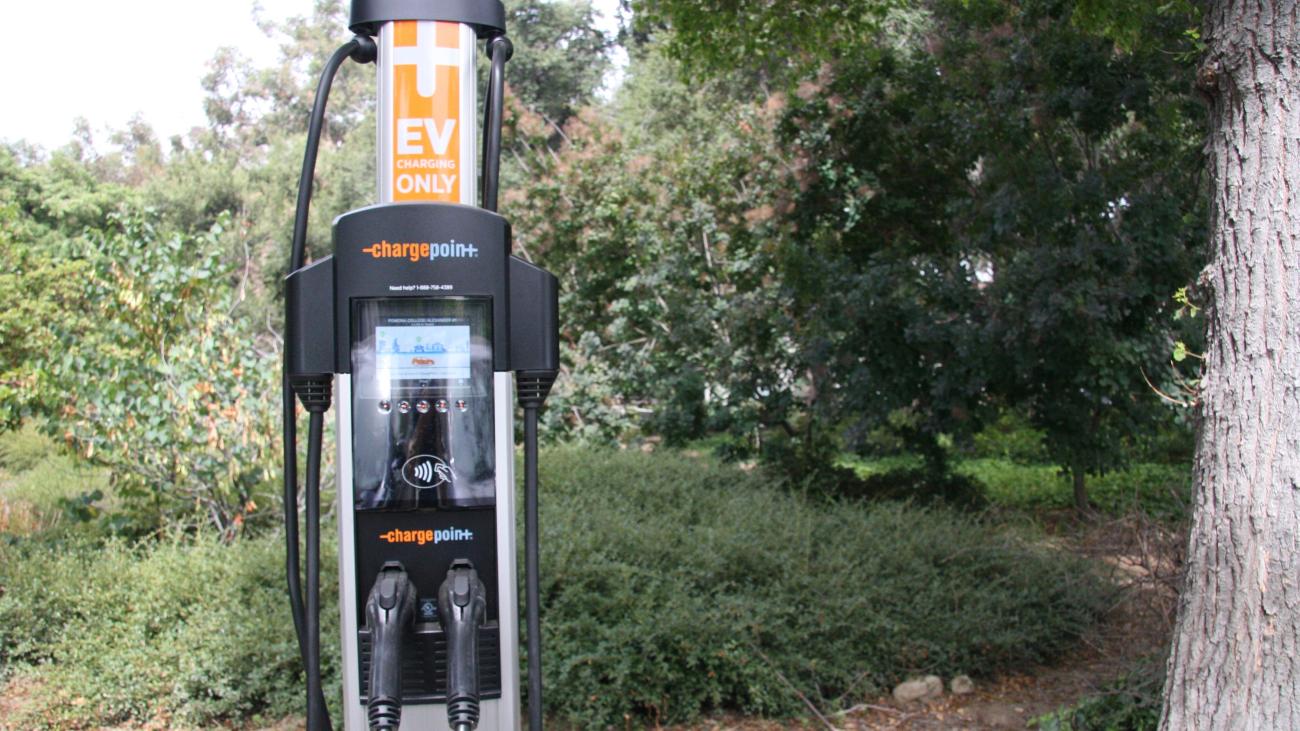 Sustainability Map
You can find us and other sustainability features (like water bottle refill stations, compost tumblers, and bike fix stations) using the interactive campus map below. Click on the arrows in the upper-left corner to view the dropdown legend.
Resources & Programs
The Sustainability Office offers a variety of programs to borrow or affordably buy items to help you reduce your environmental footprint in an accessible way.
Free Things
The Sustainability Office offers a variety of items that you can borrow or keep to help you reduce your environmental footprint in an accessible way.
Waste Tips
Recycling policies have changed a lot over the years, and you might be surprised at what is and isn't recyclable. Expand the tabs below to learn about best practices for recycling, trash, composting, hazardous, and e-waste and to learn tips for reducing and reusing at Pomona.
Trash
The following items are not recyclable and should be thrown into the trash:
Non-recyclable Plastics
Plastics labeled #3-7
Takeout containers (plastic or foam)
Disposable utensils
Straws
Produce containers (like for berries or tomatoes)
Egg cartons (plastic or paper)
Styrofoam
Black-colored plastics
Plastic wrap and bags
Hot or cold to-go cups
Non-recyclable Paper
Cartons (e.g., milk, milk alternatives, juice, chicken stock, coconut water, etc.) (labeled "Tetra Pak")
Frozen food boxes
Greasy pizza boxes
Food-soiled items
Padded envelopes
Shredded paper
Other Trash
Liquids
Ceramics and glassware
Recycling
When recycling, think "back to the basics." All recyclables should be clean, empty, and dry (no food or liquids). The following items are recyclable:
Plastics (#1 & #2 ONLY)
#1 (PET): bottles
#2 (HDPE): milk/juice/water jugs, cleaning solution containers, laundry detergent jugs, liquid soap containers
NOT miscellaneous plastics labeled #3-7, to-go cups, straws, takeout containers, bags, wrap, Styrofoam
Paper & Cardboard
White copy paper, cardstock, colored paper, magazines, newspaper
Cardboard (please break down boxes), cereal boxes, 
NOT to-go cups, frozen food boxes, greasy pizza boxes, egg cartons, shredded paper, mixed materials (padded or windowed envelopes)
Metal Cans
soda cans, canned food (empty), clean aluminum foil
Glass Bottles & Jars
Glass water bottles, jars of food (clean)
NOT kitchen glassware (like cups, plates, or baking dishes)
Compost
Pomona College composts at each of our dining halls, the Coop Fountain, Cafë47, and at tumblers throughout campus.
All food waste (including meat, dairy, and bones)
Fiber-based compostables (compostable napkins, bowls, and takeout containers)
NOT plant-based plastic compostables (straws, utensils, to-go cups, to-go hot containers)
Hazardous and E-Waste
The following items are toxic to dispose of in the trash and should be taken to collection locations at the Smith Campus Center Mail Room or the Sustainability Office.
Propane or butane cylinders
CFL bulbs
Batteries
Paint
Electronics (anything with a battery or power cord, like laptops, cell phones, or printers)
Where does our waste go?
All of our waste is picked up by the City of Claremont.
Trash is taken directly to the Mid-Valley Landfill in Rialto, CA (about 20 miles northeast of campus).
Recycling is taken to the Grand Central Recycling and Transfer Station in the City of Industry, CA (about 18 miles southeast of campus) where items are sorted, processed, and (if properly sorted) recycled into a reusable material.
Composting is taken to the Athens Services' American Organics facility in Victorville, CA (about 57 miles northeast of campus).
Free & Subsidized Transportation
Pomona College provides many resources to increase equitable access to sustainable transportation.
Class Pass
The Class Pass provides free bus passes for Foothill Transit. You can pick up your free pass at Honnold Library
Rideshare
The Rideshare program provides a $2 daily incentive for commuting sustainably to campus (carpool, electric vehicle, walk, bike.
Metrolink Reimbursement
Human Resources provides a $100 monthly Metrolink Reimbursement for using the Metrolink for commuting or work-related trips.
PoolCar
PoolCar allows faculty and staff to reserve a campus vehicle (5-seater compact/sedan or 7-seater minivan) for off-campus work-related trips.
Get Involved
If you're passionate about the environment and want to make Pomona a better place for all, there are many ways to take action. Toggle through the dropdowns below or email sustainability@pomona.edu.
Funding for Projects
If you have an idea for a project but need money to develop or maintain your efforts in sustainability, here are possible opportunities for funding:
Sustainability Office
The Sustainability Office has funding for campus projects and special events. Contact the office at sustainability@pomona.edu for more information about possible topics for projects and papers.
President's Sustainability Fund
Launched in 2007, the President's Sustainability Fund has granted over $40,000 for student-initiated projects. The President's Advisory Committee on Sustainability administers the fund, up to $7,500 total per year, for student campus sustainability projects. Students submit proposals in the fall and complete projects in the spring semester. To be eligible for funding, projects must focus on infrastructural or operational changes as opposed to solely outreach or educational efforts (for instance, bringing a speaker to campus is not an intended use of the funds, unless perhaps in conjunction with some related campus operational project).

Projects that have received funding in the past include:
A self-repair bike station at the Smith Campus Center
Water bottle refill station in the Smith Campus Center Courtyard
Beverage dispensers to reduce plastic water bottle use at Class Day
Reusable bags for the Coop Store
Compost receptacles for the Coop Fountain
Pilot program for reusable dishes in Catering
Drying racks installed in residence halls laundry rooms
The construction of SolTrain, a mobile solar array that can be used to power events
Increased signage for the Recycling Center in the Smith Campus Room
Post-consumer composting in the dining halls
Greenware sustainable event kits of reusable, recycled dishware
Native landscaping at Sontag Hall and Frary/Brackett
Shower timers for residence halls
Contact the Sustainability Office at sustainability@pomona.edu for more information. The Sustainability Office can help you develop project ideas and prepare proposals.
Environmental Quality Committee
EQC receives an annual budget from the Associated Students of Pomona College. This budget can be used for events and projects. Contact the Environmental Affairs Commissioner through the Pomona College Senate for more information.
The Environmental Analysis Program
The EA Program often contributes to events or projects that have an educational component, such as bringing a speaker to campus or sending a student to a conference or other event. Contact the EA Program for more information.
Other Sources
The Dean of Students Office maintains an extensive listing of funding sources for student endeavors, including travel to conferences and events. See their website for more information.
Assistant Director of Sustainability