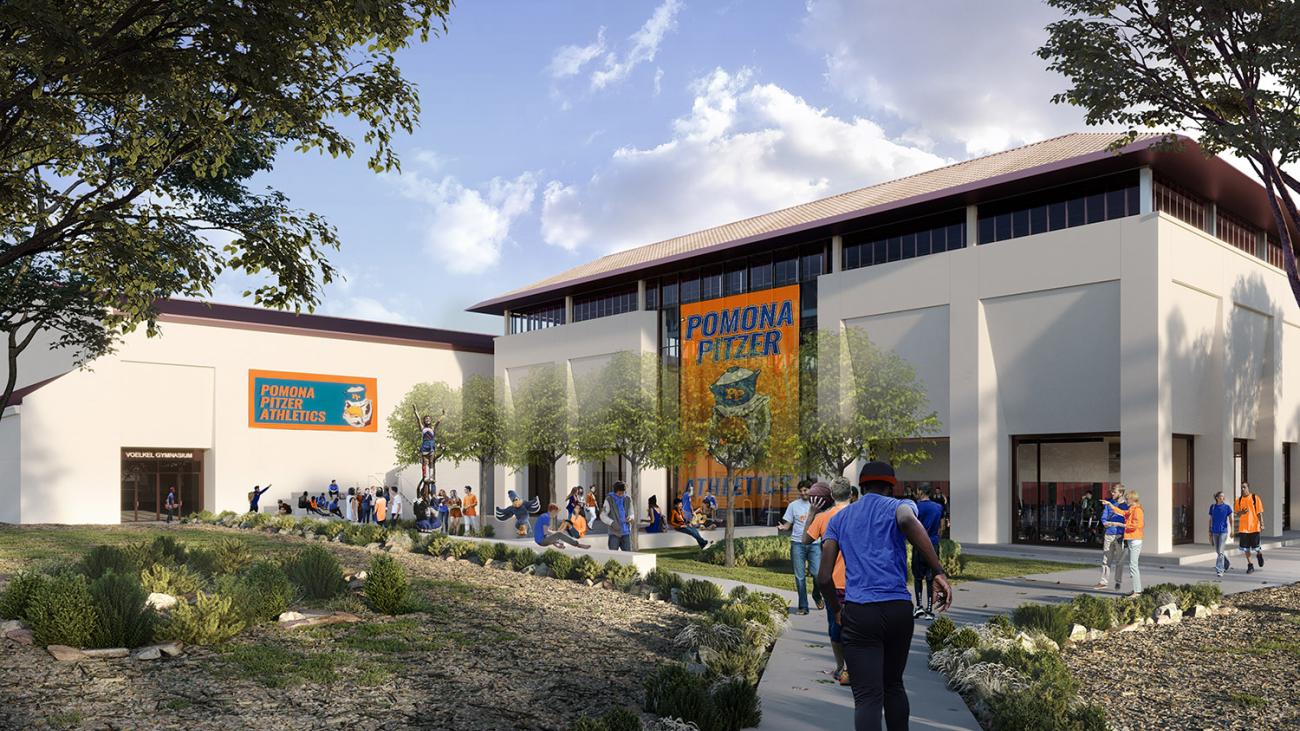 Pomona-Pitzer's much-anticipated new Center for Athletics, Recreation and Wellness will open October 14, 2022, with tours and pre-registration for students, faculty and staff beginning Oct. 10. The $57 million construction and renovation project creates a facility that matches the excellence of Sagehen Athletics and supports health and wellness for the campus communities of both colleges.
With a vastly expanded fitness area for students, faculty and staff that looks out on trees and passersby, a second-floor recreational gym with a nearly floor-to-ceiling view of the San Gabriel Mountains, and two large studios for activities such as yoga or spinning, the facility provides new gathering places for the community.
"This is part of how we reinvent wellness on our campus," says Miriam Merrill, director of athletics and chair of physical education, noting that supporting physical and mental health are components of Pomona College's Strategic Vision.
Built at the intersection of two busy campus walkways where Stover Walk approaches Bridges Auditorium, the nearly 100,000 square-foot facility is new construction with the exception of Voelkel Gym, which has been thoroughly refurbished and will remain the home of women's volleyball and men's and women's basketball.
As the new home of Sagehen Athletics, the facility provides a greatly expanded strength and conditioning center, ample locker rooms for Pomona-Pitzer's 21 varsity teams and plentiful office space for a rising intercollegiate athletics program that ranked 14th nationally among NCAA Division III programs in the most recent Learfield Directors' Cup standings. Pomona-Pitzer also claimed a remarkable three national championships in 2021-22 with a second consecutive NCAA title in men's cross country as well as national championships in men's and women's water polo. Fittingly, a portion of the new center's large first-floor gathering space will pay tribute to the achievements and history of Pomona-Pitzer Athletics with an enhanced Hall of Fame.
In addition to 450 varsity athletes and the campus communities, the center is designed to serve an estimated 900 intramural athletes, 550 club athletes and numerous student physical education classes. As part of an effort to encourage balance for students and a lifelong habit of physical activity, there will be a wider range of activities and P.E. courses available, with additional opportunities for speakers on issues such as nutrition, sleep and emotional health. 
Designed by the architectural firm SCB and built by C.W. Driver Companies, the striking contemporary facility includes expansive use of glass throughout and multiple outdoor areas that embrace the Southern California climate. The facility targets LEED Gold certification through highly efficient cooling and heating systems, Low-E glass, extensive use of daylighting, LED lighting, and a still-to-be installed rooftop solar array, among numerous other features. 
Construction on the project began in February 2021 and overcame delays and supply-chain issues caused by the COVID-19 pandemic. Pomona College first announced plans for the new center in December 2018, and two principal gifts of $10 million each kicked off the major fundraising campaign.