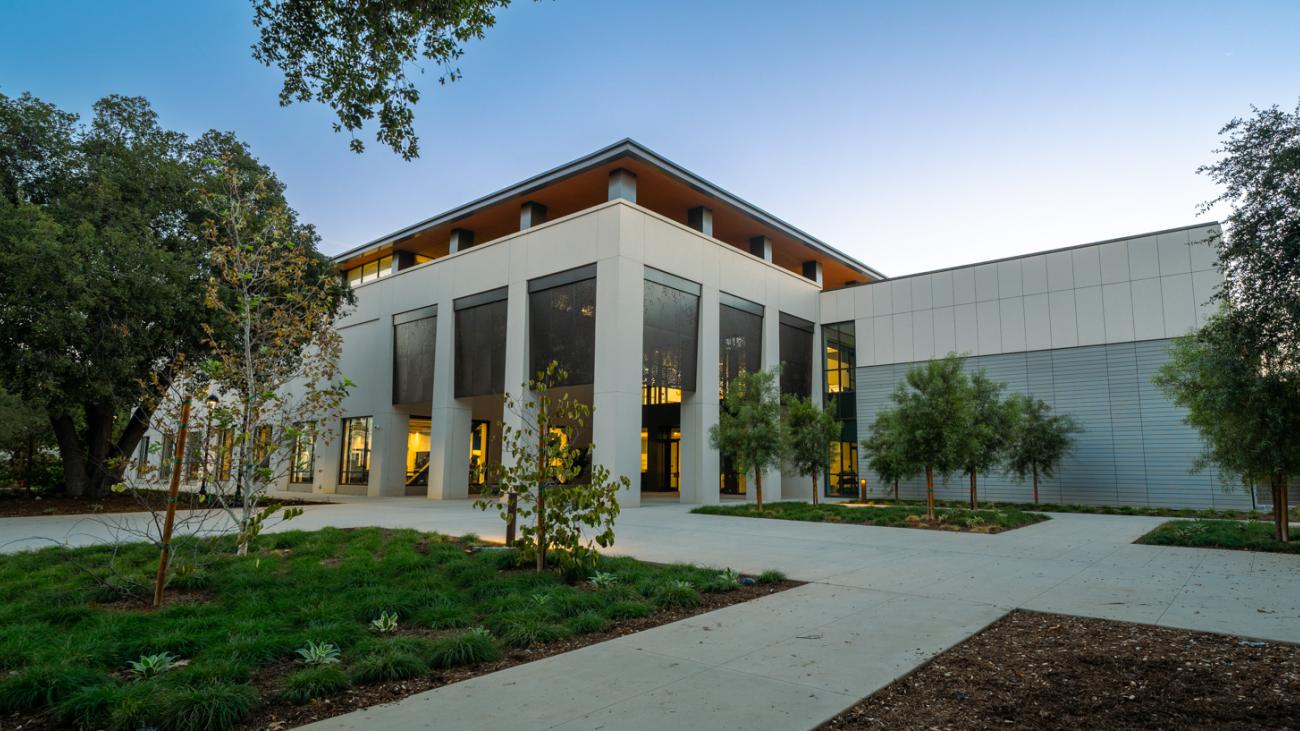 Designed by SCB and principal architect Tim M. Stevens and built by C.W. Driver Companies, the nearly 100,000 square-foot Center for Athletics, Recreation and Wellness is 15,000 square feet larger than the previous facility. The new construction has been certified as LEED Platinum for meeting the highest level of sustainable building standards.
The building embraces Pomona College's architectural environment by taking advantage of both indoor and outdoor use of space. Its double-height portals are a contemporary reflection of the arched entryways of campus buildings such as Bridges Hall of Music, Bridges Auditorium and the more recent Smith Campus Center. A signature feature is the large, clearly defined front entrance that is accented by a square opening to the sky—a reference to the nearby campus Skyspace by renowned artist James Turrell '65. In another nod to the surrounding campus, perforated metal shades create dappled shadows on the concrete below that are meant to be reminiscent of the shade provided by oak trees.
Outdoor patios and expansive use of glass accentuate our Southern California setting, with a nearly floor-to-ceiling window in the second-floor N&N practice and recreational gym that provides striking views of the San Gabriel Mountains. The broad stairway that leads upstairs features a seating area on one side lined with wood strips from a mid-20th century Sagehen basketball court, with painted logos from the wooden court re-used at the front desk and on a prominent wall. Upstairs, the Elizabeth Graham Olson and Steve Olson Family Terrace overlooks the football and baseball fields, providing a special spot to showcase the setting Pomona-Pitzer offers.
The 5,877 square-foot Draper Public Fitness Area for students, faculty and staff equipped with new cardio and weightlifting equipment is located just inside the front entrance, enhanced by views of trees and passersby through large windows.
The separate 4,876 square-foot Athletic Performance Center for Pomona-Pitzer varsity athletes faces the football field and is equipped with ample strength and conditioning equipment as well as a turf strip and a throwing wall.
Upstairs, the N&N Practice Gymnasium offers multiple courts for students and teams to work out with a stunning view of the San Gabriel Mountains. 
The new center also features a central area dedicated to the Pomona-Pitzer Athletic Hall of Fame, numerous gathering places, a clear pedestrian circulation flow and can serve as a recruitment tool, with memorable spaces designed to reflect the excellence of Sagehen scholar athletes, coaches and sports programs.