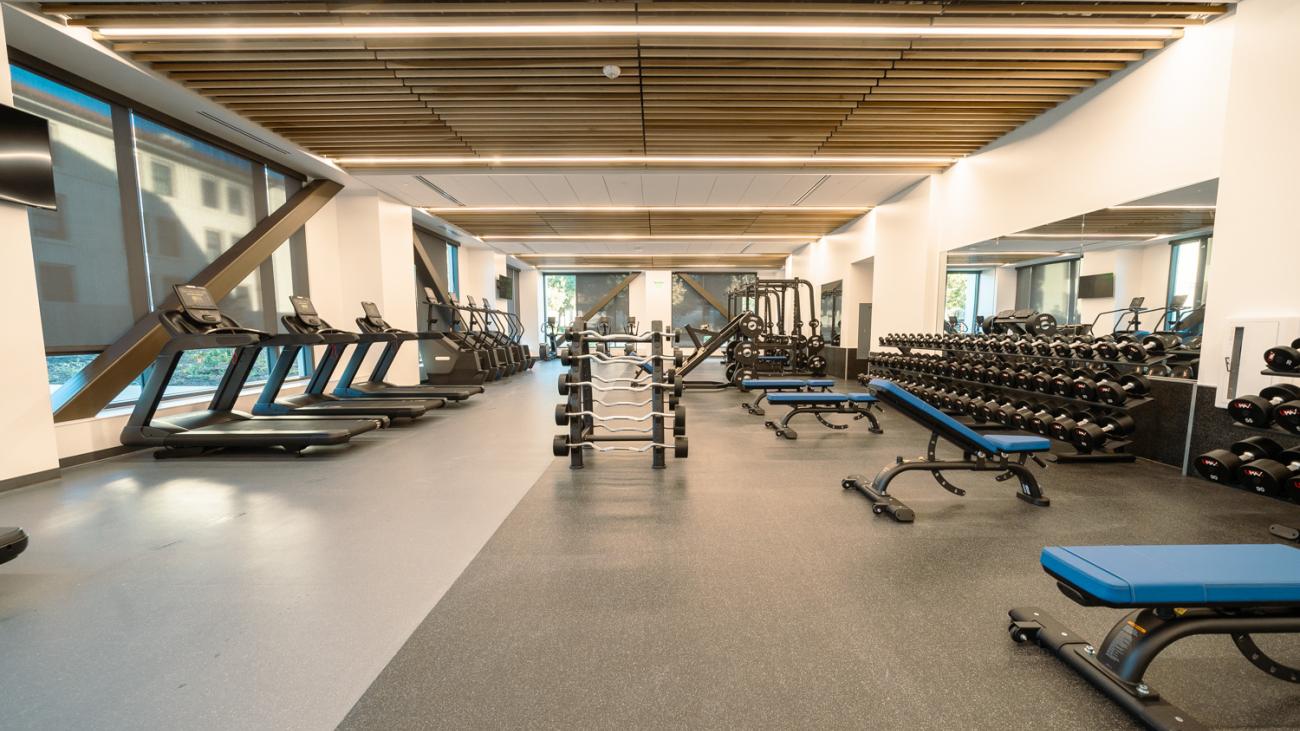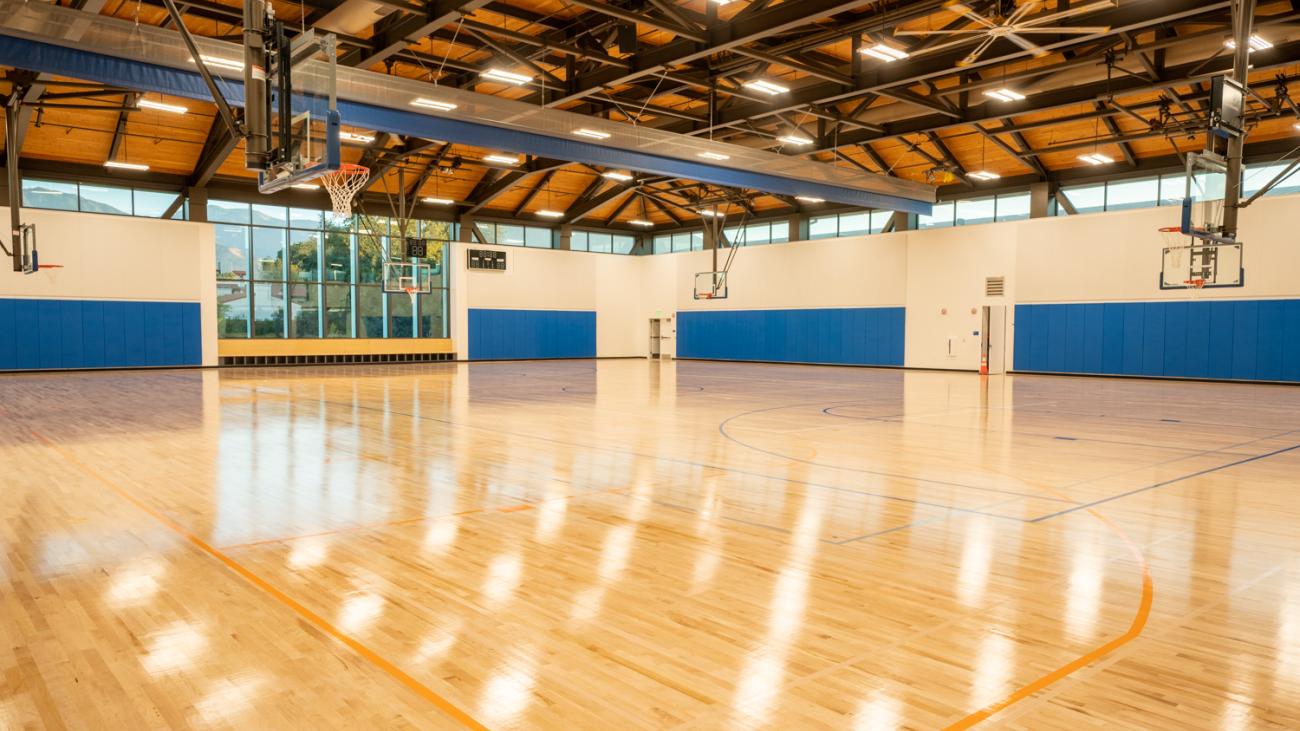 To support whole-body well-being for our community of students, faculty and staff, the new Center for Athletics, Recreation and Wellness offers greatly expanded opportunities for healthy activity. Participation in these activities promotes a healthy lifestyle that contributes to student wellness and success in college, and provides a foundation for optimal health in life after college.
Draper Public Fitness Area
The 5,877 square-foot fitness center on the first floor features 2,000 more square feet of workout space than the previous facility, highlighted by large windows on three sides. Students, faculty and staff will be able to look out on the landscape and passersby as they work out. They'll also be reminded, as they pass by outside, of the opportunities for activity inside. A stretching area near the entry adjoins a large array of new cardio machines, including treadmills, elliptical machines, stair climbers, rowers and four Peleton bikes. Some cardio equipment won't require an electrical outlet but instead will operate on human power. 
Those who enjoy using weights have access to an expanded new area within the fitness center. Weightlifting equipment for students, faculty and staff includes numerous weight machines as well as free weights, with multiple weight racks, dumbbells and benches. In addition to this space, the new building boasts a nearly 5,000 square-foot Athletic Performance Center, which allows varsity athletics to hold sessions without impacting users in the fitness center. 
N&N Practice Gymnasium
Upstairs, the new recreational and practice gym offers a dramatic floor-to-ceiling view of the mountains, plus a wood ceiling reminiscent of the former Memorial Gym downstairs. Voelkel Gym has been thoroughly updated but remains largely intact, while the new recreational gym is 2,300 square feet larger than Memorial. The new gym has options not only for basketball and volleyball but also for badminton. Cubbies along the wall provide a place for people to stash belongings as they play. The gym will be used for drop-in recreation as well as club and intramural sports and physical education classes. More than 1,400 students take a P.E. course each year, some 900 participate in intramurals, and club sports draw about 550 participants a year. 
Studio Spaces
The new facility features two studios, the Ahmanson Studio upstairs and Studio 147 downstairs, increasing the amount of studio space available by 1,600 square feet. Doubling the number of studios will permit two studio classes to take place at the same time or one space to be used for drop-in personal fitness training while the other is in use. The array of studio classes offered includes aerobics, ballroom dance, cardio kickboxing, core training, fencing, hip-hop, karate, Pilates, spin cycling and yoga. The studios can be used for P.E. classes and by Faculty and Staff Fitness and Wellness classes at lunch and after work. 

It's all part of this project's purpose of providing wellness options and opportunities for all students, regardless of whether they participate in varsity athletics. As part of a holistic approach, wellness activities in the new center will compliment the current therapeutic options available at Monsour Counseling Center and off campus.