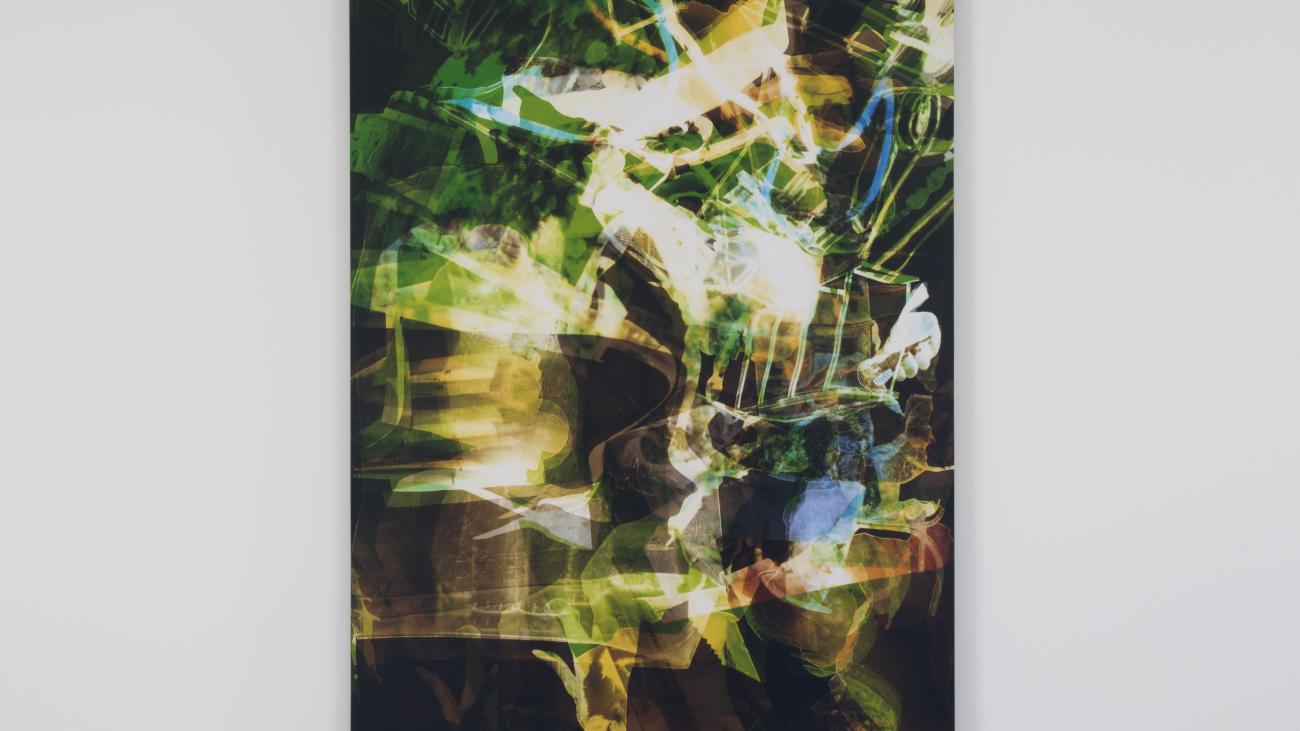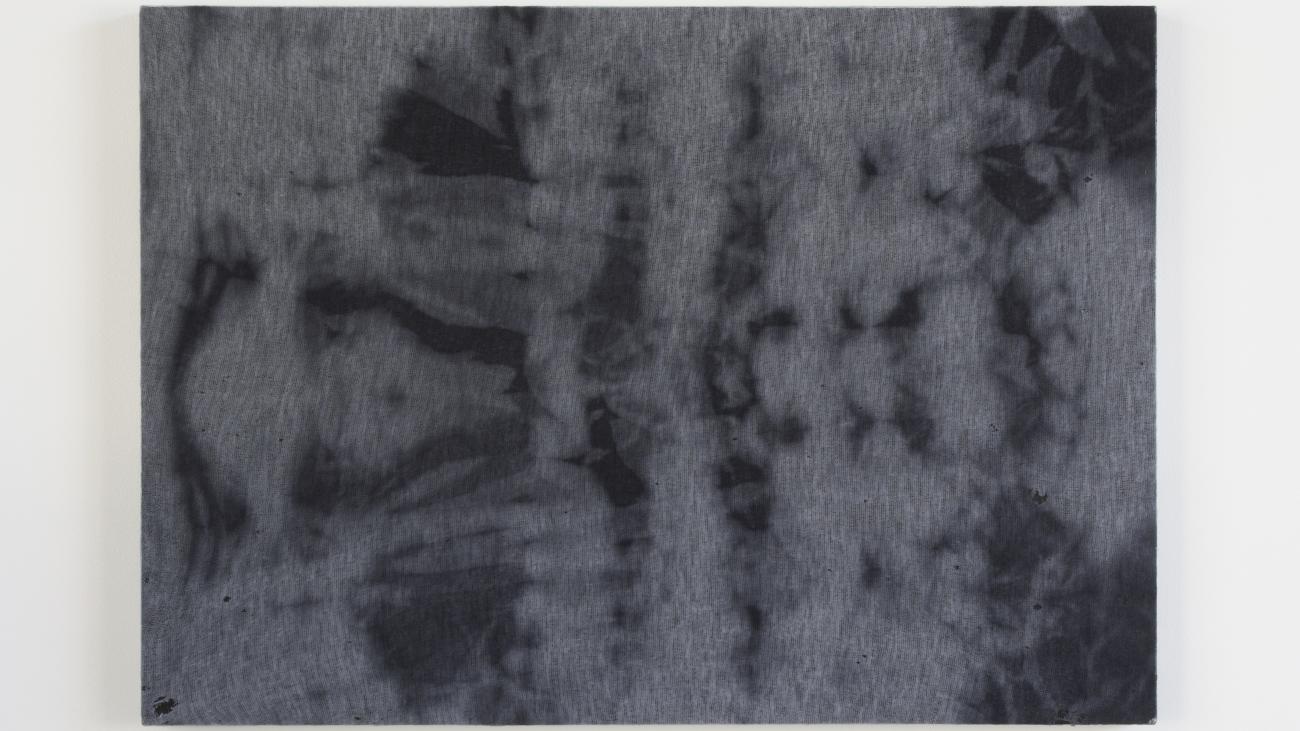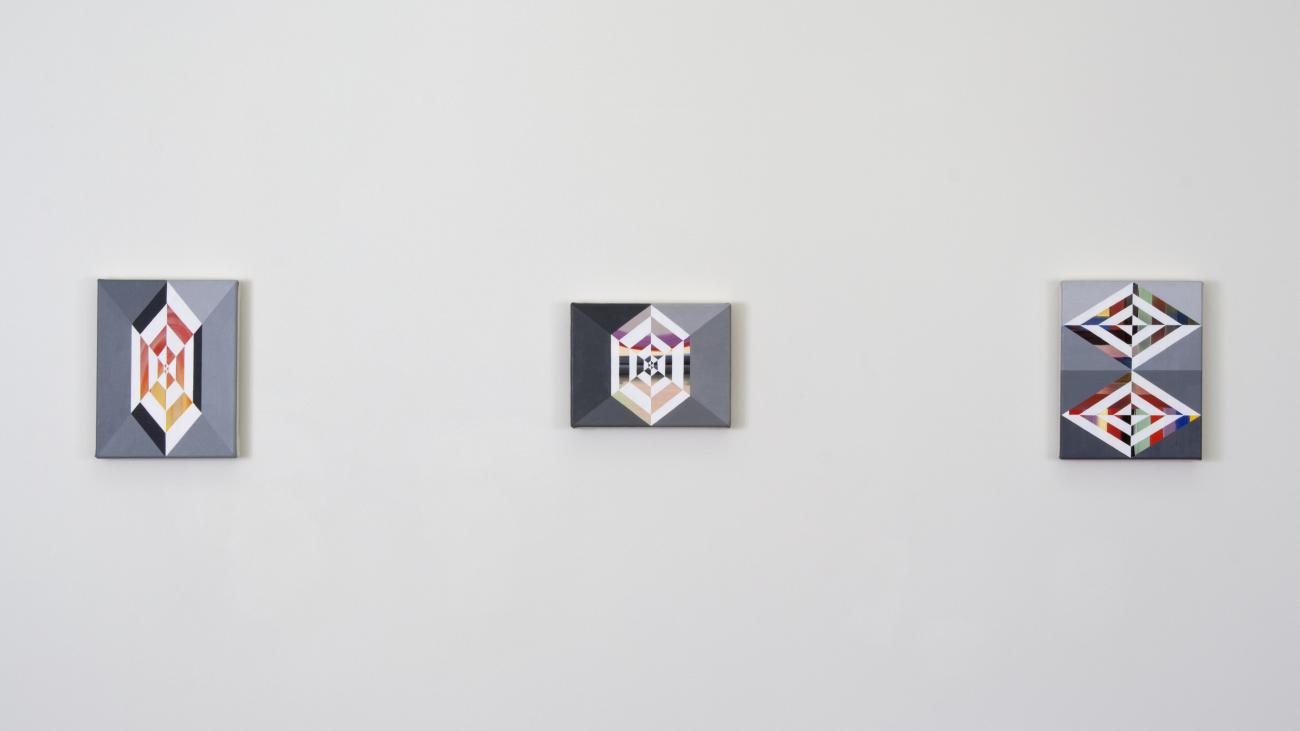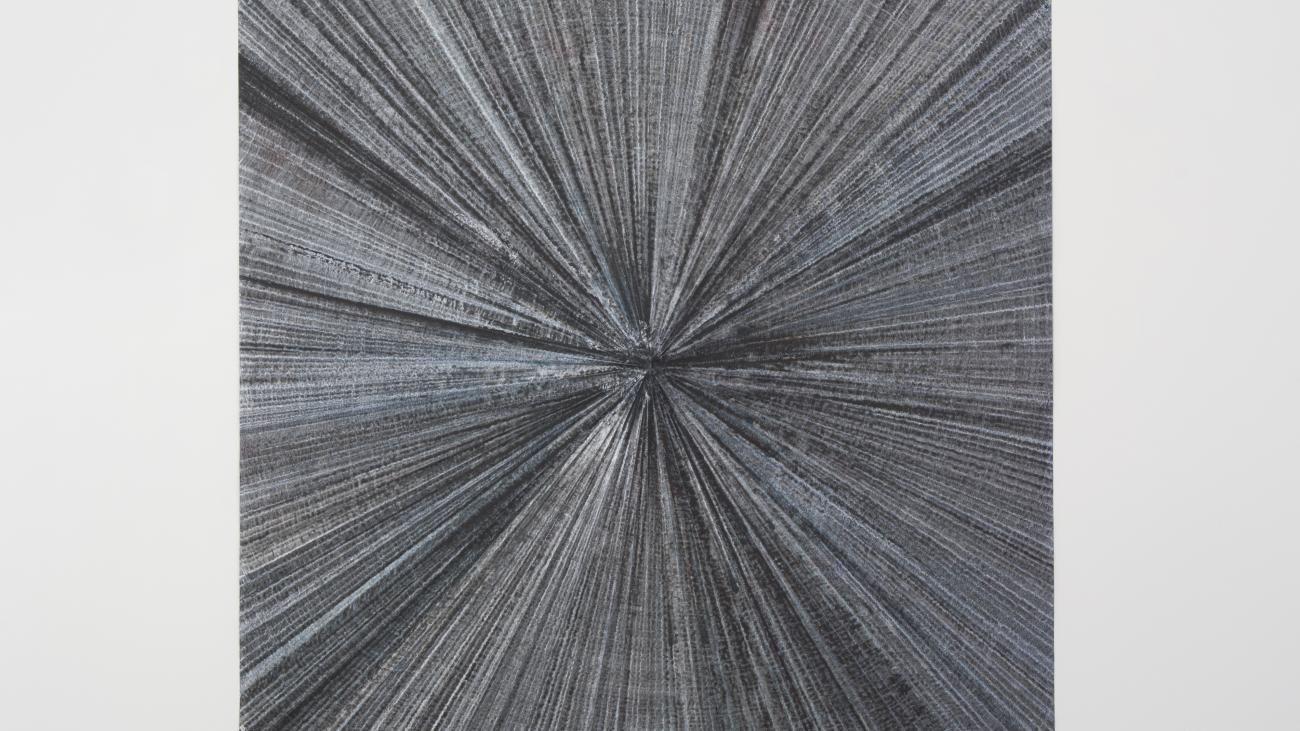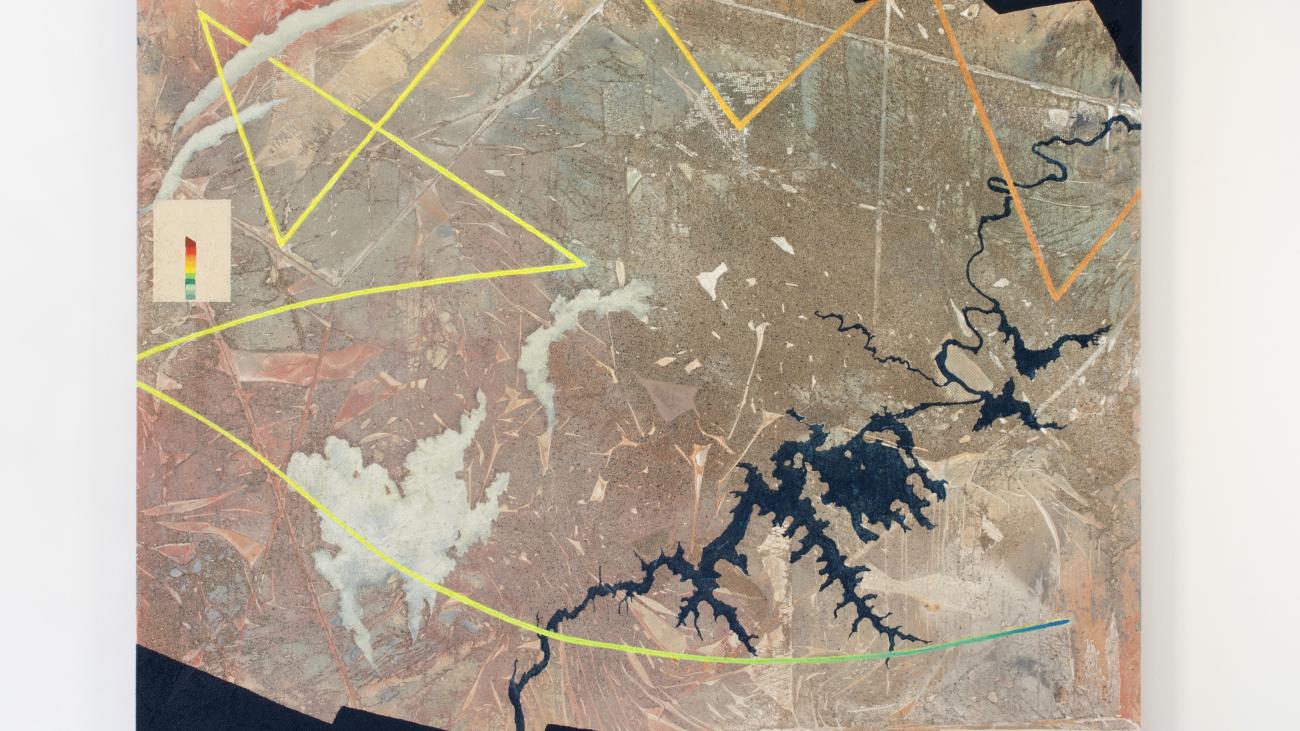 The Objectless State
On view: October 19 – November 13, 2015
Opening reception: October 21, from 12 - 2pm​​
The Objectless State features abstract works by six Los Angeles artists who offer a sampling of the history of abstraction. Sandeep Mukherjee constructs an emanating geometric form that literally push out from the picture plane extending into the viewer's space reminiscent of Jay de Feo's work. Emily Joyce creates jewel like geometries where foreground and background oscillate in an optical play recalling the work of Bridget Riley and Op Art, but with the painterly sensibility of Sonia Delaunay's Orphic works. Aaron Morse describes the topography of landscape as seen from above by registering its reality in abstracted patterns and vibrant colors similar to the work of Virginia Katz with its aerial views although different in its textures and shapes. Hillary Jaynes fabricates phantasms that emerge from ashen color fields.  And the holographic imagery in Martin Durazo's prints and Katie Grinnan's photogram possess an essence of ethereality and sensuous lyricism.
Martin Durazo received his Master of Fine Arts from the University of California, Los Angeles, and a Bachelor of Arts degree in English and Art from Pitzer College. Durazo is the recipient of the 2012 C.O.L.A. Individual Artists Fellowship from the City of Los Angeles and a 2011 California Community Foundation Fellowship Award, funded by the Getty Trust. His work was included in the inaugural 2011 SUR Biennial and in 2010 he was an Artist-in-Residence at the 18th Street Arts Center in Santa Monica. He has exhibited at the Torrance Art Museum; PULSE Los Angeles Contemporary Art Fair; Pomona College Museum of Art; MexiCali Biennial 2013; Harris Art Gallery at the University of LaVerne; White Box in New York City; ArtForum Berlin and Art Basel Miami Beach. His work has been reviewed in Flash Art International, the Los Angeles Times, The New York Times, LA Weekly, Artweek, and Art Review. He has also been a producer for KPFK Radio, where he is regularly featured in discussion about art and social issues.
Katie Grinnan received her MFA from UCLA. She has had solo exhibitions at the Whitney Museum of American Art at Altria, New York; the Aspen Art Museum; and the MAK Center for Art and Architecture, Los Angeles. Grinnan has been included in many group exhibitions, including the 2004 Whitney Biennial at the Whitney Museum of American Art, New York; Real World: The Dissolving Space of Experience at Modern Art Oxford, England; and The Artist Museum at MOCA, Los Angeles. Her work is included in collections at MOCA, the Hammer Museum, and LACMA and she was awarded a Guggenheim fellowship and a Pollock-Krasner grant.
Hillary Jaynes was born in New Haven, CT. and lives and works in Los Angeles. She studied Philosophy at Vassar College and at Sarah Lawrence College where she received a B.A. She attended the graduate program at Art Center College of Design. Through the appropriation of late twentieth century popular aesthetics, Jaynes's work explores the intersection between psychoanalytic theory; the supernatural; Judeo-Christian myth; childhood memory; and the phenomenology of time. Recently, her work was included in 'Hard Edge,' The California African American Museum's survey show on black artists and abstraction.
Emily Joyce has been investigating abstraction over the last 15 years, first with vinyl wall installations that flirted with narrative through the use of silhouettes and currently with rhythmic, grid-based patterns in her recent small oil paintings and large-scale screen-printed paintings. Joyce has been included in many group and solo exhibitions at venues including, Human Resources, Los Angeles, Machine Project, Los Angeles, LACE, Los Angeles, Inman Gallery, Houston, Sara Meltzer Gallery, New York, Palais de Tokyo, Paris, Museum of Fine Arts, Houston, Torrance Art Museum and more. Joyce is currently co-curating "Aftereffect: O'Keeffe and Contemporary Painting" which will open at the Georgia O'Keeffe Museum in Santa Fe in 2016.
Aaron Morse was born in 1974 in Tucson, Arizona, and lives and works in Los Angeles. He received his BFA in 1996 from the University of Arizona, Tucson, and his MFA in 1998 from the University of Cincinnati. Solo exhibitions include those at ACME., Los Angeles (2003, 2005, 2007, 2009, 2011, 2014); Guild and Greyshkul, New York (2006, 2008); and the Hammer Museum of Art, University of California, Los Angeles (2008). Morse's work has also been included in group exhibitions at the Santa Barbara Museum of Art (2010); the Contemporary Arts Museum, Houston (2008); the Berkeley Art Museum, Berkeley, California (2004); the Weatherspoon Art Museum, University of North Carolina, Greensboro (2004, 2012); and the Hammer Museum of Art, University of California, Los Angeles (2003). His work is included in the collections of the Whitney Museum of American Art, New York; Los Angeles County Museum of Art; and the Museum of Modern Art, New York.
Sandeep Mukherjee received an MFA from UCLA, and a BFA from Otis College of Art and Design, Los Angeles. Born in Pune, India, he lives and works in Los Angeles and is a Professor of Art at Pomona College. His works are in numerous public collections, including those of MOCA, Los Angeles; MOMA, New York; LACMA; Hammer Museum, Los Angeles. Mukherjee has had solo shows at Brennan & Griffin (New York), Project 88 (Mumbai), Sister and Cottage Home (Los Angeles), at the Margo Leavin gallery (Los Angeles) and the Pomona College Museum of Art (Claremont) among others. Mukherjee is the recipient of the 2016 C.O.L.A. fellowship granted by the Los Angeles Cultural Affairs Department.
Curated by Tricia Avant
Academic Coordinator and Gallery Manager of Art