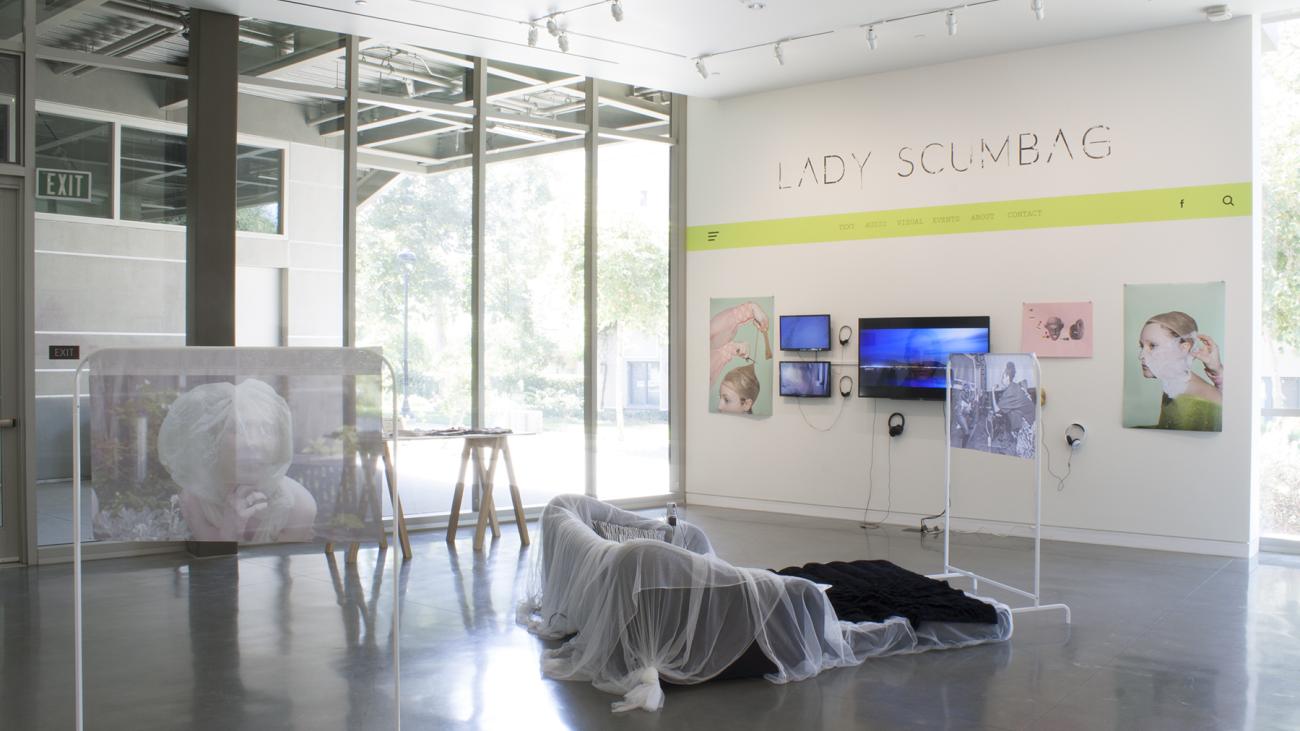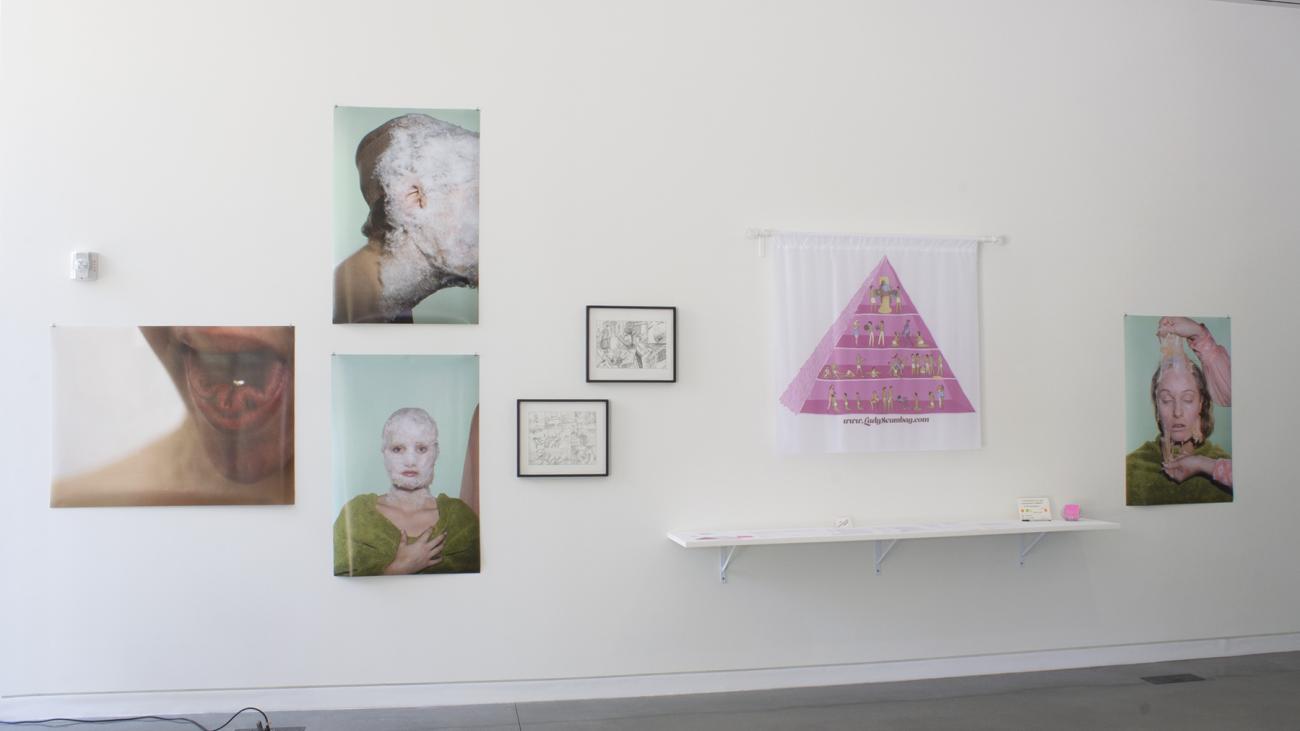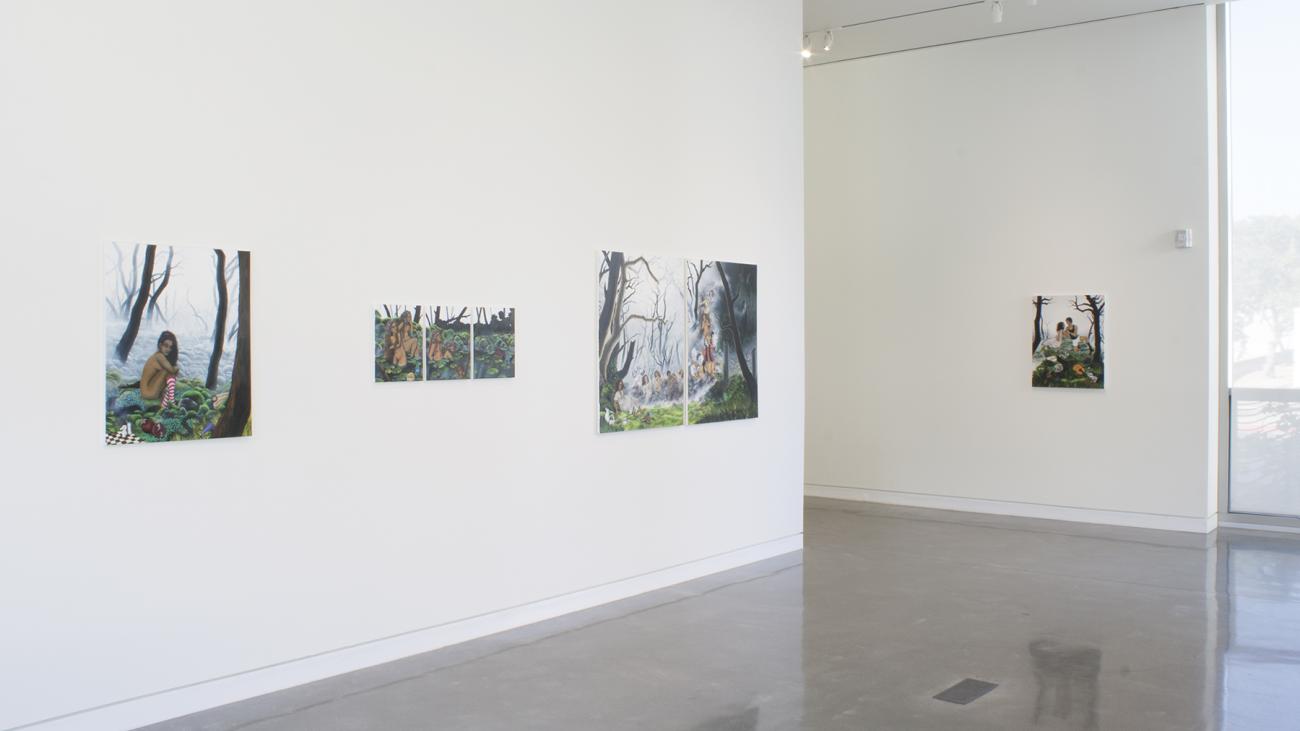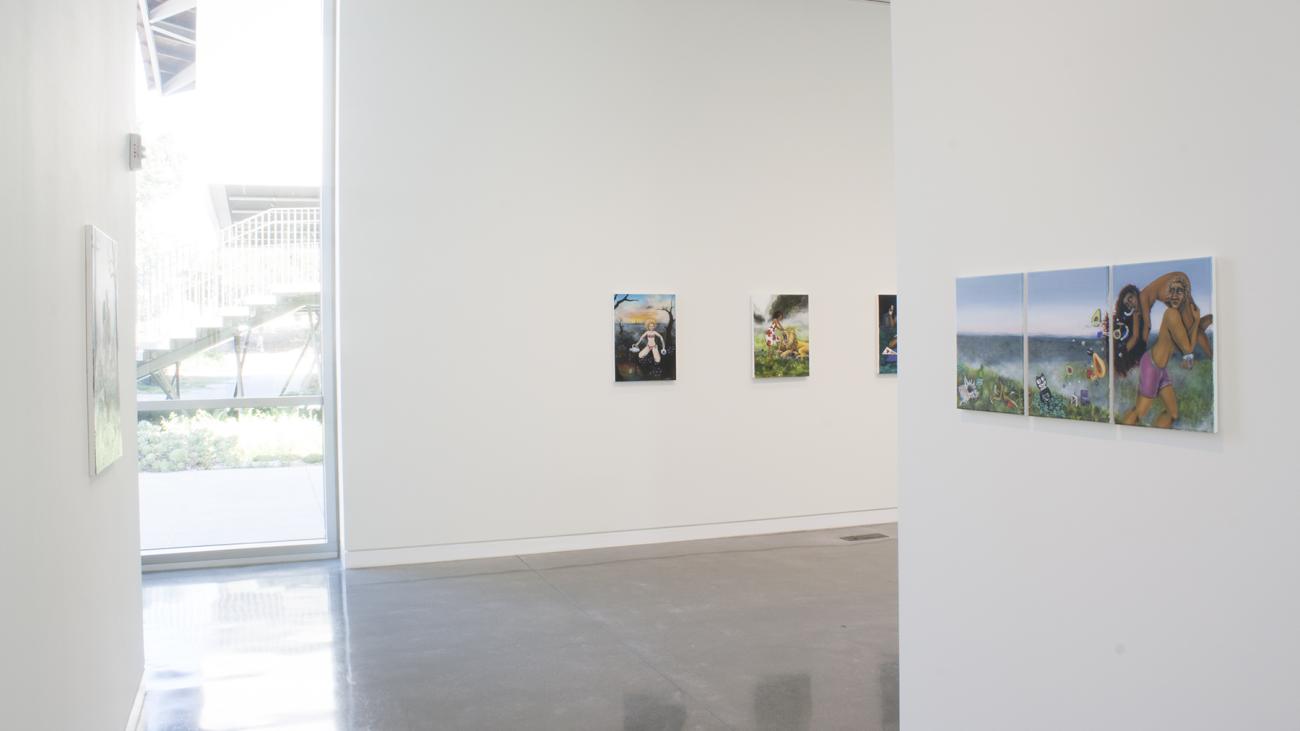 On view: September 4 - October 6, 2018
Reception with the artists: September 27th from 3 - 4:30pm
Loren Holland and Kim Ye are visiting lecturers in the Art Department at Pomona College this fall and the Chan Gallery at Studio Art Hall will feature their work.
The artists have curated their own shows in the two spaces within the gallery. Holland will exhibit paintings made in the last few years and Ye will exhibit an installation of her recent project Lady Scumbag.
LOREN HOLLAND | BITTERSWEET HARMONY | This new series of paintings and drawings is inspired by mythology, gothic literature, music and the coded mysteries of the occult, juxtaposed with contemporary and pop culture.  Incorporating metaphysical and alchemical symbolism, this series attempts to subvert media stereotypes about the relationships between women and men of color—typically depicted as dysfunctional or violent.  Whether traditional, passionate, innocent, symbiotic or antagonistic, these relationships are as diverse and complex as the people who comprise them.
Set against the picturesque backdrops of darkly silhouetted woods, murky lily pad swamps and misty meadows, this series challenges the belief that women of color are not typically associated with "Classical" beauty and are instead identified with the "exotic", the sexually deviant or "otherness".  Additionally, It re-examines depictions of men of color.  Frequently represented as hideous, sub-human beings, men of color are routinely portrayed by the media as innately savage, animalistic, destructive and criminal.  Using symbolic associations, the works also focus on the lack of control people of color have over their own social representation, as well as the potential lack of control of their physical bodies due to low societal status, institutional racism and negative cultural perceptions.
With an emphasis on the dramatic and a hint of the macabre, this series was inspired by vivid imagery and twisted plot lines of 19th century gothic fiction and horror.  Concepts central to this series are beauty, vulnerability, exposure, misconception, transformation, growth, decay, duality and balance.
BIO | Loren Holland received her MFA in Painting and Printmaking from Yale University and both her BA in Visual Arts and BS in Neuroscience from Brown University.  Holland's solo exhibitions include Bittersweet Harmony at LAUNCH LA (2018), Specimen Lab at the California African-American Museum (2009), Black Magic Woman at the Santa Monica Museum of Art (2007), The Virtues of Vice (2009) and Native Strangers (… and Stranger Natives) (2006)—both at Anna Kustera Gallery.  Selected group exhibitions include Eyes Forward: Creating Our Narrative at the CSU Fresno M-Street Gallery (2018), Sweet Sticky Things at LAUNCH LA (2017), New Works at the LA ArtCore Brewery Annex (2013), The Calendar's Tales at Boston University's 808 Gallery (2012), The Garden of Forking Paths at Track 16 Gallery (2011), Embracing Ambiguity at the CSU Fullerton Main Art Gallery (2010), LA Paint at the Oakland Museum of California (2008), Urbanity on Paper at Anna Kustera Gallery (2008), Figuring the Landscape at the University of Connecticut (2006) and Relics and Remnants at the Jamaica Center for Arts & Learning (2005).  A former studio assistant to artist Alison Saar, Holland was a recipient of a 2011 Puffin Foundation Individual Artist Grant, as well as the spring 2010 Winifred Johnson Clive Foundation Teaching Fellowship at the San Francisco Art Institute.  Holland is currently a Visiting Professor at Pomona College.
KIM YE | LADY SCUMBAG 2.0 | Through public engagement, this ongoing project promotes the visibility of a new feminine archetype: the Lady Scumbag. Operating outside the normal behavior we expect from good girls, this archetype is self-interested, pleasure-oriented, and fueled by an insatiable appetite for life. Taking Her desires seriously, the LSB never thinks twice to tweak Her performance of femininity in order to get what she wants, and uses whatever She has at hand to produce Her own privilege.
In naming her, Lady Scumbag becomes an attitude that can be accessed by anyone, and the Ladyscumbag.com website is an archive of past contributors channeling their own versions of LSB. This installation at the Chan Gallery showcases the works of this diverse group of contributors-bringing them from online to offline. Taking the cloud as inspiration for its form, Lady Scumbag 2.0 presents the work of past LSBs in order to inspire future LSBs to come out of the woodwork and become part of the movement. This installation is a call for contributors: if the figure of Lady Scumbag resonates with you, we invite you to add your voice and vision to Ladyscumbag.com
Featuring work by:
Ali Kheradyar
Amber McCall
Anonymous LSB
Cole James
Donna Dolore
Emily Joyce
Ilona Szwarc
Jasmine Nyende and FUPU
Kim Ye
laub
Meital Yaniv
Micol Hebron
Nina Sarnelle
Vanessa Conte
Vicki Syal
Xina Xurner feat. Sancha w/ Jacinto Astiazarán
BIO | Kim Ye (b. 1984, Beijing, China) is a Los Angeles-based interdisciplinary artist whose work incorporates social practice, installation, video, performance, sculpture, and text. She received her MFA from UCLA (2012) and her BA from Pomona College (2007). Her work traces the circulation of power by exploring concepts of labor, intimacy, and the exchange between an artist and their audience. She has performed and exhibited nationally and internationally at The Hammer Museum, Getty Center, Visitor Welcome Center, Moran Bondaroff, Material Art Fair, Human Resources, Machine Project, California Institute of the Arts, Pomona College Museum of Art, ACRE, Satellite Art Fair, and Visitor Welcome Center among others.
Curated by the artists Loren Holland and Kim Ye
Academic Coordinator and Gallery Manager of Art