Dining Services - Our Food
Beverages
Sustainable Beverages
In 2012, Pomona College established a Fair Trade Resolution and became a Fair Trade University. All coffee used by Dining Services is certified Fair Trade Organic. This ensures that these products are produced without the use of harmful chemicals and that the people cultivating these beverages are paid respectably and treated fairly.
Coffee is provided by Peets Coffee. They offer coffee from verified sources, provide training and assistance to coffee farmers, and source coffees that carry USDA Organic, Fair Trade, and Rainforest Alliance certifications.
Fresh-brewed Yerba Mate by Guayaki is offered at all three dining halls.  Guayaki partners with small farmers and indigenous communities  to source mate from sub-tropical forests in South America and is environmentally sustainable in the long term.
For more information on what fair trade and organic mean, please see the Certifications section.
Produce
Local and Organic Produce
We are fortunate that in Southern California we can get farm-fresh, local produce year round.  We pay attention to what's in season and try to buy from local and organic farmers as much as possible.  Buying local and organic means we are getting the freshest and healthiest produce possible.  We are proud of the relationships we have with many local farmers and often feature farmers in the dining halls.
For more information on the local farms we work with, please see Local Farms and Businesses section below.
Meat, Dairy and Eggs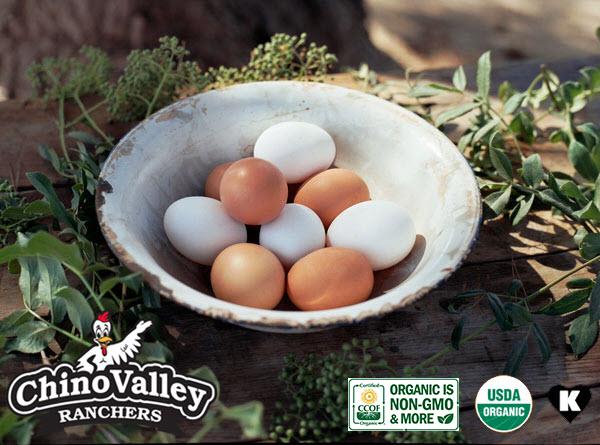 Dining Services is committed to using animal products that were raised with considerations for animal welfare and that lessen environmental impact. 
We purchase only cage-free eggs in all of our operations. Purchasing cage-free ensures that chickens are not confined to battery cages and are able to move about and engage in natural behaviors. We buy our eggs from Chino Valley Ranchers in Colton, CA, a three-generation family farm. By purchasing only cage-free eggs, Pomona keeps 1,500 chickens out of cages annually. 
We are committed to offering Certified Humane meat. Currently, the chicken breasts and hamburger patties at the grill station come from family-owned responsible farms, which allow the animals to roam, feed them a vegetarian diet and do not use hormones or antibiotics. 

We purchase chicken breasts from Mary's Free-Range Chicken, a family-owned farm in the San Joaquin Valley in California. 
The rest of our chicken comes from ABF Farms that is animal welfare certified, third party audited, certified humanely raised, handled, and processed. ABF Farms originates, processes, and distributes poultry from contracted farming partners. 
The hamburger patties come from Fulton Hamburgers in Oregon and are certified Humane.

All milk is rBST free, meaning cows are never given bovine growth hormones to stimulate production.
We are able to purchase organic yogurt, which ensures that cows are fed an entirely organic diet, have access to pasture and are never given antibiotics or hormones.
Seafood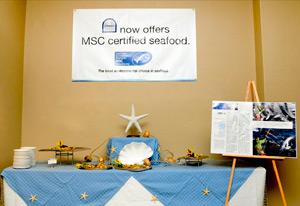 Sustainable Seafood Program
In summer 2011, Pomona College Dining Services became the first liberal arts school to be Marine Stewardship Council (MSC) Certified.  MSC's "Chain of Custody" certification assures that in every step of the chain – from the fishers, to the processor, to the distributor and the end user – MSC-certified seafood is not mixed with or substituted for non-certified seafood.  Even thought we did not renew our MSC-certification in 2016, Pomona is still committed to using MSC-certified seafood products in the dining halls.  The MSC standard is based on three core principles: health of the stock; impact on the marine ecosystem; and management of the fishery.
We are currently using the following seafood products that are either MSC(Marine Stewardship Council - Certified Sustainable Seafood), BAP (Best Aquaculture Practices), Monterey Bay Aquarium Seafood Watch Program, or IRF (Iceland Responsible Fisheries).  (Click on each item for more information on the source fishery):
For more information on our local tuna harvester, please see the Local Farms and Businesses section below.
Organic
Organic Staples
In the Pomona dining halls, many of the items we use everyday are now certified organic. These include:
Some grains, including quinoa, lentils, green peas, polenta, couscous and farro
White, red and black beans
Most soy products, including soy milk, tofu, and soy sauce
Some produce
Yogurt
All coffee and tea
Soup bases
Almond milk
For more information on what organic means, please see the Certifications section.
Local Farms and Businesses
Featured Local Farms and Businesses
We are proud to support many local farms and business. Buying local means we get a fresher product that was grown or produced by members of nearby communities.  Our food doesn't travel as far (which reduces environmental impact) and our dollars are invested in local communities.  As defined by SAVE: Sustainable Action Visible Effects, the College's sustainability strategic plan, we consider local to be grown or produced within 200 miles of campus.
Seafood
We utilize several selections of seafood that are certified as MSC(Marine Stewardship Council - Certified Sustainable Seafood), BAP (Best Aquaculture Practices), Monterey Bay Aquarium Seafood Watch Program, or IRF (Iceland Responsible Fisheries). High Liner is our current supplier of seafood through Sysco. Currently, 99% of their seafood supply comes from certified sustainable or responsible sources. They continue to work with organizations committed to sustainability to ensure that 100% of the seafood they purchase comes from sustainable or responsible sources. 
Bread
We purchase some bread from local bakeries such as Pasadena Baking Company, located in Pasadena and LeChef Bakery, located in Montebello.
Bagels
Fresh bagels from Claremont's own 42nd Street Bagels is utilized by our Catering department. This shop is located in the heart of Claremont and is family owned. 
Produce
FreshPoint is our supplier of produce that works in conjunction with The Produce Hunter. The Produce Hunter works with small, local, family farmers committed to sustainable agriculture, responsible production, and propagation and promotion of fruits and vegetables with exceptional flavor.  
Nature's Produce is one of our suppliers of produce. A family owned company whose focus is on supporting local growers.  We also utilize their weekly farmers market to get produce from various local farms. Listed below are just a few of the farms.
See Canyon Ranch grows delicious apples in a small coastal canyon just outside of San Luis Obispo (214 miles from campus). The climate is perfectly suited to apple farming, so after establishing the orchard Mike farms without the use of any water, known as dry farming. Mike doesn't use any chemical fertilizers or pesticides.
Tutti Frutti Farms is located in Lompoc (179 miles from campus) and is certified organic. We buy their carrots (including the awesome black knight purple variety!), tomatoes, cucumbers and zucchini. 
We're big fans of Weiser Family Farms! They grow delicious potatoes, melons, DiCicco broccoli, Romanesco cauliflower and squash in the Bakersfield area, Tehachapi and Lucerne Valley.
Mcgrath Farms is located in Camarillo (85 miles from campus). They are a sustainable farm that grows a high diversity of year-round organic fruits and vegetables.