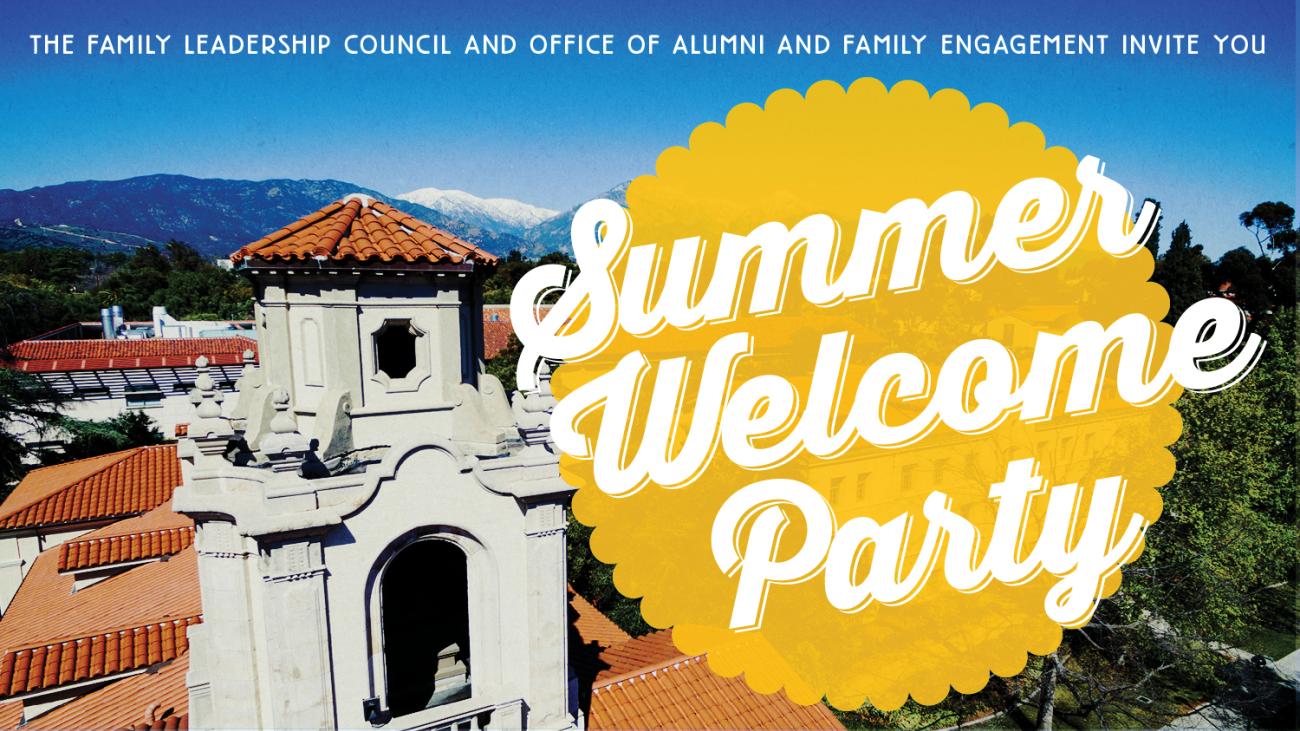 Join Us! July Virtual Summer Welcome Parties
New families and their students are invited to attend a regional Virtual Summer Welcome Party this July. These events will be hosted on Zoom to provide an opportunity for new Pomona families to connect with other families in their area, as well as parent leadership volunteers, members of the Alumni and Family Engagement Office and other College staff members.
While these gatherings are structured as regional, please feel free to choose an event on a day and time that works best.
Registration is now live! Watch your email for more information, and please check this page regularly for updates. For questions, email Alumni and Family Engagement.
Virtual Summer Welcome Parties by Region
Domestic
Southern California #A1 | Tuesday, July 6, 2021 | 6-7 p.m. PDT
(L.A., Orange County, San Diego)
Register for Southern California #A1Here 
Southern California #A2 | Saturday, July 10, 2021 | 10-11 a.m. PDT
(L.A., Orange County, San Diego)
Register for Southern California #A2 Here 
Southern California #B1 | Tuesday, July 6, 2021 | 6-7 a.m. PDT
(Riverside, L.A., Valley Santa Barbara)
Register for Southern California #B1 Here 
Southern California #B2 | Saturday, July 17, 2021 10-11 a.m. PDT
(Riverside, L.A., Valley Santa Barbara)
Register for Southern California #B2 Here 
Northern California #1 | Saturday, July 10, 2021 | 10-11 a.m. PDT
Register for Northern California #1 Here 
Northern California #2 | Tuesday, July 13, 2021, 6-7 p.m. PDT
Register for Northern California #2 Here 
Pacific | Saturday, July 10, 2021 | 11AM-12 p.m. PDT
(Oregon & Washington, Alaska, Hawaii) 
Mountain | Wednesday, July 7, 2021 | 5-6 p.m. PDT
(Colorado, Idaho, Montana, Utah, Arizona, New Mexico, Nevada)
Florida & Puerto Rico | Friday, July 9, 2021 | 3-4 p.m. PDT
Register for Florida & Puerto Rico Here 
Illinois | Thursday, July 8, 2021 | 4-5 p.m. PDT
Midwest | Monday, July 12, 2021 | 4-5 p.m. PDT
(Michigan, Ohio, Wisconsin, Iowa, Kansas, Minnesota, Missouri, Nebraska, South Dakota) 
Mid-Atlantic | Wednesday, July 14, 2021 | 3-4 p.m. PDT
(New Jersey, New York, Pennsylvania) 
Register for Mid-Atlantic Here 
New England  | Thursday, July 15, 2021  | 3-4 p.m. PDT
(Connecticut, Massachusetts, Maine, New Hampshire, Rhode Island, Vermont)
South — Central Region | Saturday, July 17, 2021  | 10-11 p.m. PDT
(Arkansas, Louisiana, Oklahoma, Texas, Alabama, Kentucky, Mississippi, Tennessee) 
Register for South — Central Region Here 
South — Atlantic Region | Friday, July 16, 2021 | 3-4 p.m. PDT
(D.C, Delaware, Georgia, Maryland, North Carolina, South Carolina, Virginia, West Virginia)
Register for South — Atlantic Region Here 
International
The Americas, EU, Africa & Western Asia | Tuesday, July 13, 2021  | 8-9 a.m. PDT
Register for the Americas, EU, Africa & Western Asia Here 
South Asia, Asia, Oceania | Wednesday, July 14, 2021  | 7-8 p.m. PDT