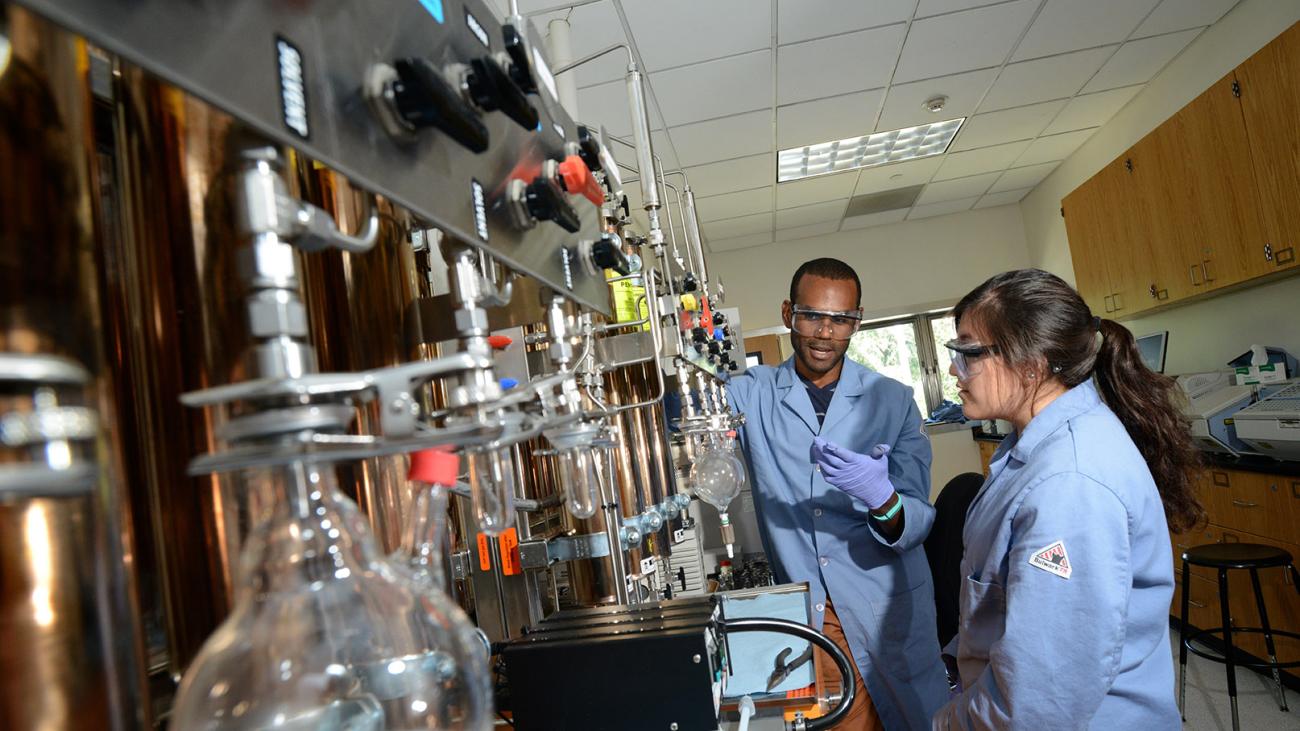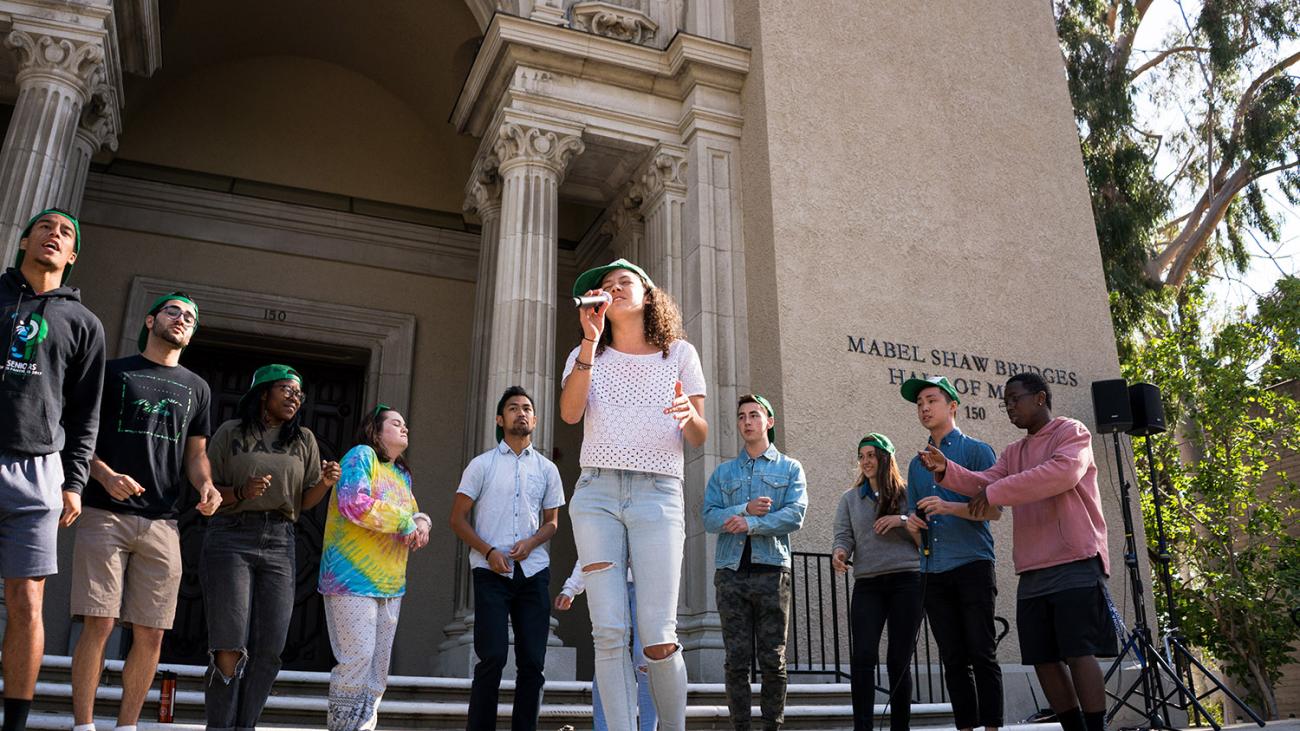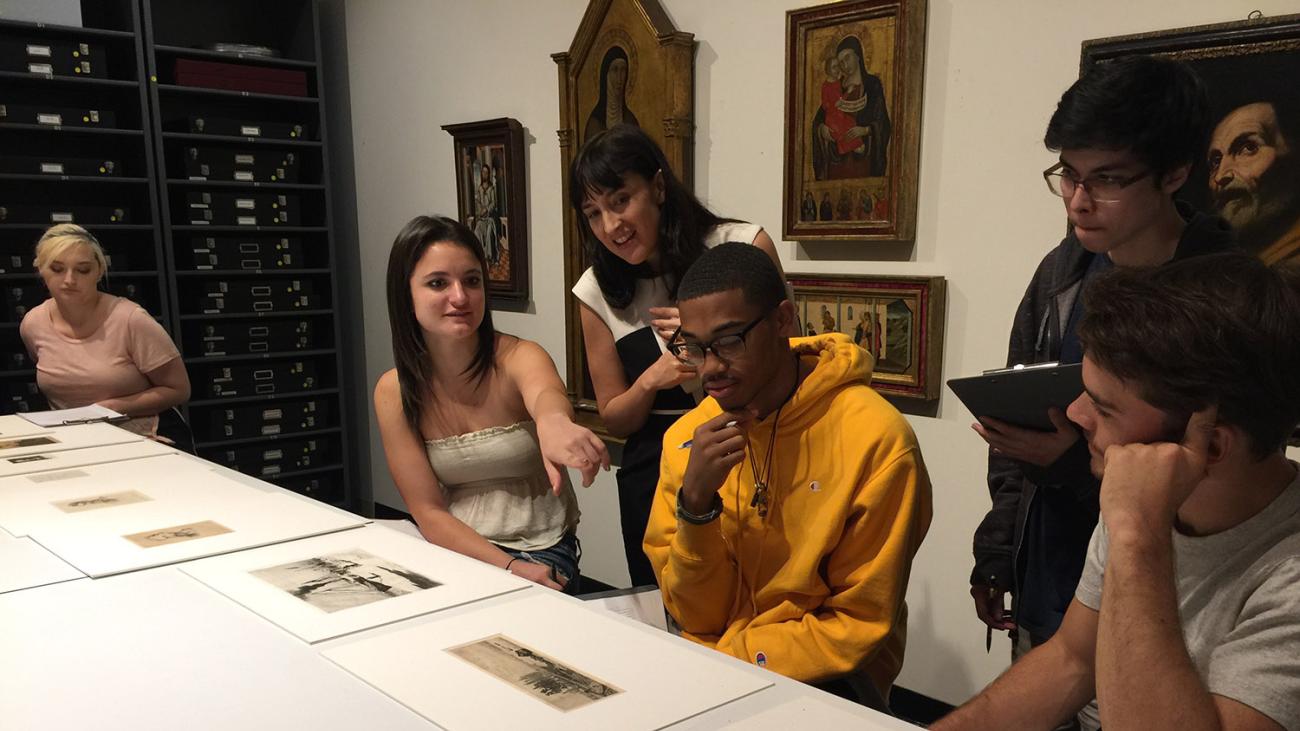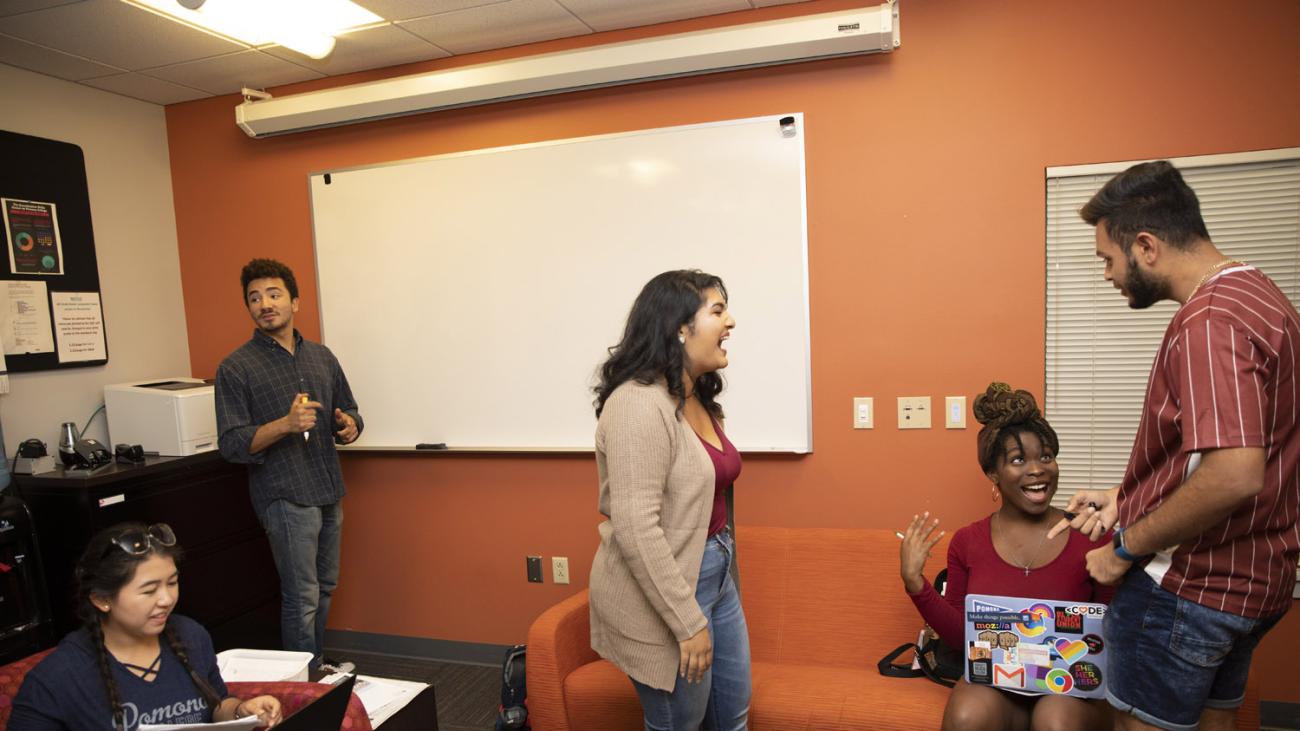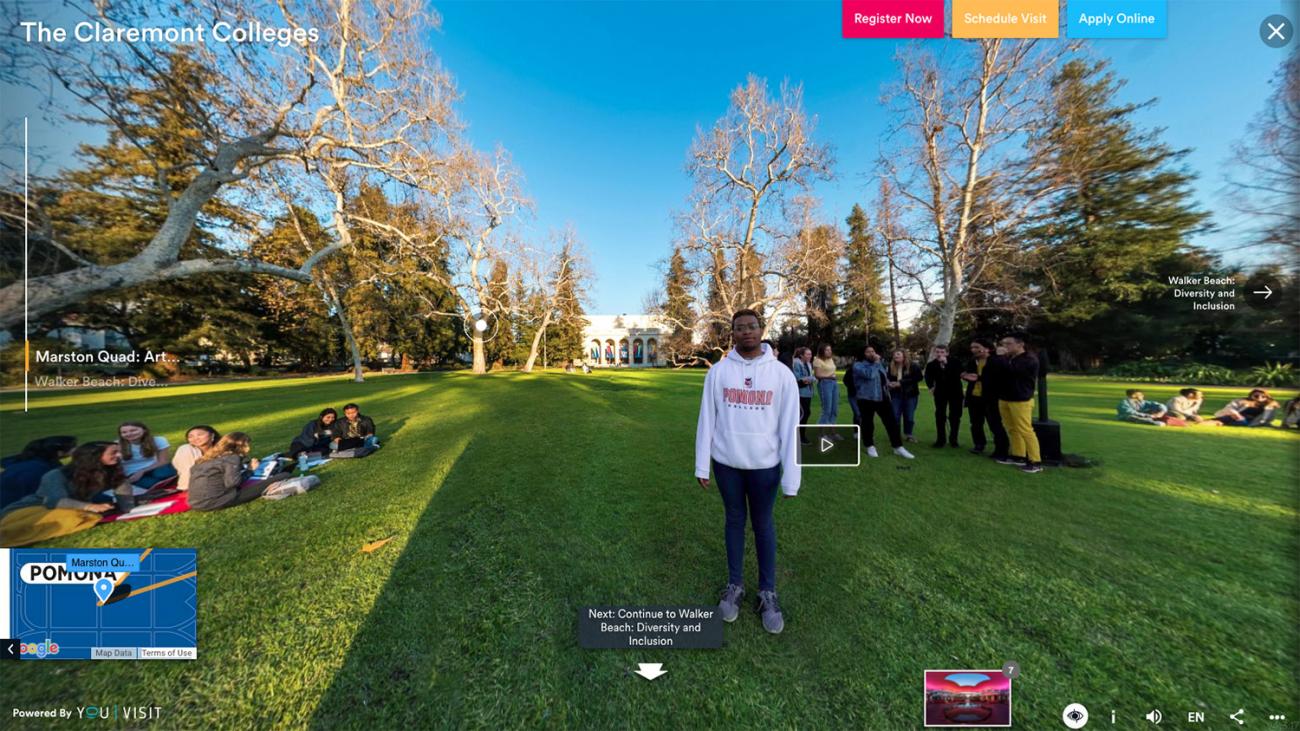 Pomona College has everything you might expect from one of the nation's finest liberal arts colleges: exceptional faculty, an intimate learning environment and a broad-based curriculum.
But before you assume we're just like everyone else, here are a few questions you might be asking yourself. We hope the answers will help you see why Pomona College is anything but ordinary…
I'm a social butterfly, and a student population of 1,747 seems pretty small. Won't a larger school offer me more opportunities? 
We like to think Pomona offers the best of both worlds—an intimate learning environment where the average class size is 15, but with the facilities and options of a larger university. As the founding member of The Claremont Colleges, we share resources (classes, a research library, clubs, affinity groups, dining halls and more) with four other top undergraduate colleges (the "5Cs") and two graduate institutions located within a square mile. With a combined 5C student body of about 6,100, Pomona students have a social and academic experience that expands far beyond our own campus.
I've got my list of potential majors narrowed down to 20-30 options. Is that a problem?
Problem? More like awesome. We love students with broad interests and, in fact, encourage exploration through our general education requirements and flexible curriculum. Once you're ready to decide (by your junior year), take your pick from 48 majors. Or double major if you can't pick just one.
As much as I like cleaning beakers and making coffee, access to REAL research is important to me. Can I do that at Pomona?
Yes! Since we do not have graduate students, our faculty love engaging students in their research, giving you the chance to work closely with faculty on projects that truly advance the boundaries of knowledge. In fact, it's not uncommon for first-year students to get involved. The Summer Undergraduate Research Program (SURP) enables about 200 students annually to conduct extended, focused research in close cooperation with a Pomona faculty member. SURP projects, which receive funding from Pomona and from public and private foundations, take place both on campus and in the field and span all disciplines. Half of Pomona's students do research with faculty during their time here, and 25% will publish or present their findings at professional conferences.
Assuming my YouTube career doesn't take off, private schools seem very expensive. Can I afford Pomona?
To maintain the remarkable strength and variety of Pomona's student body, the College's financial resources are critical. For U.S. citizens, permanent residents, and students graduating from U.S. high schools, admission decisions are made without consideration of a student's financial circumstances (need-blind admissions). Over half of Pomona's students receive need-based financial aid from the College to support their study; the average financial aid package is $61,621; and the College meets 100 percent of the demonstrated financial need of every enrolled student. Since 2008, all financial aid awards have been a combination of scholarships, grants and work study (with no packaged loans).
Who teaches at Pomona? Do all professors smoke pipes and wear tweed jackets?
While we can't guarantee that no one wears tweed, like their students, Pomona faculty members are diverse in background and scholarly interests. All are committed teachers of undergraduates. They frequently experiment with new approaches and materials, tailoring instruction to the changing world beyond their classrooms or laboratories. Astronomy instructors and students may stargaze from the College's one-meter telescope on nearby Table Mountain, for example, while those pursuing art history might drive into Los Angeles to study masterworks of art at any one of a number of world-class museums.
OK, the faculty are great, but what about the students? Do I have to surf or have founded my own company to fit in?
While it's difficult to generalize about Pomona students, there are a few traits we can safely say are typical. Pomona students embrace new ideas, take initiative, ask questions and challenge the status quo. They also share a spirit of openness and collaboration. They are academically talented, and they want to do something important with their talents. It's also safe to say that, among them, you're sure to find some of the most interesting and inspiring people you'll ever encounter in your life. And it's OK if you don't know how to surf—the ocean is nearly an hour away.
Every college brochure shows a diverse student body (and people lying on a lawn, weirdly). What will I REALLY find at Pomona?
Students come to Pomona from every state in the nation and from many other countries (59 and counting), from private and public schools, from large cities, suburbs and towns so small they don't appear on most maps. Our student body is roughly half men, half women. More than 50% are domestic students of color, and 20%—across all ethnic backgrounds—are in the first generation of their families to attend a four-year college or university. While lying on the lawns is definitely popular (or playing Ultimate or reading that long Russian novel under a tree), college is also challenging. We have informal and formal support resources for all students, including the Asian American Resource Center, Queer Resource Center, Women's Union, Office of Black Student Affairs, Office of the Chaplains, Chicano/Latino Student Affairs, First-Generation and/or Low-Income Students and International Place.
I like the idea of attending college, but I also like the idea of frolicking with wild abandon on the beach. What should I do?
You're in luck. It's not uncommon for our students to lament that there is simply not enough time in the day. Not only does Pomona provide a world-class college education, but it provides an amazing range of opportunities and resources. Consider our annual Ski-Beach Day, when a busload of adventurous students dons parkas and gloves in the morning to try their skills on the nearby Mountain High resort's slopes. That afternoon, they re-board the bus for the ride to Newport (or another local) Beach to end the day (in swimsuits) with a seaside cookout. It's just one of the hundreds of campus events available to students at The Claremont Colleges, along with all the arts, culture and internship opportunities of nearby Los Angeles. 
My mom seems to think I need to get a job after college. What opportunities do Pomona grads have?
A Pomona education has staying power. It reminds you that, although you may have left this remarkable place, your responsibility to take its energy and ideals into the greater world does not diminish. While at Pomona, students actively explore after-college possibilities. 89% of Pomona grads have completed an internship by the time they graduate, and 70% have completed two or more. Four years at Pomona not only prepare you for a career, but they are the first steps in a life of purpose, innovation and accomplishment.

Unsurprisingly, students pursue their passions after graduation in a variety of ways. Within 10 years of graduating, over 80% of Pomona alumni were either pursuing or had completed an advanced degree, and Pomona ranks #14 nationally for doctoral degrees awarded (on a per-student basis). For the Class of 2021, multiple students went on to graduate school at Harvard University, Massachusetts Institute of Technology (MIT), Stanford University, University of Cambridge and Yale University. The average acceptance rate of Pomona alumni to medical schools is 85% (the national average is about 32%). What's really worth bragging about is the fact that our Career Development Office works with Pomona alumni 5, 10, 25 years after graduation, providing job and career resources for a lifetime. 
I'd like to send the Pomona Admissions Office freshly baked chocolate chip cookies, but they always seem to come out hard and tough. What can I do?
To prevent cookies from becoming hard and tough, avoid adding more flour than necessary to the cookie dough or batter. Also, avoid over-mixing once the flour is added. Don't give up! We're sure you'll get it.
And just in case you don't have it, our mailing address is:
Hungry Admissions Officers
c/o Pomona College Office of Admissions
333 N. College Way
Claremont, CA 91711
Have three minutes to spare? ⏰ Check out the MyinTuition Cost calculator to gain a better sense of what your financial aid package could look like.
Monday through Friday
9 a.m. – 5 p.m.